Atwater and Randolph voters will decide among three candidates to fill two open seats on the Waterloo Local School District Board of Education on Nov. 2. Thomas Mignano II is challenging incumbents Brian Pusateri and Amber Wheeler.
Those elected will oversee the management of a district where an aging population has rejected five past levy attempts, prompting administrators to cut positions and busing, and raise fees for extra-curriculars.
If voters also reject the upcoming levy vote — a 1% earned income tax for five years, which would not apply to income from sources like Social Security or pensions — those elected would be tasked with figuring out how to move the district forward with extremely limited funding.
This article reports what we learned about the candidates and their experience at a candidates' night event in Atwater last week. You can watch a livestream of the event here.
Thomas Mignano did not attend the candidates' night event. His wife, Jodi, wrote on the event's Facebook page, "Unfortunately my husband, Thomas Mignano II, never received notice of this meeting. He found out about the meeting late last night from a colleague. We already had commitments this evening that we were unable to reschedule." He could not be reached for comment.
Brian Pusateri graduated from Waterloo in the early '80s, then went on to get an electrical engineering degree from the University of Akron and a business degree from Malone University. He has been on the school board for 32 years and currently serves as president.
One of Pusateri's biggest accomplishments in his time on the school board was completing the K-12 campus project. The building was "delivered on time, under budget and the state paid 58% of the bill," he said. Another accomplishment has been stretching levy money from 1994 that was intended for five years to last 19 years.
The board is now developing a five-year strategic plan and is seeking input from Atwater and Randolph residents. "We have a first-year superintendent and three great school board members who have less than two years of experience, and I'd like to work with them, mentor them and also learn from them because they bring fresh ideas in," Pusateri said.
Pusateri voted to mandate masks in August and said he did so because universal masking is the best way to ensure students will continue learning in person.
Amber Wheeler began serving on the school board two years ago. "I took an unexpired term to see if the school board was something that I would like to continue to do," she said. "And, well, I'm here asking for another four years."
Wheeler is married and has three children in the Waterloo schools ranging from 3rd to 8th grade. She helps with a wide range of activities, from youth wrestling and soccer to band and 4-H. If elected, she said she plans to prioritize clear communication.
"I know we've always had fiscal responsibility [as a priority]," she said. "But even with some of the fiscal problems that we've had, we've been able to expand some of our programming." If the levy passes, Wheeler said she hopes the schools will be able to expand even more. Wheeler voted against a mask mandate in August, saying she believed the decision should be up to parents. She said she does see the merits of masking, though, in that they can keep students out of quarantine and in the classroom.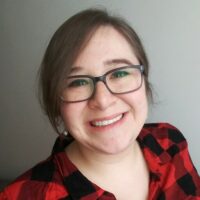 Lyndsey Brennan is a Portager general assignment reporter. She is completing her master's degree in journalism at Kent State and is an alumna of the Dow Jones News Fund internship program. Contact her at lyndsey@theportager.com.