Chrissy Motz wanted her team, "Portage Grin and Bear It," to raise $1,000 for the Special Olympics of Ohio at last month's annual Polar Plunge event in Cleveland.
Turns out, Chrissy and her teammates got nowhere near that number.
Because the final tally raised by the team was more than $15,000, with Chrissy raising more than $7,500 of that total — making the Streetsboro resident the top individual fundraiser as well as the top Special Olympic athlete fundraiser at the event, while "Portage Grin and Bear It" was the top team.
As a result, Chrissy and her 14-member team received the event's coveted Golden Plunger award in each of those three categories.
"I would like to thank everyone that took the time to donate and pray for our safety," Chrissy said. "I cannot do this on my own. It takes a community to gather together to help our local Special Olympic athletes."
The Polar Plunge is usually held in Lake Erie but featured a new wrinkle this year, taking place Feb. 25 at Gateway Plaza in downtown Cleveland — creating uncertainty for participants and spectators alike.
"I really did not know what to expect since it was in an outdoor pool that they had set up," Chrissy's mother, Fran, said. "It sure did not make the water any warmer, that is for sure. The temperature outside was about 42 degrees, and the wind chill was 35."
Considering that the water temperature at a Polar Plunge usually ranges between 32 and 35 degrees, the event in Cleveland certainly was a frigid experience for those bold enough to brave the elements. But the money raised to benefit the Special Olympics of Ohio made all the shivering worth it.
"I had fun and I think all of those on my team had fun, but it is a lot of work to raise that much," Chrissy said. "And for those that want to know, going in an outdoor pool in February did not make it any warmer — that water was freezing. Thank you so much, everyone!"
---
THE TRADITION CONTINUES
Wrestling has long been one of Portage County's signature sports, and this past weekend's 86th annual state tournament at Ohio State's Schottenstein Center in Columbus was another shining example of our county's prowess on the mat.
Three Portage County wrestlers captured individual state championships over the weekend, all in Division III. Garfield crowned two champions, junior Keegan Sell at 190 pounds and senior Hunter Andel at 165, while Mogadore senior Tyler Shellenbarger won the title at 215.
As a result of their victories, Sell and Andel now also own the distinction of being Garfield's first state champions in wrestling. Andel scored a tough 3-0 decision over Rootstown senior Cody Coontz in the 165-pound title bout, while Sell decisioned Archbold's Wyat Ripke 6-4 in the final at 190.
Shellenbarger, for his part, captured the Wildcats' first state title since Jerry Stratos in 1997. In the championship match at 215, Shellenbarger outlasted Lucas Thomas of Harrison Central 7-5 in overtime to take home the crown.
Shellenbarger's win comes one year after former teammate Michael Lowe finished runner-up at 215. Shellenbarger earned sweet redemption for the Wildcats by flipping the script at that weight class this time around, becoming Mogadore's sixth state champion in wrestling in the process.
Two other Portage County wrestlers also reached the finals. Aside from Rootstown's Coontz, who dropped that hard-fought 3-0 decision to Garfield's Andel at 165, Streetsboro senior Donovan Paes lost a heartbreaking 7-5 decision to St. Paris Graham's Brogan Tucker in the 132-pound title bout in Division II.
In all, 19 wrestlers represented Portage County at the state tournament. Congratulations on another great year for PoCo!
---
THE TRADITION CONTINUES, PART II
The Kent State men's basketball team qualifying for the NCAA Tournament is fast becoming another Portage County tradition.
The Golden Flashes punched their ticket to their eighth NCAA tourney by defeating Toledo 93-78 in the Mid-American Conference Tournament Championship Game on March 11 at Rocket Mortgage FieldHouse in Cleveland.
KSU will take on — of all teams — Indiana in a Midwest Region First Round clash Friday, March 17. Tipoff at MVP Arena in Albany, New York, is set for 9:55 p.m. So you're going to want to pace yourself St. Patrick's Day so that you're awake and energized for the big game.
And why do I say "of all teams"? Because the Flashes and Hoosiers have quite an interesting NCAA Tournament history together. It began when an upstart Kent State team, coached by Gary Waters, stunned the Big Ten blueblood 77-73 in the first round of the 2001 tournament. Interestingly, the Flashes were the 13 seed and the Hoosiers the 4 seed that season — just as they are for this year's meeting. So if you're into omens, there's one for you.
The teams then met in the tournament the very next year. Kent State, under the direction of first-year (and only-year) head coach Stan Heath, was the Cinderella story of the 2002 NCAA Tournament, knocking off Oklahoma State, Alabama and Pitt in a magical run to the Elite 8. Waiting for the Flashes at Rupp Arena in Lexington, Kentucky, with a trip to the Final Four on the line was none other than Indiana.
And the Hoosiers exacted their revenge, defeating the Golden Flashes 81-69 in a game that saw Indiana connect on a mind-boggling 15-of-19 shots from 3-point range. That was bad enough for KSU, but it was compounded by the Flashes' own 2-of-14 effort on 3s.
So now, 21 years later, we get the rubber match. The Flashes have made three trips to the NCAA tourney between then and now — in 2006, 2008 and 2017 — but haven't won a game in the tournament since defeating Pitt 78-73 in overtime in the 2002 Sweet 16.
Indiana started KSU's losing streak the next game, but the Flashes can get some revenge of their own — and take the series lead in this new NCAA Tournament rivalry — with a win Friday night.
March Madness, indeed.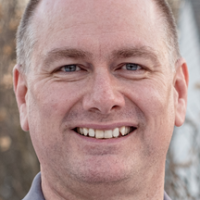 Tom Hardesty is a Portager sports columnist. He was formerly assistant sports editor at the Record-Courier and author of the book Glimpses of Heaven.