The Final Revival of Opal and Nev by Dawnie Walton is a different kind of book. It's a fictional rock-and-roll biography that often reads like the script of a biopic, with plenty of details to give it life. Most of it is in the form of interviews.
Narrator S. Sunny Shelton tells us she's putting together this book about the upcoming reunion of two rock stars from the 1970s. Sunny, the editor of a rock magazine, has a bizarre connection with Opal: Opal once had an affair with Sunny's father. So her motivation is personal curiosity as well as music history as she sets out to interview as many people who knew them or worked with them as she can find.
Opal Jewel and Nev Charles made an odd couple on stage: "She, an outcast Black girl from Detroit, and Nev, a goofy white English boy, had decided to take a chance on each other." Nev was the songwriter. Opal was "the ebony-skinned provocateur, the fashion rebel, the singer/screecher/Afro-Punk ancestor, the unapologetically Black feminist."
Sunny tells us "Nev had broached the idea of a North American reunion tour" and Opal, at 66, is thinking about it. "I'm trying to figure out if I'm up to it. I'm getting old," says Opal.
The book takes us back to Opal's childhood in the South, where she and sister Pearl would sing in church. Opal remembers, "Church back then could be a different thing — a political thing, a place of organization and action, real philosophy." She also talks about her experiences under Jim Crow: "Even at that young age I understood. … That's what the South was like for me. Sweet on the first taste, but something gone sour underneath." She admits, "I was a revolutionary at twelve years old!"
It was her sister who had the singing talent, but Opal who had the stage presence. Opal says, "I always meant for it to be Pearl, I really did. She had the voice; I was just the backup. What I brought to it was the style." Pearl was pretty and had a mature figure; Opal was skinny and had alopecia, so she always felt unattractive. Her producer tells Sunny that Opal "looked like holiday on Mars."
Nev grew up in England, where he liked to make up stories. His piano teacher, who was in a band, liked Nev's stories and set a couple to music. Nev started writing lyrics for the band's tunes and later started singing with them. When he got more popular than the rest of the band, they kicked him out, so he went to New York for a new start. There he started looking for a possible new partner.
One night in New York City Nev heard the sisters sing and zeroed in on Opal: "She was alien and outcast. She was the difference I wanted. She was … the one. Opal was the one." Opal's reaction to Nev: "He saw me as I was, and still he seemed to be choosing me. It's a basic thing, but I had never in my life been chosen before."
Opal lived in Harlem; she says, "It was a place that inspired so much creativity." There she met my favorite character, Virgil La Fleur, who became her best friend and "principal stylist." He turned her into a style icon.
We follow the interviews describing how the two combined their talents, got a record deal, recorded their first album, went on tour and garnered a legion of fans.
Following an Altamont-like showcase event that suddenly turned violent, everything changed. Opal went to Europe, where she felt more free than in America — free to perform as she'd like, free to be more politically active. Virgil describes Opal as "a woman who, in the sum of her life, has been a champion for those who are marginalized, bullied, discriminated against."
During the interview process, Sunny makes an outrageous discovery that may or may not be true. But it's dynamite, so she gingerly asks only a few people about it. Did it really happen?
The book intersperses actual headlines and historic events to make it more like a true biography. The action is uneven, like a subway train starting and stopping, with a long wait to get going again. Still, it's the many details that add flavor and make the plot more real.
Happy reading!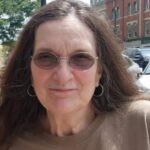 Mary Louise Ruehr is a books columnist for The Portager. Her One for the Books column previously appeared in the Record-Courier, where she was an editor.