Portage County laid to rest local journalist and historian Roger Di Paolo who died June 18 after a two-year battle with cancer. Family and friends filled the Kent State Newman Center on Thursday afternoon to honor Di Paolo's life and celebrate his legacy and accomplishments.
Following the funeral mass, local residents gathered along state Route 59 on lawn chairs and grassy yards to watch the funeral procession. Two Clydesdale horses — the largest in Portage County, according to the funeral director — pulled Di Paolo's casket inside an 1875 hearse from the Rockford Carriage Company, now owned by Billow Funeral Homes.
Di Paolo was laid to rest at Standing Rock Cemetery, where he is buried among some of the many historical icons he wrote about for decades, including Marvin Kent, John Davey and three Kent State presidents.
Loved ones, including Di Paolo's husband Timothy Krasselt and his son Brian Di Paolo, gathered around his casket, which was draped in flowers and a pride flag.
Di Paolo was born June 3, 1955, and lived in or near Kent his entire life. He attended Kent Roosevelt High School and graduated from Kent State University.
Kent was Di Paolo's most beloved muse. His hometown inspired many poems, illustrations and photographs that he continued to create his entire life.
"We would walk around downtown Kent and I would listen to all the stories Roger had. It was amazing to me," said Kendra McClendon, Di Paolo's step-daughter. "Roger knew how to tell an awesome story."
After graduating, Di Paolo wrote for and edited the Record-Courier for 40 years, where he inspired and mentored many reporters and colleagues until his forced retirement in 2017.
"He is the voice in the back of our head. Every person there is influenced by Roger in some way. He influences me every day," said Diane Smith, a Record-Courier reporter.
Friends and family spoke of Di Paolo's character and legacy at an intimate reception at the Kent State Hotel after the graveside service.
Ernie Mastroianni, a fellow journalist and former classmate, recalled covering the gym annex controversy on the site of the May 4 massacre.
"We were in the same class and we both studied journalism at Kent State. We both got tear gassed covering the Kent riots," Mastroianni said. "But that is what we loved doing. It was wonderful to have a lifelong friend."
After Di Paolo was laid off from the Record-Courier, he went on to serve as "the town historian" — officially, historian-in-residence — for the Kent Historical Society. He has published several books, including Rooted in Kent: 101 Tales From The Tree City, and helped write a historical walking tour of the cemetery where he is now buried.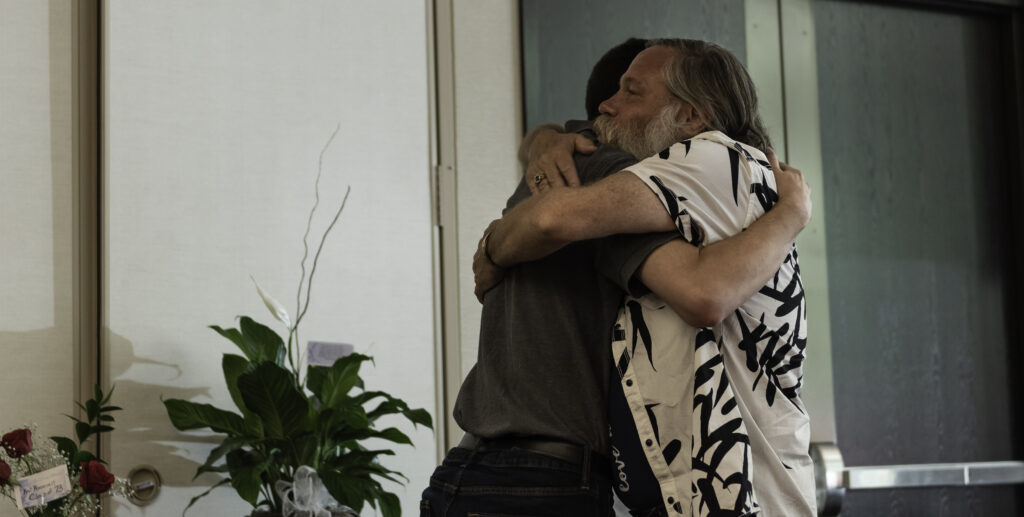 Sandy Halem, Di Paolo's long-time friend, spoke of his good-natured personality and his love for history.
"He has tremendous love and understanding," she said. "He was passionate, full of love, fierce, and he never dropped his values. He knew what it meant to treat people with respect. He was so much more than a journalist."
Photos from Di Paolo's life played on a slideshow, showing many moments that Di Paolo shared with loved ones, including his son.
"It's truly an honor to be Roger's son," Brian said. "He was loved by everyone."