This past March marked 20 years since the Kent State men's basketball team shocked the college basketball world by reaching the Elite Eight of the NCAA Tournament.
The 2001-02 Golden Flashes' unlikely run to the threshold of the Final Four opened the floodgates for mid-major programs such as George Mason, Virginia Commonwealth, Butler, Steph Curry's Davidson team and others to crash the blue bloods' party and make Cinderella a regular in the late rounds of the Big Dance.
And because of that, it's not a stretch to say the 2002 Flashes changed the course of college basketball history. They finished with a 30-6 record on their way to showing that you don't need a massive budget, sparkling, cavernous arena or roster loaded with 4- and 5-star recruits to blaze a trail deep into the wilds of the NCAA Tournament.
Rather, the 2002 Golden Flashes demonstrated that if you have the right leadership at the top, the right mixture of players whose skills complement one another, and a consistent drive to excel, you can pretty much achieve anything.
Two decades removed from that unforgettable run, former Kent State radio play-by-play announcer Steve Sefner, who called the action that history-making winter, has encapsulated the magic of that season in his new book, "The Golden Dream: The Story of the 2001-2002 Kent State Men's Basketball Elite Eight Season" (Gatekeeper Press 2021).
Sefner, with extensive contributions from star guard Trevor Huffman, numerous interviews with players and coaches, and insightful commentary from then-KSU Athletic Director Laing Kennedy, takes the reader through the Flashes' journey that began with the hiring of Gary Waters as head coach in 1996 and his vision for the KSU men's basketball program all the way through the narrow loss to Indiana in the Elite Eight of the 2002 NCAA Tournament.
As you read, you realize how incredible that run really was, how so much had to come together just the right way, how the pieces had to fit perfectly for David to reach a level where he could slay Goliath three consecutive games in the NCAA Tournament. Kent State, seeded 10th in the South Regional after winning the Mid-American Conference Tournament championship for the second straight year, started with two victories in Greenville, South Carolina, defeating 7-seed Oklahoma State 69-61, then stunning second-seeded Alabama 71-58 to reach the Sweet 16.
There, at iconic Rupp Arena in Lexington, Kentucky, the Flashes registered the program's benchmark victory with a heart-stopping 78-73 overtime triumph over No. 3-seed Pitt. The win vaulted KSU to the Elite Eight — still the only time a MAC team has advanced that far in the tournament.
Next up: Big Ten power Indiana, a storied program with five national championships to its credit — and a history with the Golden Flashes. Just one year earlier, Kent State, in its second NCAA Tournament appearance in three years, had been seeded 13th in the NCAA West Regional and faced a First Round matchup in San Diego against the fourth-seeded Hoosiers. Shocking everyone except themselves, the Flashes, behind a team-best 24 points from Huffman, rallied from a 12-point second-half deficit to send the stunned Hoosiers home, 77-73.
In a twist of irony, however, that remarkable upset of Indiana in 2001 may have prevented Kent State from reaching the Final Four in 2002.
Sefner writes in his book: "I was sitting courtside at Cox Arena, San Diego State University, broadcasting the game on radio back to Kent, Ohio. The Golden Flashes just upset Indiana and the players were celebrating on the court, high fives for everyone and big smiles stretching from California to Ohio. But wait a minute, I noticed some of the Indiana players were staring a hole through the Kent State players as they were walking off the court. They were acting stunned and dazed, as if they just got knocked out with an over hand right punch. Their eyes were even saying, 'Somehow, some way, we will meet again.' But come on, that couldn't happen right?
"Or could it?"
Almost incredibly, the teams did meet again in the postseason 12 months later. And the second time around, the Hoosiers understood full well what they didn't understand the year before and what the nation was only fully coming to realize: that the Flashes were not an upstart. They were pretty darn good.
Indiana knew exactly what it was going to get from Kent State: an aggressive, physical, skilled backcourt in Huffman and Andrew Mitchell, a guard duo that played as well together as any in the country; mercurial swingman Demetric Shaw; and the frontcourt tandem of Eric Thomas, an intangibles player who did the little things necessary to win, and Antonio Gates, a matchup nightmare with the strength to chew up opponents in the lane and the skill and athleticism to step outside and knock down jumpers with his feathery-soft shot.
Huffman and Gates were the Flashes' scoring leaders at 16 points per game apiece in 2002. Mitchell was right behind at 15.3 while Shaw averaged 7.3, giving Coach Stan Heath the balance he craved and creating a conundrum for opposing defenses: Who do you try to stop, and what area of the floor can you afford to leave vulnerable?
Having played and lost to Kent State in 2001, Indiana was well aware that the Flashes were formidable. They played team basketball, they were gritty defensively, and they were confident to the point of possessing a swagger more befitting of a team from the Big Ten or Atlantic Coast Conference than the MAC.
But this was no ordinary MAC team. This was a group that in the last two NCAA Tournaments had taken down a 4 seed, a 3 seed, and a 2 seed. It was going to take the Hoosiers' best effort to beat Kent State.
And they got it. The locked-in Hoosiers hit a torrid 15-of-19 shots from 3-point range, with guard Dane Fife burying 5-of-6 from long range, while the Flashes went cold from deep to the tune of 2-of-14 as their dream season ended with an 81-69 loss at Rupp Arena.
But that's what it took to oust those Flashes: a once-in-a-season shooting night by a college basketball power program that had the good fortune of getting a sneak peek at KSU one year earlier.
Sefner's book gives tremendous insight into the mindset of the Kent State players and coaches that season, particularly in the NCAA Tournament as the underdog and underappreciated Flashes picked off one high seed after another. Quotes from the book to wit:
– Heath: "I always felt like our team played with a little bit of a chip on our shoulder. A team from the MAC wasn't really respected in a lot of different ways."
– Thomas: " … any Big 12 or elite school will overlook a Mid-American Conference team. … we got something to prove to the world that we're just not a mid-major team, we are a very high caliber team."
– Backup guard Eric Haut: "We felt like we could beat anybody, we really thought we could win a national title, we really did. You know how teams say that at the beginning of the year, we really believed it."
– Huffman: "We want to be known on a national scale, just like Gonzaga."
– Shaw: "We are talking about a brotherhood and the legacy we left behind. We were willing to fight out there for each other. It let me know that all you have to have is a spirit of connection and a spirit of courage and there's no stopping you. … we just looked like some guys who weren't going to take any crap and that's what we were."
– Gates, who went on to a likely Hall of Fame career as a tight end with the San Diego/Los Angeles Chargers: "My experience at Kent State is second to nothing, even what I have done in the NFL, for the simple fact that when I was at Kent State, the things we did was pure passion, had nothing to do with business, had nothing to do with money, it was a bunch of kids coming together for a common goal."
Sefner's book details how "a bunch of kids coming together" resulted in an iconic mid-major basketball team — a team that changed the landscape of college basketball forever.
Yes, MAC teams had pulled stunning victories before in the NCAA Tournament: Miami (Ohio) over Arizona in 1995, Eastern Michigan over Duke in 1997, Western Michigan over Clemson in 1998, and Eastern Michigan reaching the Sweet 16 in 1991.
But the 2002 Golden Flashes marked a changing of the guard of sorts. Their march to the Elite Eight opened an era where the term "Cinderella" is virtually obsolete due to mid-majors having become a fixture deep in the NCAA Tournament since then. Nobody is surprised anymore when a mid-major reaches the Elite Eight or Final Four — Butler posted back-to-back NCAA runner-up showings in 2010 and 2011 — and, if anything, it is almost expected now.
Before 2002, it was the exception.
After 2002, it's the norm.
And mid-majors everywhere have The Golden Dream to thank for that.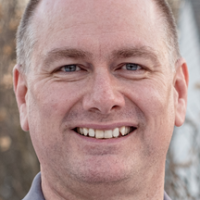 Tom Hardesty is a Portager sports columnist. He was formerly assistant sports editor at the Record-Courier and author of the book Glimpses of Heaven.