Over the last several months, the Portage County Solid Waste Management District has broken agreements with municipalities, largely because they don't have enough drivers to collect recycling. The agency's director, Bill Steiner, says drivers don't want to work a difficult job for low pay.
But exit interviews with former employees suggest there may be another reason: Steiner.
Among 13 exit interviews The Portager obtained through a public records request, four former employees said they would have continued working at Solid Waste if not for Steiner, who they said mistreated them, belittled them and cursed at them. And while wages factored into some former employees' decisions to leave, some also said they resigned because of unsafe working conditions and pressure to work overtime week after week, with no end in sight.
On Thursday, Portage County commissioners voted to accept the resignations of two more drivers, bringing the total number of employees to six, down from the 14 Solid Waste staff members actively working in March. Since 2018, 19 Solid Waste drivers and mechanics have resigned.
Also on Thursday, as the agency's staffing troubles worsened, Steiner abruptly took leave of his role.
"Bill is on extended vacation, and I am the acting director as of today," said Dawn Collins, who had been Solid Waste's deputy director. She did not disclose further details about Steiner's vacation, and Steiner could not be reached for comment.
The Solid Waste Management District, which engages in contracts throughout the county for recycling collection, has been in financial turmoil since the collapse of the overseas market for American recyclables. Amid the budget crunch, the agency has reduced recycling pickup services for some residents while doubling rates for others. One municipality, Streetsboro, terminated its agreement and switched to a private firm after learning the organization didn't have enough drivers and trucks to continue weekly pickup.
To cope, the agency has pushed its remaining employees to work longer hours.
This year, drivers and mechanics have worked over 3,500 hours of overtime, pulling dozens of 12- 13- and even 15-hour-long days. In July alone, eight drivers and two mechanics worked about 475 hours overtime combined. At the end of July, a mechanic and a driver resigned, and the remaining eight staff members worked the same amount of overtime, about 475 hours, in August.
Steiner has told local leaders that drivers are leaving to work for companies like Amazon. But that may not be the full picture.
The long shifts took a toll on some workers: At least four of six employees who resigned or retired since January cited long hours as the reason they left. One former employee stated in his exit interview that the overtime "didn't seem like it would ever end," according to notes from the interviews documented by human resources staff.
Another worker who left in December said he was told during the interview process that overtime would happen "here and there," but that wasn't the case — he sometimes worked 17-hour days and said by the time he left, it was "only getting worse."
Not all drivers had negative opinions of Solid Waste. Three former employees praised Steiner's management style in their exit interviews, saying he was complimentary, caring, polite and set reasonable expectations.
One of those employees, a mechanic who averaged 20 hours of overtime each week in June and July before resigning, said he was used to working long hours and didn't mind the overtime — but he knew it bothered others. He wasn't actively looking to leave Solid Waste, but recruiters from another company approached him offering better pay and benefits, including a company truck.
The Portager attempted to interview nine former employees who worked at Solid Waste between 2019 and now but only reached one, who declined to be named in this article for fear of retaliation from Steiner.
Unreliable equipment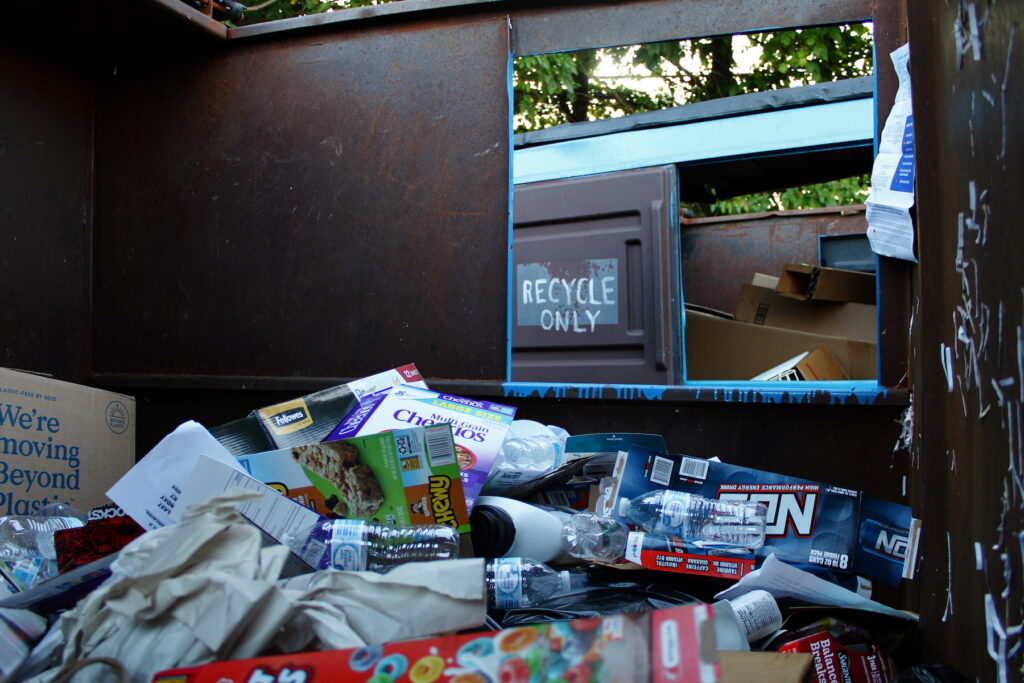 In exit interviews, seven former truck drivers said frequent truck breakdowns were a source of stress and frustration.
"It's junk equipment," said the former employee who spoke to The Portager. "I don't want to drive that every day. You drive from one house to the next … and it whines so bad that a guy comes out to ask if you need transmission fluid. They had nothing but issues [with those trucks] when I was there."
The former employee said he saw safety issues with the trucks that concerned him: The trucks leaked fluids, the tires were bald and the brakes locked up. "You'd hit the brakes on some of the trucks and find out that you were only stopping on one front brake or one rear side of the truck. That's not safe. I mean, you hit the brakes and they'd just lock up, and you're just sliding. There's nothing you can do but start pumping the brakes," he told The Portager.
He continued: "There was another truck that had a bad oil leak. You'd stop and dump a container, and [the truck] would leave a puddle on the ground. None of this stuff was really getting fixed. They just put a band-aid on it and let it go."
Collins said that while she wouldn't call the trucks unsafe, she acknowledges they were not a good purchase. "Their transmissions aren't good — they have to be rebuilt a lot," she said. She did not offer a comment on the tires or brakes.
An employee who retired in 2020 and gave a mostly favorable exit interview said employees are hardworking and willing to do the job, but are consistently set back by unreliable equipment. He said it seemed the trucks weren't receiving proper preventative maintenance, which led to more frequent breakdowns.
Another driver who resigned in 2018 said the 11-13 hour days with short breaks were "more than he bargained for" — and that he didn't feel safe working at the rapid pace administrators called for when it was dark out for portions of their shifts, the trucks were big and "there were hazards all over."
A third former employee told Portage County HR in his exit interview that he too saw safety issues that management didn't address. For instance, there was a sign near a grate in the floor at the worksite that said not to drain anything into it, since whatever drains there goes into the drinking water. The employee noticed the trucks leaking chemicals into the drain, and he said Steiner was aware of the problem but did nothing about it.
Collins said she "never heard that once." There isn't a grate or sign like that, she said.
The same employee was also concerned that Solid Waste's Covid cleaning protocols weren't thorough enough. He said after a couple employees got Covid, Steiner and another worker would go into the trucks and spray sanitizer every Friday. After the department's 3rd shift driver got Covid, Steiner avoided going into the trucks and quit his sanitizing routine.
Collins said Steiner did stop sanitizing, but it was because drivers asked him to. They didn't like the crystallization the sanitizer spray left on the trucks' interior surfaces, she said. Currently the department provides drivers supplies to sanitize their own trucks.
High-pressure workplace
Another source of stress was Steiner's management approach, four former employees told county HR. Two employees said Steiner cursed at and belittled them when he got upset, which created a hostile work environment. One of them said he understood Steiner was under pressure, but "that is no reason to belittle someone."
A driver who resigned in 2017 said that at the beginning, he "loved coming to work and working for Bill." Things changed when the driver got behind on his routes and began asking others for help. Instead of talking to the driver and helping him work out a solution, the former driver said Steiner targeted him and "disciplined him for every little thing."
Solid Waste employees "are just trying to survive," he told HR. "It's best not to say anything or talk to anyone, just come to work and do your job."
"If Bill doesn't like you, he'll ask why you're going so slow," said the former driver who resigned in December. He said he saw Steiner picking on the guys "all the time — that's why no one stays. Workers are constantly on their tippy-toes to stay away from Bill."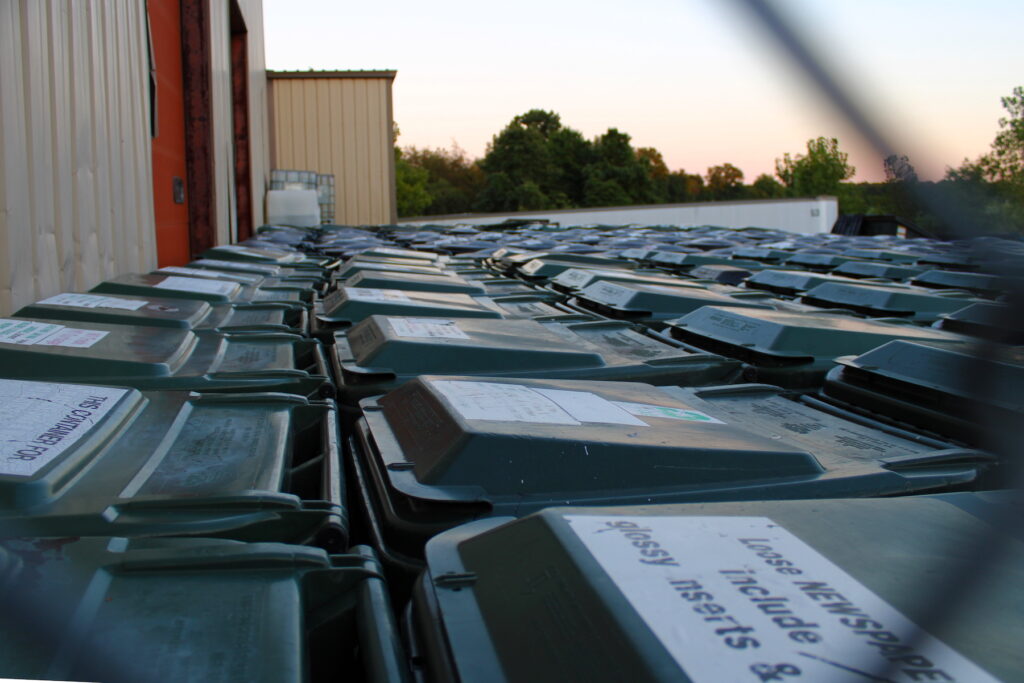 The former employee who spoke with The Portager said he sometimes got yelled at for reporting issues with trucks. Management's attitude was, "'Just drive the truck. Do what you're told,'" he said, accenting the comment with an expletive. "Well, that's my safety. You know what I mean? That's my driver's license, not his. That's my career, not his. It's just putting my career and driver's license in jeopardy."
The same former employee said that on two occasions Steiner made comments that made him think his job was at risk, cursing in response to routine workplace stressors in one instance. After that, the employee said he had enough.
"That was the second time he told me to pretty much leave. So I solved the issue, and I left. I didn't mind the job. If it wasn't for the Parker systems and [Steiner], I'd go back," the former driver told The Portager, referring to the truck manufacturer.
Corrective action
Portage County Commissioner Sabrina Christian-Bennett said the commissioners, who act as the Solid Waste District's board, were aware of the complaints about Steiner's management style but never formally disciplined him for it. Instead, they had a series of conversations with Steiner about the way he treated employees and believed he was making progress. Three former employees noted in their exit interviews that Steiner's behavior had noticeably improved over the course of the past two years.
The commissioners also responded to employee complaints about Steiner by making Collins the truck drivers' direct supervisor, which happened earlier this year, Collins said.
Notably, HR's records of employee complaints about Steiner date back to 2017, when a former driver told an HR employee he believed Steiner created a hostile work environment, bullied employees and pitted them against each other.
The commissioners try to take former employees' criticisms of their bosses with a grain of salt, Christian-Bennett said.
"I'm not saying they're right or wrong, it's just — if we start seeing a pattern, then it seems to carry more weight versus one disgruntled employee," she said. "We have to keep our minds open. Sometimes people write those [exit interviews] when they are disgruntled."
Christian-Bennett said the commissioners do address repeated complaints, though. "When you start seeing a pattern, then it's like, 'OK, perhaps there are some legs to this, and we need to look into it.' So we did, the commissioners did. And Bill said, 'I know I'm not the most personable. And maybe I'm a little gruff.'"
Collins declined to comment on former employees' complaints about Steiner's management style, noting that even though Steiner is on extended vacation, he is still her boss.
Options for Portage County recycling
Collins said Solid Waste is trying to reduce the number of hours employees work by switching to every-other-week service for the cities that have contracts with the agency. Streetsboro's contract ends in September, and Solid Waste will not bid on a new contract with Aurora when the current one expires at the end of the year.
She said her drivers will probably still work overtime, but "not extreme overtime."
"I think we needed to do a better job explaining that this isn't a nine-to-five job," Christian-Bennett said. "I mean, it's long hours. Long days." She explained that if a truck broke down around lunchtime and the mechanics completed the repairs in the afternoon, the driver would often have to stay late to finish a route. "Because we didn't seem to have any backup [trucks] either."
Christian-Bennett said there aren't yet plans to add backup trucks to the fleet or replace the unreliable trucks that are causing the long work days.
"We have not discussed a capital improvement plan in great detail yet. We're just getting into the budget," she said. "But I can tell you, safety is our utmost concern. And if we needed repairs for the safety of our employees and for the constituents in our district, we would do what we have to do. We would never intentionally put someone in a truck that we know it's going to break down."
Both Collins and Christian-Bennett said they are aware of a couple former drivers who expressed interest in returning to work at Solid Waste, and Collins doesn't anticipate losing any more drivers.
The commissioners realize they need to work on attracting talent to Solid Waste, "because we don't have the tools that the private sector can use."
"Our county administrator is working with the district … to try to see what else we can do without burning out our staff members who are loyal and show up to work," Christian-Bennett said. "We're no different than anyone else right now. I mean, restaurants, every place you go, they're having staffing problems. And it makes it hard for the people who stay."
Christian-Bennett wants residents to know that if there's a delay in their recycling pickup, "it's not negligence on our part. It's more of a safety issue. We can't have a driver working from sun up to sun down seven days a week. There are restrictions as far as how many hours trucks can be on the road. Everyone is dealing with a shortage of employees right now, so please be patient with us."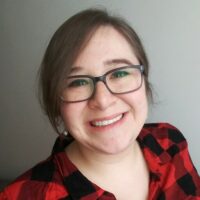 Lyndsey Brennan is a Portager general assignment reporter. She is completing her master's degree in journalism at Kent State and is an alumna of the Dow Jones News Fund internship program. Contact her at lyndsey@theportager.com.