I'm a sucker for books with "library," "book," "reader," "bookstore," etc. in the title. So when I noticed two novels recently on the bestseller list with "library" in the title, I had to check them out.
The Paris Library by Janet Skeslien Charles is a solid work of fiction based on the true story of how librarians kept the American Library in Paris open during World War II.
The major story of the dual timeline starts in 1939, when our heroine, Odile, is working at the American Library. She tells the reader, "The Library was more than bricks and books; its mortar was people who cared." Among its staff and patrons are the Countess from Ohio; the wife of an attaché at the British embassy; a Jewish professor; and the Russian Boris, known for his "bibliotherapy": "He knew which books would mend a broken heart, what to read on a summer day, and which novel to choose for an adventurous escape." For these interesting characters, "The Library felt like home," and the book made me feel as if I were living there, too, much as the riveting book A Gentleman in Moscow did.
"The Library is my haven," says Odile. "I can always find a corner of the stacks to call my own, to read and dream. I want to make sure everyone has that chance, most especially the people who feel different and need a place to call home."
Her brother thinks Hitler will take over Europe soon, but no one believes him. And Odile is appalled to witness bigotry becoming more prevalent, even in the library.
As the City of Light prepares for the inevitable war, people begin to leave the city. Some of the patrons go back to America; young men are called up to the army. The librarians make plans to move the books to safety and to send books to soldiers. When the Nazis take over and will no longer let "certain people" enter, some librarians risk their lives to deliver books surreptitiously to their Jewish patrons' homes.
Of course, the situation gets more intense: Someone is spying on them and reporting them to the Nazis. The Gestapo gets involved, with checkpoints and searches. The librarians are in serious danger, and not everyone survives.
In the 1983 timeline, 12-year-old Lily, whose best friend is Mary Louise(!), lives in Montana, next door to the mysterious older Odile, whom townspeople call "the War Bride." Here we learn the rest of Odile's story.
The plot is absorbing, but the star of the book is the writing. There are so many lovely lines: When Odile tutors Lily in French, Lily says, "I tasted the words and loved how they felt on my tongue." At one point, Odile tells us, "When the bus screeched to a stop at a red light, I fell out of my book." Then there's this: "Grief is a sea made of your own tears. Salty swells cover the dark depths you must swim at your own pace. It takes time to build stamina. Some days, my arms sliced through the water, and I felt things would be okay, the shore wasn't so far off. Then one memory, one moment would nearly drown me, and I'd be back to the beginning, fighting to stay above the waves, exhausted, sinking in my own sorrow."
Don't miss this one.
---
The Midnight Library by Matt Haig is a fantasy about a life do-over. Nora Seed is 35 and depressed. She has just backed out of her own wedding, her mother has died and she decides to end it all by taking some pills.
She wakes up (or is it a dream?) in a vast library, with endless shelves of books. Her librarian from gradeschool, Mrs. Elm, is there, and Nora asks her, "Am I dead? Is this the afterlife?" Mrs. Elm answers, "Not exactly. … Between life and death there is a library … And within that library, the shelves go on for ever. Every book provides a chance to try another life you could have lived. To see how things would be different if you had made other choices."
The library shows Nora what would have happened if she had made different decisions, as in the movie It's a Wonderful Life, but with many options. So she tries out roads she didn't take. She pursues a love life, then different careers, jumping from one to another: "In one life, she had a teenage son … In one life she was a concert pianist … In one life she only ate toast … In one life she was an aid worker in Botswana … In one life she was a chess champion."
The thought-provoking book ends rather as you'd expect, on an uplifting note about life being good, but I do have to caution anyone who is triggered by suicidal suggestions.
Of course, if you love a library, don't miss Susan Orlean's excellent nonfiction The Library Book, about the 1986 fire in the Los Angeles Public Library.
Happy reading!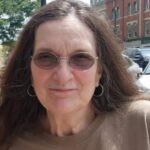 Mary Louise Ruehr is a books columnist for The Portager. Her One for the Books column previously appeared in the Record-Courier, where she was an editor.