My research for last week's Round Two about former Kent Roosevelt football coach John Nemec was like traveling back in time.
And not just to the days in the late 1990s when I spent a lot of time at Roosevelt High School covering Rough Rider athletics. Before then, actually.
I was searching for some numbers on the Roosevelt-Ravenna football rivalry when I stumbled onto a YouTube video of the 1994 Lake at Ravenna football game. It was taken from the visiting Lake sideline at old Gilcrest Stadium, snippets of the game showing highlights of key plays by the Blue Streaks (if you're into nostalgia, watch here).
I was at that game. It was my first high school fall sports season at the Record-Courier, and my beat was Ravenna High School athletics. Longtime R-C sports writer Oscar Knight, who was nearing retirement at that point, was dialing back his roving reporter days covering Ravenna sports, so then-sports editor Tim Houser had given the beat to me.
It was Week 10, the final game of the 1994 regular season. That short video hit me in a way I didn't see coming, and it brought it all back for me: getting to know Ravens head coach John Keegan that fall, interviewing him and a senior player every Wednesday afternoon at practice at Carlin Elementary School, the exhilarating touchdown runs by speedy tailback Dave Kendrick, the grit and toughness the Ravens played with every Friday night.
But it also brought back something else: How much time has gone by since that night. How much has changed. And how a short video from an obscure high school football game buried somewhere in time can carry such deep meaning all these years later.
That was 28 years ago. I was 26 years old then. I'm 54 now. More time has elapsed since that night than my total years on Earth up to that point, which doesn't seem possible.
In some ways, these last 28 years have gone by in the blink of an eye. I can remember chatting with Keegan at practice that fall of 1994 like it was last week. I enjoyed that beat as much as any in my career, and cultivating a friendship with Keegan remains one of the highlights.
In other ways, it seems like a lifetime ago. And it kind of is, particularly in light of all the things that have transpired in the nearly three decades since.
I watch that video and think of what I didn't know — what I couldn't know — that autumn night at old Gilcrest Stadium, events that lay in wait for me in the future like a snake coiled up in the grass, about to strike.
I didn't know that so many — too many — of my coworkers at the Record-Courier would pass away between then and now.
Oscar Knight died in 1997. Oscar helped me transition into the Ravenna beat and even sat with me in the press box at Gilcrest Stadium that 1994 football season, helping me with whatever I needed while covering games. He showed me the ropes, and I will always be appreciative of that.
Photographer Robert Seton died while mowing his lawn in 2000. I miss talking with Bob about his days growing up in the Milwaukee area and how I had to see the Villa, an art museum overlooking Lake Michigan. When my wife Kim and I drove to Seattle (yes, drove) in the summer of 1998, we stopped in Milwaukee for a day on the way out. After we got back, Bob asked excitedly, "So, did you get to the Villa?" We hadn't, but I told him we would make a point of it on our next trip out that way. "Make sure you tell me all about it when you do," he'd said. Bob died two years later. (I still haven't been there, Bob, but it's on the docket.)
Photographer Richard Sweet died in 2005. You could always count on Richard to give you exactly what you asked for from a sporting event, which is crucial in designing newspaper layouts. No matter what player, what angle, what shape or size of photo, he got it for you. That's a big deal, especially considering I am still waiting on some photos from other photographers from 20 years ago (I'm starting to think they're not coming). Richard was the consummate professional.
News writer Marci Piltz died in a house fire in 2009. All these years later, it still doesn't seem real. She was so full of life, a genuine person who didn't put on airs, and she was a respected reporter. I always enjoyed working with her, and the old R-C building in Ravenna never felt quite right after that tragic day. Marci was only 30 when she died.
Legendary sports writer Harry DeVault, a man whose articles I had read since I was old enough to read, died in 2018. Harry was one of a kind, a fearless sports writer who called 'em like he saw 'em. He was nothing if not honest. Harry, who covered Kent State football for over 30 years, proclaimed in the old R-C Ravenna office one day shortly before he retired: "Nobody in America has seen more defeats than I have." He was probably right.
My buddy Chuck Condley, another R-C sports writer, also died in 2018. Chuck and I worked nights in the office together for more than a decade, and we often endured some of the worst humanity has to offer. Chuck took game results from coaches over the phone, but angry readers often got through with complaints — some of them valid, most of them off planet. By the end of a call, Chuck, who served in the infantry in Vietnam, was ready to reach through the phone and grab the person on the other end of the line. Then, after hanging up — or, more accurately, slamming the receiver down so hard it's a minor miracle it never came apart in his hands — he would turn to me, smile and say, "Another satisfied customer." I miss those nights in the office with Chuck.
My boss and friend, R-C editor Roger Di Paolo, died in 2021. I never worked for a better person, and I never worked for a boss who had his employees' backs the way he did. Roger wrote several books about his beloved Portage County, but he could have written one on how to treat workers with respect and dignity. Roger was Portage County's ambassador to the world. No one will ever fill that role as well as he did, and certainly not with the same level of humility and sincerity. Portage County lost a part of itself when Roger died.
There were others, so many others, in various departments at the newspaper. All part of our little work family at the Record-Courier, all of them gone now.
But when I watch that video of Ravenna playing Lake at old Gilcrest Stadium, they're not gone. They were all very much alive that night, and they always will be every time I click 'Play.' Busy living their lives.
Somewhere in time.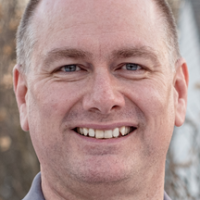 Tom Hardesty is a Portager sports columnist. He was formerly assistant sports editor at the Record-Courier and author of the book Glimpses of Heaven.