Dec. 24, 1983.
I stood with my dad in the darkened backyard of our home in Mogadore, experiencing a Christmas Eve night like none before: The mercury had plunged to minus 14 degrees, and the several inches of snow that blanketed the yard had frozen to the point that we could actually walk on top of it, the snow crunching loudly with each step we took.
An arctic silence had descended on our little side street. By this time, people had finished with their cozy family gatherings and last-minute gift wrapping and gone to bed. One by one, the houses on our street had gone dark, and even ours showed little sign of activity save for a lamp that illuminated the living room where Dad and I had stayed up talking as we usually did on Christmas Eve.
"Let's go outside for a few minutes," Dad had said. "Let's just see what it's like."
I tried to wrap my 15-year-old brain around Dad's logic: We were nice and warm in the comfort of our living room, and he wanted to stand outside in the ice and snow where it was probably colder than the North Pole itself? I think I'll pass.
"Come on, Bear," Dad said, calling me by the nickname that he and Mom used far more often than the name they gave me at birth. "It'll be something to experience. You'll never forget it."
I knew his heart was set on it, so there was no sense going back and forth on the issue. "OK, Dad," I agreed. "Let's go."
We bundled up to step outside for a few minutes, but the icy fingers of the arctic chill quickly made their way underneath our layers of clothing, heightening our senses as we soaked in the stillness of Christmas Eve. The only sound was that of our breath slamming into the frigid air, crystallizing into clouds of tiny ice droplets in front of our faces. I felt a burning sensation in my lungs each time I inhaled as if the very life was being sucked out of me.
Dad seemed completely unfazed by it all, gazing around our wintry surroundings and staring up at the night sky.
"Do you hear that?" he asked.
"What?" I responded. "I don't hear anything."
"Right," he said. "Listen to how quiet it is."
No kidding, I thought. Everyone is sleeping by now, and those who aren't surely aren't going to hang outside and in minus 14-degree weather.
"Just listen to this," he continued. "You might never hear anything like this again. There's no sound at all."
We made our way down the driveway to the street and looked around. No lights, no cars, no activity, no nothing. It was like Dad and I were the last two people on Earth. I was beginning to appreciate the moment.
I stopped and listened … nothing except for the faint whistling of a light breeze coming off the frozen landscape of the golf course behind our street, as if nature itself was providing its own music of the night.
We had been outside for several minutes by this time, but my body had begun to adjust to the temperature. That, or I was too engrossed in the moment to notice. Either way, I was glad that I was getting to share this experience with Dad on Christmas Eve. It was absolutely magical.
Dad turned to me. "Well, Bear, are you ready to go in?" he asked.
Actually, I wasn't. I didn't want this moment to end. I couldn't get over the depth of the silence that engulfed us.
"Yeah, I guess so," I answered. "We should probably go back inside."
We headed to the back of the house, the snow continuing to crack and crunch under our feet as we headed toward the door. I savored the final moments of this bitterly cold night with my father, realizing that even as most of my life still lay ahead of me, we may never get this chance again.
"Well, what did you think?" Dad asked as we reached the back door.
I didn't know how to respond to that. The whole thing overwhelmed the senses. It's not often that you get to — or want to — mill around outside late at night when it's minus 14 degrees. Let alone on Christmas Eve.
But it was right down Dad's alley. He wasn't especially religious, but he was a spiritual person. He viewed and felt things on a deeper level than the average person, seeking what meaning, purpose and truth he could find in this existence. And standing outside with his only child on a frozen Christmas Eve night helped him in that search.
To him, that was Christmas.
"I can't believe how quiet it is," I answered. "It's so peaceful out here."
"I knew you'd like it, Bear," Dad said. "You'll never forget this night."
We walked into the house, greeted by a welcome rush of warm air as we stepped into the kitchen. Ahead lay the living room, with our Christmas tree in all its lighted and decorated glory standing at the far end in front of the main window. The tree had been visible as we stood by the road, giving our house the look of a Thomas Kinkade painting.
And underneath the tree were the wrapped gifts which, in a few hours, would be torn open in the excitement of another Christmas morning.
I don't remember what I got that Christmas. Probably the usual Ohio State and Cleveland Browns gear and some books. But I didn't need to open any presents that morning, because I had already received the best gift I could have gotten.
Dad passed away in 2005, but I still step outside every Christmas Eve night and listen to the silence, alone. I look up at the sky, and suddenly I'm that 15-year-old kid again bundled up shivering in the backyard with Dad, experiencing a moment forever frozen in time.
You were right, Dad. I've never forgotten.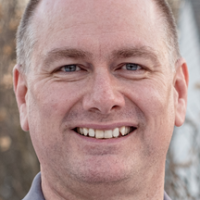 Tom Hardesty is a Portager sports columnist. He was formerly assistant sports editor at the Record-Courier and author of the book Glimpses of Heaven.