On a recent Saturday, a green school bus with the words "Food Pantry" on the front pulled into a lot on Deerfield Circle.
Rena Davis emerged from the bus, filled with bags of groceries, as someone in a Nissan Maxima approached and popped the trunk. She greeted the visitor and Jason Davis, her husband, started filling the trunk with food.
The Davises built this pantry on wheels themselves in the wake of the pandemic and food insecurity crisis that followed. Known as the Rural Relief Mobile Food Pantry, their mission is to meet the needs specifically of rural Portage County, where pockets of the population experience the additional difficulty of living in a food desert.
They started their nonprofit on April 21 with their first distribution in Deerfield. On the summer day The Portager visited a distribution, the pantry served 42 people in two hours. The groceries are free to the recipients.
As of July 28, 2021, the Davises have helped serve 927 people and have provided 8,343 meals. Since starting in April, they have assisted around 350 to 400 people a month.
Rena is from Rootstown and Jason is from Charlestown, and they now live in Rootstown. Both grew up affected by food insecurity, so they knew there was hunger in the rural communities of Portage County.
"Growing up, we both experienced food scarcity in our own families as well as our communities. You feel powerless as a child. This is a driving factor behind why we want to help with Rural Relief now," Rena said.
Food insecurity, according to the U.S Department of Agriculture, is a household-level economic and social condition in which people have limited or uncertain access to sufficient food.
In Portage County, the projected overall food insecurity rate for 2021 is 13.5%, according to Feeding America Action. In 2019, the rate was 12.7%, showing an increase in food insecurity since the pandemic started.
Because they both grew up in Portage County, the Davises had a good idea which townships were most in need.
They also conducted research to figure out where the most need was by looking at the number of students who received reduced and free lunches in Portage County school districts, and statistics of families receiving assistance from the Ohio Department of Job and Family Services.
Their goal is to "expand to all of the outlying communities in Portage County that need help." In other words: food deserts.
Food deserts are "areas where residents' access to affordable, healthy food options (especially fresh fruits and vegetables) is restricted or nonexistent due to the absence of grocery stores within convenient traveling distance," according to the Food Empowerment Project, a California nonprofit.
Food deserts in Portage County tend to be in rural areas. For some people, this may be because other food pantries are too far from where they live or because food pantries are only open during times when they have to work. So the Davises decided to take their food pantry on wheels to assist the people who needed it.
"We want Portage County to know that we are here and we're neighbors trying to take care of neighbors," Jason said.
The Davises had the idea to start their organization in December 2020 and applied for nonprofit status from the IRS. The initial funding came from friends and family. During this time, they also contacted the Akron-Canton Regional Foodbank to become part of their distribution network.
Before becoming a partner, they had to meet a few basic criteria from the foodbank, which would officially give them access to its resources.
Raven Gayheart, the Akron-Canton Regional Foodbank public relations and communications manager, says that to qualify agencies must be a 501(c)3 charity registered with the IRS or a church.
They must also ensure that there is a safe place for the food to be stored, and they must attend an orientation where pantry directors learn about being a network partner with the foodbank, said Nathan Kreis, an Akron-Canton Regional Foodbank manager.
Because the Davises main goal is to reach out to people dealing with food insecurity in Portage County, they had to make their food pantry mobile.
To do this, Rena and Jason had to find a vehicle big enough to store the food. They searched on Facebook Marketplace and came across a Headstart daycare bus. They bought it for $3,500 and transformed it into what they call the "Hope Machine": They took out the seats, installed a new floor and painted a green coating on the outside of the bus.
"We painted it and did all the work ourselves," Rena said. They use this bus to get to and from their Rootstown office, where they store the food, and the distribution sites.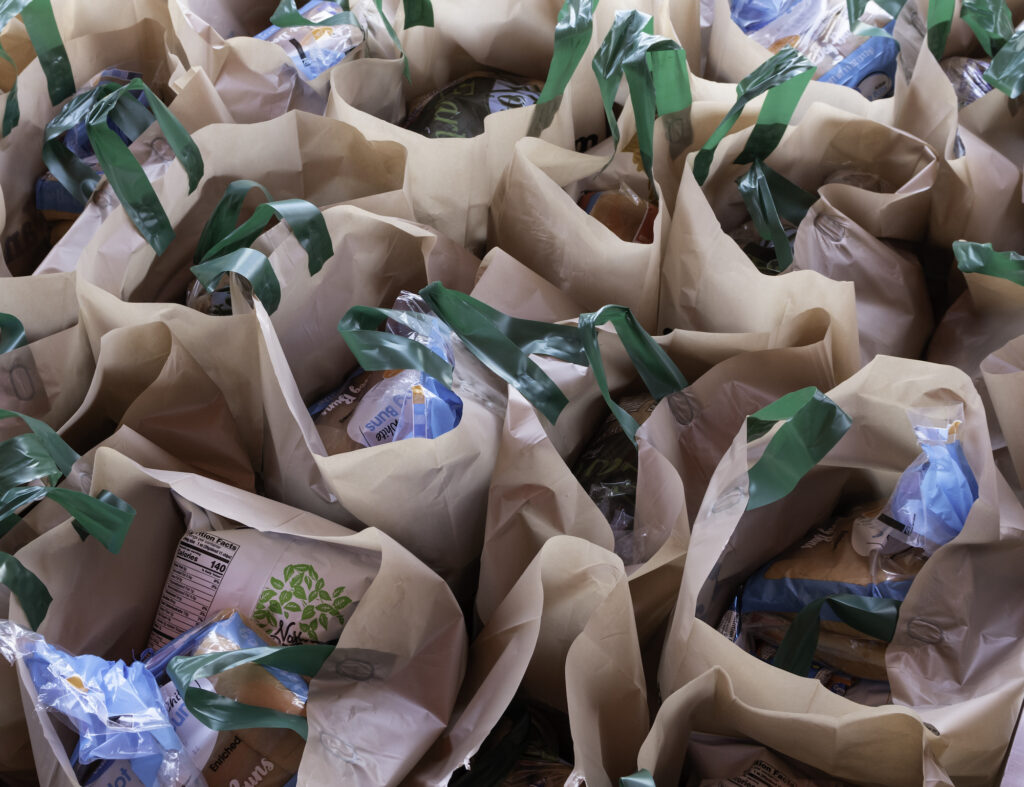 The Rural Relief Mobile Food Pantry has raised $2,595 through donations, but the Davises have put a lot of their own money into this organization. These contributions go toward food, gas for the Hope Machine, storage and rent costs for their office, supplies to pack the groceries, insurance for the business and bus, and other costs that pop up as they continue to operate.
Since starting their food pantry, the Davises have continuously gone to three main locations in Portage County to do their grocery distributions: Atwater Old School Park, Deerfield Circle across from the Circle Restaurant, and Moyer Fields Park in Randolph. They hope to expand to more communities in the future and want to provide other services to people.
"We hope to do a backpack program for the kids and possibly start delivering to people that can't get out," Jason said.
The Davises continue to reach out to local communities and asks the residents of Portage County to contact them to let them know of more townships that need help and specifically the neighborhood within that township. Eventually, they hope to expand to more communities where food insecurity is a problem and to make sure that the rural communities that need help are not forgotten.