Over 50 people gathered at Windham High School on Saturday night for a candlelight vigil in honor of Kammie Kiser, a 19-year-old woman killed by gunfire in Warren early Friday.
The shooting took place in the parking lot of a Warren Heights apartment complex while Kiser and two others were sitting in a car, police said. The two others were injured.
The shooter is still at large, and the case is under investigation by the Warren Criminal Investigations Division.
As news of Kiser's death spread through the Windham community on Friday, mourners expressed their shock on social media, leaving remembrances on her and her family members' profiles.
Harley McCabe, 22, of Windham, said he organized the candlelight vigil Friday morning after learning about the incident.
"I found out and then I was like, well, I want to do something big for this family," McCabe said. So, I just went on [Facebook] and posted and tagged all my friends, and I was like, let's make it happen."
McCabe last talked to Kiser on his birthday, May 11.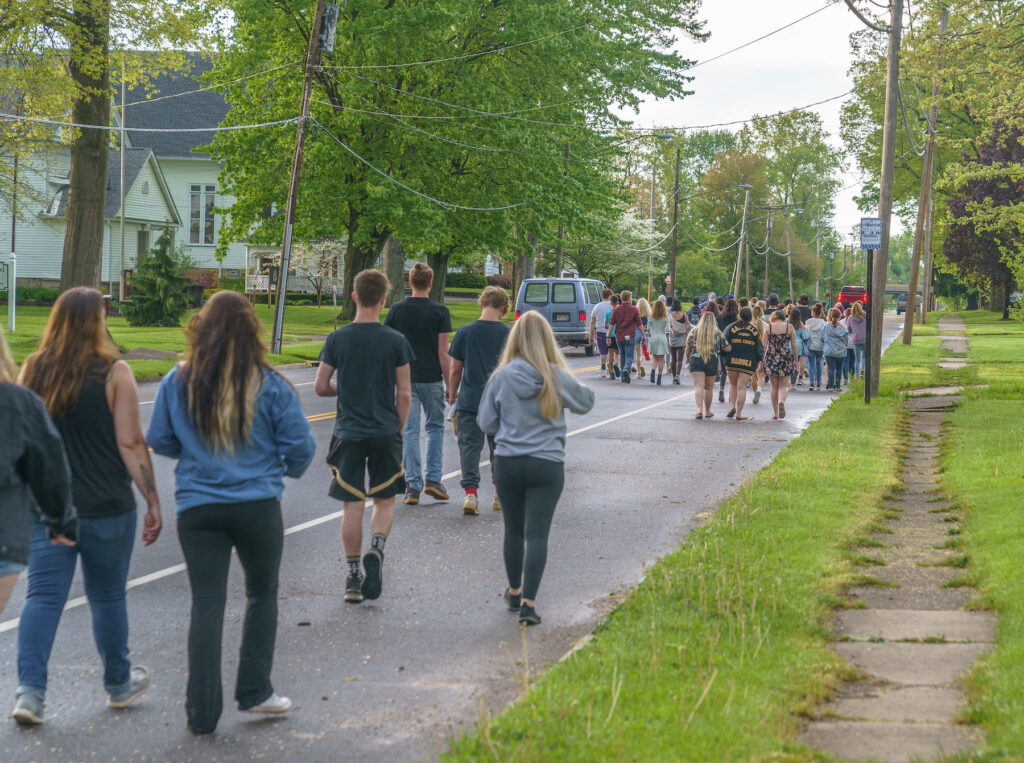 A procession began in the parking lot behind the high school and moved through the village, eventually arriving at a family member's house, where the group left flowers and candles in the driveway as Kiser's family watched from the porch.
Kiser's mother, Clarissa Reichard, 40, of Garrettsville, said something needs to be done about the ongoing violent crime that continues to afflict Warren and Windham.
"Kammie would do anything for everybody," Reichard said. "She had the most beautiful heart and did not deserve what happened to her. I'm not going to stop until she has justice. It's not OK, it's wrong. She was a beautiful, beautiful girl. This is devastating to all of us. None of us are going to be the same after this. I hope they find who did this. There needs to be awareness to this, because too much gets brushed under the rug. She loved her nieces and nephews so much, she was so good to them."
Kiser's sister, Carlie Kiser, 22, of Windham, said Kammie had a strong bond with her children.
"If you ever got to meet her, you're so lucky, she was the sweetest," Carlie said. "She was so gentle when it came to my kids. They couldn't have asked for a better aunt. She taught me how to be a good mom. She was the best. I'm going to miss her so much."
The procession continued to walk through Windham, eventually returning to the high school, where a double rainbow arched across the southern sky.
Kiser is survived by her father, Scott Kiser, 42; her mother, Reichard, 40; her sister Carlie; and two younger brothers, Gavin Kiser, 15, and Brock Kiser, 7. Funeral arrangements have not yet been announced.