Cities and villages across Portage County have passed laws requiring businesses and residents to clear snow off sidewalks, but in most cases no one is enforcing them, officials said.
They say it would be impractical to penalize hundreds or thousands of people for failing to plow their sidewalks, with few enforcement officers on staff and back-to-back snowfall events making it difficult to track compliance. Some also indicated enforcement would be seen as "heavy-handed."
And while some local departments offer sidewalk snow plowing as a service, they don't have the resources and equipment to clear every sidewalk.
As the snow continues to pile up, some county residents have managed to keep their sidewalks cleared, but when they can't or don't, pedestrians and people with mobility impairments are forced into the streets.
A recent series of letters to the editor published in The Portager suggests opinions are divided about who should be responsible for maintaining public walkways. But most agree the status quo of impassable sidewalks is not sustainable.
"I often have to walk in very busy Summit Street and simply hope that drivers go around me," wrote Mim Jackson, a Kent resident. "It's only a matter of time before someone gets hurt or killed."
For this story, The Portager surveyed sidewalk policies in Kent, Streetsboro, Ravenna, Mantua, Garrettsville and Aurora.
Kent
The City of Kent requires property owners, building occupants, or anyone else charged with caring for a building or its premises to clear their sidewalks "within the first 24 hours after daylight after any snow ceases to fall," according to a city ordinance passed in 1976. The city can step in to clear the walks, but it will charge the property owners, the ordinance states.
Failure to comply could result in warnings and then $100 fines, Community Development Director Bridget Susel said.
Given Kent's size, though, "such a massive undertaking community-wide, with only two [code enforcement officers], is impractical and time intensive," she said.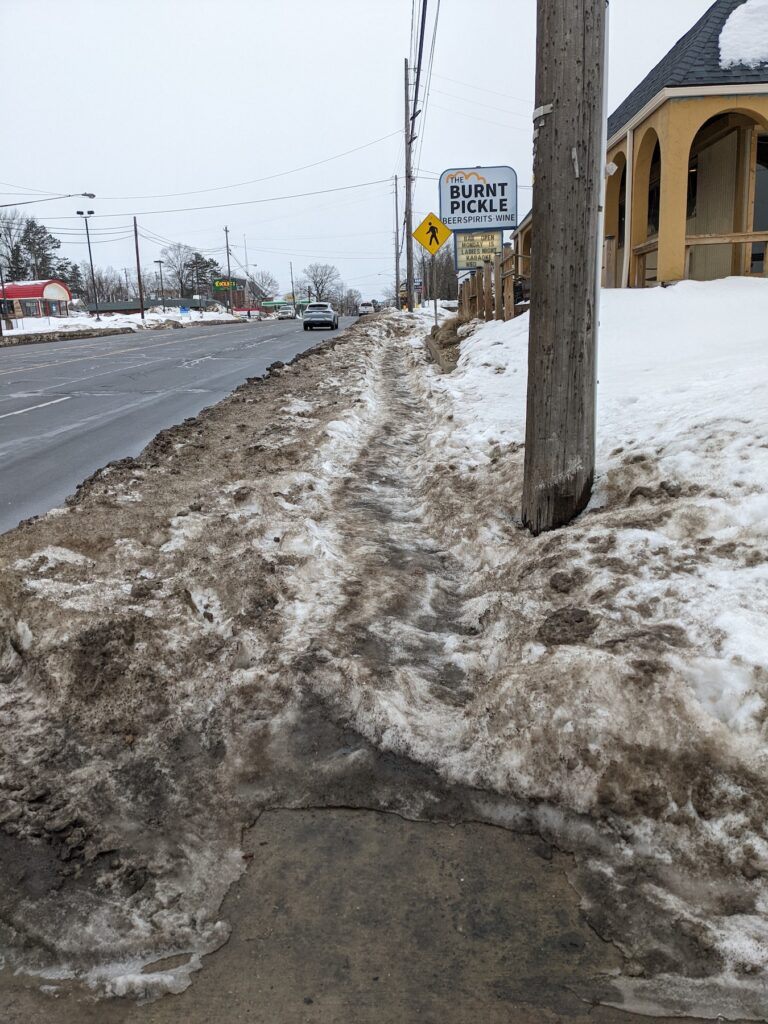 And in situations involving back-to-back or excessive snowfall events, it becomes even more impractical to issue citations between the 24-hour compliance period of one storm and the start of the next, she said.
"Even if it was feasible to issue warnings and civil offense fines citywide for sidewalk snow removal, such heavy-handed enforcement would likely not be a practice supported by many in the community," Susel said, citing people's indifference and inability to clear their walks due to health or financial limitations.
Susel recalled a decade-old study by the Service Department that determined an average winter of three to five snow events would cost the city "literally hundreds of thousands of dollars per year" to clear all sidewalks. That price tag would be much higher today, and the city budget cannot absorb it without additional revenue, she said.
For now, the city does plow, but only a few stretches of sidewalk. Kent's Parks and Recreation staff is tasked with clearing city sidewalks on the following streets:
State Route 43 from Fairchild Avenue north to Theodore Roosevelt High School, then across the street from Davey Arboretum south to the Crain Avenue bridge
From the junction of Main and Water streets in downtown Kent south to Devon Place (the little road between UH Kent and the Bob Evans)
And from the junction of state Routes 43 and 59 east to Sixth Avenue
Ten miles, and it's all done with a single machine, which broke while clearing sidewalks after the big January storm. Repairs brought it back online in time for Thursday night's wallop, but any machine can only take but so much abuse, Parks Supervisor Sam Tuttle said.
"We can't get through it. Some of these piles are 15 feet thick and five, six feet tall," Tuttle said. "You can't shovel through it. It takes the machine about a half hour to get through some of these piles. That's what's breaking the machine."
Though uncleared sidewalks send pedestrians — including children walking to school and those who are mobility impaired — into the streets, city leaders can only deploy "education and awareness," hoping Kent residents will "be good neighbors and clear their walks," City Manager Dave Ruller said.
Patti Long, an administrator in Ruller's office, said she has received a few complaints from residents and forwarded them to the city's two code enforcement officers. Though some residents have been angry, others are understanding, she said.
To access information about snow removal, including a map of which Kent streets have priority plowing, visit https://www.kentohio.org/DocumentCenter/View/10826/Street-Priority-Routes.
Ravenna and Streetsboro
Ravenna's and Streetsboro's snow codes are more general than Kent's, simply requiring "owners or occupants of abutting lands" to keep their sidewalks, curbs, or gutters free from snow, ice, or any nuisance. Failure to do so can result in a minor misdemeanor charge and a small fine, the codes state.
Mantua
The Village of Mantua likewise requires property owners or occupants to keep their sidewalks clear of "ice, snow, or any obstruction or nuisance." Failure to do so could result in a fine of not more than $100 each day until the sidewalk is cleared, the 1995 ordinance states.
Mantua Mayor Linda Clark did not answer a question about whether village officials have fielded calls about snow removal — or the lack of it — in Mantua.
Garrettsville
Garrettsville's snow removal ordinance is similar to Mantua's and also specifies a $100 fine, compounded daily.
"We don't enforce that," Mayor Rick Patrick said. "The street department does the sidewalks normally, but it's last on the list. First they do the roads, then they do the sidewalks that lead to the school, up [state Route] 88, and then they start hitting on the side streets."
When the snowfall is too much, as with these recent big storms, residents tend to be patient with city workers, Patrick said.
"It's a courtesy. We don't have to do it. We do it when we can get to it as a courtesy," he said.
Patrick recalls fielding phone calls in past years from disgruntled village merchants and said he always responded that it is not the city's job.
"We don't have to do that. That's up to you. Nobody comes to my business and shovels my sidewalk," he tells them.
Aurora
Aurora's city ordinance also requires residents to clear their sidewalks, but Law Director Dean DePiero says whether they do or don't, no one has ever been cited in the eight years he's been in office.
"We recognize that's not always practical, so we try to be fair and even-handed on ordinances like this," he said, adding that he reviews all noncompliance on a case-by-case basis.
Though city leaders have received complaints about uncleared sidewalks in the past, none were lodged this year, he said.
Wendy DiAlesandro is a former Record Publishing Co. reporter and contributing writer for The Portager.