The legend lives on from the Chippewa on down
Of the big lake they called Gitche Gumee
The lake, it is said, never gives up her dead
When the skies of November turn gloomy
– Gordon Lightfoot, "The Wreck of the Edmund Fitzgerald"
So far, 2023 has been tough on music.
Jeff Beck, Lisa Marie Presley, David Crosby and Harry Belafonte, among others, have died this year, all of them icons of the industry.
The latest to leave us was Gordon Lightfoot, the legendary Canadian singer-songwriter who gave us timeless pieces like "Sundown" and the haunting "If You Could Read My Mind."
But it's the equally haunting "The Wreck of the Edmund Fitzgerald" that especially has me reeling from the death of the 84 year old, who passed away May 1 at a hospital in Toronto. To me, that song represented everything that set Lightfoot apart from everyone else in the genre; his lyrics — and the way he sang them — just had a way of putting you right in the middle of whatever situation he was singing about. In the case of "The Wreck of the Edmund Fitzgerald," that was the deck of the doomed Great Lakes freighter that sank Nov. 10, 1975 in near-hurricane-force winds on Lake Superior. All 29 of its crew died.
That song always struck a special chord with me, as it did millions of others, from the day it was released in August 1976, when I was 8 years old. It was captivating, spellbinding and enthralling — and ominous, considering the fate of the doomed ship. Every time I hear that song, I feel like I'm on the Edmund Fitzgerald with those poor souls who are about to die horrific deaths in the frigid waters of Lake Superior, surely terrified by the 35-foot waves slamming over their ship's decks.
But it's even more than that. The fact that the ship sailed out of Superior, Wisconsin and was headed to Cleveland always made me, as an Ohioan, somehow feel connected to the disaster — especially since many of the crew were also Ohioans. It wasn't just a tragedy, it was our tragedy, even though it sank in 530 feet of water on the Canadian side of Lake Superior, near Whitefish Bay.
There is also an element of mystery to its sinking: What really happened to the Edmund Fitzgerald is unknown to this day. Was it swamped? Did it suffer structural failure or topside damage? Was it grounded on a shoal? Was it a combination of these factors?
After nearly five decades, no official cause has been given — but a 2009 trip to the Great Lakes Shipwreck Museum at Whitefish Point, Michigan, a mere 17 miles south-southeast from where the Edmund Fitzgerald went down, gave me insight into what happened that fateful night in November 1975.
And it had nothing to do with the Edmund Fitzgerald display at the facility, including the ship's bell, which was salvaged in 1995 and serves as the centerpiece of a wing of the museum dedicated to the ship and tragedy ("and later that night when the ship's bell rang, could it be the north wind they'd been feelin'?").
Instead, I gained that insight from a man working one of the exhibits at the museum. He was dressed just like the Gorton's Seafood man, except his slicker outfit was black instead of yellow. And he had the beard and gruff voice to go with it. He could have been in any mariner movie you've ever seen.
I asked him a couple questions about his exhibit, which basically consisted of rickety old rowboats that looked like deathtraps to me, before I told him, "That Edmund Fitzgerald building sure is something. My wife and I were just there."
The man eyed me from under his slicker hat and said, "I was there that night, you know."
I thought I was about to get a real fish story, because I knew no one survived the sinking.
"You were on the Fitzgerald?" I asked, knowing nobody survived the sinking.
"No," he replied. "They all died. I was on the ship right behind the Fitzgerald. I saw what happened."
This is amazing, I thought. Nobody knows what really happened that night — but this guy does. He was there, and nobody has bothered to get his story. Until now.
"So what happened?" I asked.
And he proceeded to lay it all out for me, remembering it all as if it had happened the night before.
He worked on the Arthur M. Anderson, a freighter that sailed with the Fitzgerald that trip. The Anderson was in front for a while, but the faster Fitzgerald eventually pulled ahead.
And it was from that vantage point, behind the Edmund Fitzgerald, that the old mariner saw history unfold.
"It was really bad," he said. "The waves were 20, 30 feet high or more. You would go way up, then come way down in a valley, then go way back up again. When we would be down, we could see the Fitzgerald ahead of us because it would be up high. Then when we would go back up, the Fitzgerald would go down and we couldn't see it, then it would come back up again."
This horrific process played out as the storm raged. ("When afternoon came it was freezin' rain, in the face of a hurricane west wind")
"Well," he said, "one time it went up and went back down. It disappeared into the valley, and it didn't come back up like it should have. It wasn't there ahead of us anymore. It was gone. It happened that fast."
So there it was, how the Edmund Fitzgerald sank. Mystery solved, straight from a man who says he saw it happen.
"And later that night when his lights went outta sight, came the wreck of the Edmund Fitzgerald."
That man's gripping tale was front and center in my mind as my wife and I sat in our seats at the Goodyear Theater in Akron last May, watching Gordon Lightfoot perform that enduring song like a singer half his age. But we, along with the rest of the packed house that night, knew down deep that Gordon probably would not be able to perform it much longer. He sang like a man half his age, but physically he was frail and seemed to tire easily, taking several breaks of 30 seconds to a minute or more during the concert to gather his strength.
And he probably knew time was running short, too.
Which made that night all the more special. It was the only time we got to see this legend on stage and, like my conversation with the old mariner at Whitefish Point, I will never forget it.
Like the Edmund Fitzgerald, Gordon Lightfoot belongs to history now. Ship and man are forever intertwined by that tragedy on Lake Superior, brought together and immortalized by an ageless song of loss and misfortune.
And the deaths of 29 men who went down and never came up again.
The legend lives on from the Chippewa on down
Of the big lake they called Gitche Gumee
Superior, they said, never gives up her dead
When the gales of November come early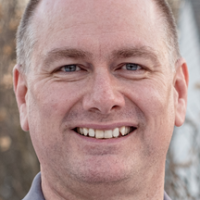 Tom Hardesty is a Portager sports columnist. He was formerly assistant sports editor at the Record-Courier and author of the book Glimpses of Heaven.