About a year ago, I asked Portager readers what issues you care about and want us to address in our reporting. I offered options including criminal justice, workers rights and nursing home safety.
You picked food insecurity, and it wasn't even close.
Today The Portager community has an opportunity to make a material difference in fighting this problem. You're invited to donate food and money to a brand new Pack the Bus campaign led by the Rural Relief Mobile Food Pantry, the Rotary Club of Kent and The Portager. Your contributions will directly assist kids in Portage County who deal with hunger on a regular basis.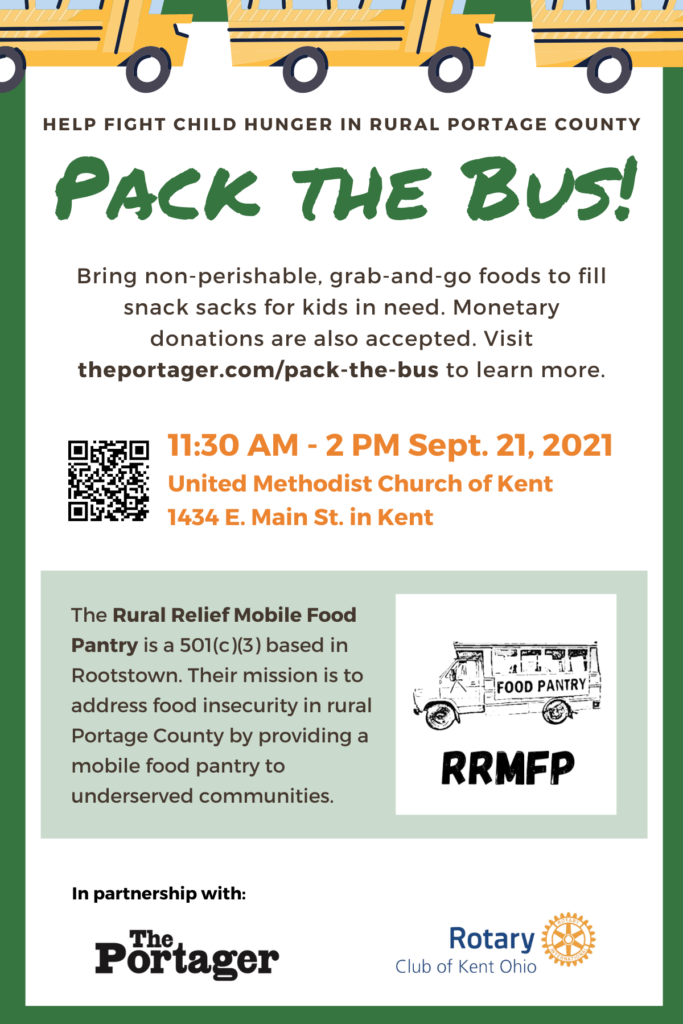 Our rural school districts have a major problem with food insecurity.
For example, in the Waterloo schools, where I graduated in 2007, over 60% of students get free or reduced lunch. Townships like Atwater, Deerfield and Palmyra are food deserts, as families sometimes with grandparents as head of household struggle to pay for and obtain enough to eat.
During school, they can get a good meal. But at night, on weekends and during holidays, there are no guarantees.
This is where you come in.
You may remember our recent story about the Rural Relief Mobile Food Pantry, which operates a big bus bringing bags of food to parts of our county that are under-served by supermarkets and other pantries. Well, they're starting a new program called Student Snack Sacks, specifically to supplement kids' diets on the weekends and holidays.
They need help filling those sacks.
On Sept. 21 from 11:30 a.m. to 2 p.m., the mobile food pantry's big green bus will be parked outside the United Methodist Church of Kent at 1434 E. Main St. This is during the Kent Rotary Club's regular Tuesday meeting, and members of Rotary will be contributing food as well.
Rural Relief is not picky about donations. They will accept just about anything. For this specific drive, they are hoping to collect items like granola bars, breakfast bars, fruit snacks, peanut butter or cheese crackers, cookies, chips, nuts, and other individually wrapped snack items. They will also accept toiletries for oral hygiene, small hand sanitizers, and anything else you see fit. 
Since the event is called Pack the Bus, it would be great to see a large turnout on the 21st. Everyone from anywhere in Portage County is welcome to bring items.
However, if you can't make it to the food drive, Rural Relief is also accepting contributions for Pack the Bus via:
This is a powerful opportunity to show solidarity with your neighbors in Portage County who have fewer resources. As a pilot program, the Snack Sacks will first go to support children in the Waterloo Local Schools. In the future, with your strong support, they may be able to expand the program to more districts.
Everything is ready to go. All we need now is food. Thank you for your support.