The Village of Mantua's clerk resigned from her position on Thursday, saying she could no longer tolerate Mayor Linda Clark's micromanagement and abrasive leadership. By leaving, Jenny August joins a chorus of former village employees who have made similar allegations.
August, who has served as clerk and treasurer in a combined role since 2008, announced she would resign during a Sept. 15 finance committee meeting. In a resignation letter submitted Sept. 23, she said she could not serve the remainder of her term because of "the environment created by [Mantua's] administration."
Her last day of work is Oct. 30.
With her departure, the village intends to convert the clerk-treasurer position into an appointed, part-time fiscal officer. It is currently an elected, full-time role.
August said she will continue working from home until her last day, going into her office at the Village Hall evenings and weekends to complete necessary tasks.
"I decided that was the best way to stay out of that environment," she told The Portager in an interview. "I'm just always under attack. I've never had a working environment like that. It's just Mantua. It's not just me. It's a host of other people."
August said a majority of village council members back the mayor, creating a difficult working environment when employees attempt to speak up.
For instance, August said she recently noticed multiple credit card charges from a discount store for employees' refreshments. In another example, August believes an employee used their clothing allowance to buy Christmas gifts, purchasing Carhartt clothing of various sizes.
August said she alerted council on these and other occasions, only to be rebuffed. Mantua Council President Tammy Meyer did not respond to a request for comment, and members of council have previously asked The Portager to direct all questions to the mayor.
"On more than one occasion I have been uncomfortable signing checks approved by this administration after my recommendations have been ignored or suggestions dismissed," August wrote in her resignation letter.
Council's aversion toward August is so strong that the members cannot "adequately or fairly give consideration to my point of view or heed my advice," August wrote.
August also alleges that four previous village administrators have informed her that Clark told them the clerk-treasurer "was not to know what goes on in the service department."
"She's just very controlling," August said. "Maybe she's afraid I'll find out things that I would have an issue with. I don't know why else it would be that way."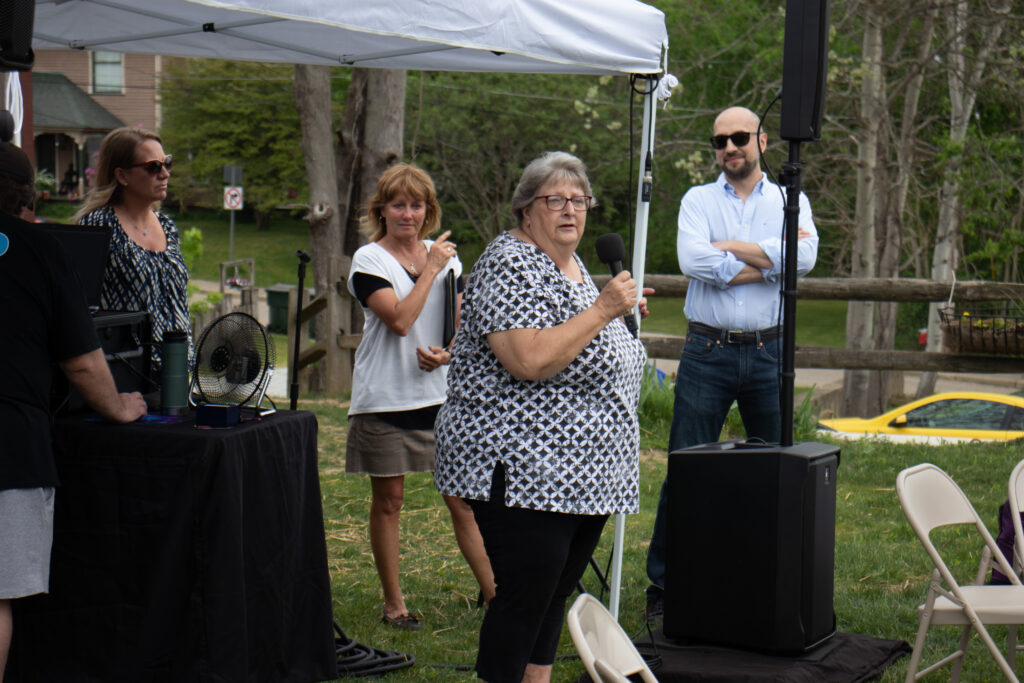 Clark did not respond to The Portager's request for comment regarding August's letter or any of the statements August made. She framed August's departure as having nothing to do with her own management, telling The Portager that August was simply switching jobs.
August has also worked for Franklin Township as administrative assistant since 2012. Mantua's administration was aware that August held this position. On June 22, Franklin Township's Board of Trustees unanimously upgraded August's part-time township position to full-time, effective January 2022.
"She did not tell us that she has a new job," Clark said. "She just said she was leaving, and someone alerted us to look at the minutes from June 22, and we did, and we saw the minutes there."
August planned to work full-time for Franklin Township and reduce her hours in Mantua to part-time, based on a series of meetings with the village council. Minutes from those meetings reflect that Clark and the village council were aware that August did not believe her duties with the village would require 40 hours per week after Jan. 1.
Minutes from Mantua Village Council's July 20 meeting state that August thought the job could be done in 20 hours a week. However, Clark had told the village's finance committee in June "that after the first of the year, [August] would only be working about 10 hours a week."
August maintains she never said she anticipated only working 10 hours a week, and the finance committee's June 9 minutes contain no such reference. Rather, she said that starting in 2022, she did not believe she would be able to fill 40 hours and agreed to compile a job description in the event that council would decide to transition to a part-time fiscal officer.
She also urged council to maintain the position as elected "so you don't lose the checks and balance system."
August, who is serving her fourth four-year term as Mantua's clerk-treasurer, said the village's rumor mill launched into high gear during the summer, with the finance committee asking her "at every single meeting" when she was going to retire.
"That just set me off," August told The Portager. "I was trying to do the right thing and give them a heads up. I'm not going to charge 40 hours if I'm not working 40 hours. I'm not going to cheat them."
Referring to the village's trouble keeping employees and council members, August states that the tension had been unfairly blamed on her. Council, she states, "needs to acknowledge that there is a serious problem within the administration and address it. Anyone who doesn't is part of the problem."
Multiple former employees have told The Portager the working environment in Mantua's administration is toxic, and the village has suffered a large rate of turnover during Clark's tenure.
Mantua Council Member Ben Prescott, who has served on council since 2006, resigned earlier this month, joining Dave Sluka, Paula Tubalkain and Matt Rosolowski, all of whom resigned from council this past year.
Prescott has said appointing a part-time fiscal officer would disenfranchise village voters. He could not be reached for comment.
Street supervisor Dave Akerley was fired in June, less than a week after The Portager published allegations about Clark's abrasive management style. The mayor declined comment at that time, stating only that Ohio is an employment-at-will state.
Ravenna Clerk of Council Chelsea Gregor, who served as Mantua's hired administrative assistant from May 2016 to March 2020, also resigned, citing Clark as the center of the village's toxic work environment.
"Everything was fine in the beginning, but eventually the mayor let her true colors show," Gregor said in an interview this week. "If [Clark] was in a bad mood, she would let her attitude show and take it out on anyone who was around."
Speaking with August, who was then her co-worker, helped confirm for Gregor that it wasn't just her — that "the mayor is like that," Gregor recalled.
Clark's micromanaging eventually reached the point that Gregor filed a harassment claim with the Village of Mantua, which ultimately enlisted Teena McKamey of the Portage County Prosecutor's Office to conduct an independent investigation. McKamey concluded that Clark lacks "leadership skills, causing conflict with the Administrative staff of the Village of Mantua."
Sluka, then council president, suggested to the mayor in writing on June 17, 2020, that she complete professional leadership and/or interpersonal communication skills workshops or training. Clark never took the classes, and council did not pursue any more corrective action.
Gregor said she is still "astonished" at council's apparent acceptance of the mayor's behavior. Coping with the "constant crushing of morale" impacts employees' ability to effectively do their jobs or interact with residents, and council is "complicit in their silence," she said.
"It's like the Twilight Zone out there. They don't think the outside world exists. It's such a disservice to the community," she said.
Wendy DiAlesandro is a former Record Publishing Co. reporter and contributing writer for The Portager.