Portage County lost two giants of the community when Roger Di Paolo and John Keegan died four days apart earlier this month.
And I lost two friends when John passed away June 14 at age 71, followed by Roger on June 18 at age 66.
Both men loved Portage County. It was in their DNA. John graduated from Ravenna High School, Roger from Kent Roosevelt High School, and both were graduates of Kent State.
Roger worked at the Record-Courier from 1977 until he was abruptly let go by new ownership in 2017, serving as the paper's editor beginning in 1991. John was a teacher and coach at Garfield, Streetsboro and Ravenna high schools, retiring in 2009.
Their deaths are a loss for the community at large and for every person who knew them and was impacted by them individually.
Count me among them.
Roger was my boss for 23 years, although he was never comfortable with that term and certainly didn't act like a boss as most of us know and love them. He was fair. He was honest. He had your back. You trusted him. You trusted his advice. You admired his kindness. You respected his knowledge. You marveled at his wit. You appreciated his wisdom. Every minute of every day, he carried himself with class, humility and dignity.
Roger was our rock at the Record-Courier. From the day he hired me as a part-time sportswriter in March 1994 until the day he walked out of the office for the final time, I never knew Roger to be anything other than genuine and caring. He didn't see us as his employees; rather, he viewed us as co-workers, coming up through the ranks the way he did when he was hired as a reporter at the R-C in 1977. He was one of us, and he made sure to portray himself that way.
He was never heavy-handed, refusing to wield his authority over the editorial department in any manner other than by example. He was a natural leader and consummate professional, giving us direction and guidance and serving as our port in a storm when things got rough.
It's safe to say that Roger was not only the face of the Record-Courier, he was the face of Portage County. He knew everyone. Those who didn't know him personally knew of him. Or knew someone who did. The number of lives he touched in the county is incalculable, and the number of ways he touched mine equally so. I wouldn't be writing this column now if it wasn't for him. He gave a 25-year-old cub reporter a chance at a daily newspaper, a paper I grew up reading and had set as a goal to someday cover sports there. He nurtured my career and was always in my corner. He was generous with praise, constructive with critique, and taught me that journalism has as much to do with understanding the human condition as it does with reporting.
I was always amazed at how Roger remained calm in the most hectic — or hostile — of situations. It can get rough in conference rooms at any company, and the R-C was no different. Many an afternoon, I sat and watched the Monday morning armchair quarterbacks throw zingers at Roger and the News Department in these meetings, with Roger a lonely figure at the front of the room taking shot after shot. When someone was finished with their barbs, Roger — completely unfazed — would turn to the grease board, and, with his back to that person, say, "We'll try and do better next time" in a tone just sarcastic enough to get the person's attention but not so much so to give them any sort of satisfaction.
And Roger would continue, unfazed, with his presentation. He was the smartest person in the room, and everyone knew it.
Roger was also funny, possessing a quick wit and dry sense of humor that often took the edge off the nightly stress of hitting deadline. Sometimes his humor was so subtle you weren't quite sure if he was trying to be funny or not, which actually made it even funnier. A single one-liner by Roger could change the complexion of an entire night in the office.
And speaking of nights in the office, it was often just Roger and me closing it up after deadline, me having just finished putting together the next day's sports section and Roger working on any number of things, up to and including his books, of which he wrote three having to do with his beloved Portage County. Many nights as I wrapped up, I could hear the soft whirring of the microfilm machine as Roger combed through decades of old newspapers researching his books. He would stare at the microfilm screen for hours — and would still be sitting there as I walked out the door to head home in the wee hours of the morning. Roger's work was never done. There was always another story to tell.
He just had a thirst for knowledge — and a thirst to dispense knowledge. It was uncanny how often my wife Kim and I ran into Roger at area library and church rummage sales over the years, Roger clutching a large pile of books against his side as he pored over the volumes and volumes that cluttered the tables. He was a voracious reader and a voracious learner, which served him well for his job as editor, a position he lived more than he worked. I often got the feeling he would do it for free if money wasn't an issue — and maybe even if it was.
As fate would have it, Roger and I were reunited professionally this past February when I became sports columnist at The Portager, where Roger was serving on the board of directors.
It was fitting that we came full circle because I, too, unexpectedly lost my job at the R-C the same way Roger had, a few months after he did. Roger was one of the first people I called after it happened. I needed to hear his voice. I needed to hear his wisdom. I needed to hear him laugh. I needed to hear my friend of 23 years tell me it was going to be OK, that I would land on my feet and be better for it. He buoyed my confidence, calmed my nerves, soothed my soul. When the conversation ended, I knew that while I had lost a job, Roger was still there. He had my back. He was in my corner. He was a port in the storm. Like he had always been.
So goodbye, old friend. And thank you for everything. It was an honor and privilege to work for you.
I mean, with you.
\\\
I met John Keegan the same year I met Roger, 1994. After I was hired that March, I was assigned to cover Ravenna High School athletics, where John was the head football coach.
I was already familiar with John, having played against his Streetsboro football teams when I was at Mogadore. His Rocket teams were tough and well-coached, known for their hard-hitting and smash-mouth style of football. So when I began covering the Ravens in the fall of 1994, I knew they would be no different.
And they weren't. I covered Ravenna football in 1994 and '95, and those teams embodied the spirit of their coach: tenacious, mentally tough, iron-willed. He loved coaching his alma mater; he was the head coach, but he was still a Ravenna kid at heart. And he loved "his kids." One night after a loss to arch-rival Kent Roosevelt at old Gilcrest Stadium, I waited outside the Ravens' locker room to interview John as I customarily did following games. He was in the locker room talking to the team, and when he emerged, tears were streaming down his face. He struggled to gain his composure, but he never really did. He stood just outside the doorway of the locker room, staring blankly across the field where his team had just battled valiantly for four quarters before losing a close game, fighting his emotions as he gamely went on with the interview. It soon became evident that the tears were for his players, the emotion was for them, the pain of the defeat was for them. They were all his kids. Ravenna kids, like he once was.
Every Wednesday afternoon those two autumns, I drove to Carlin School in Ravenna to attend practice and interview one of his kids, a senior player whom John would pick as a good representative that particular week. He would rave about the player, genuinely proud of each one, proud they were his kids, his Ravens.
After interviewing the player, I would end up talking with John most of the practice. We hit it off immediately. He made me feel like part of the Ravenna football program, having me hang back with the coaching staff during practice and talk about, well, anything. John always appeared relaxed at these practices, although inside he must have felt like every other coach during game week: worrying that he had crossed every 't' and dotted every 'i' in preparation for the game. But he never let it show. He was always friendly and accommodating, and I looked forward to attending those practices every bit as much as I did covering the games on Friday nights.
John was a player's coach; he could motivate players to play harder and better than they ever imagined they could. I got a taste of that motivation 10 years earlier, in 1984 when I was a junior at Mogadore. We were 4-0 to that point in the season, ranked No. 1 in the state, and our next game was at home against Streetsboro. It was a big game, receiving lots of hype during the week. The Record-Courier did a big pregame story on the game, and in it John gushed about what a great team Mogadore was, how Mogadore was one of the elite programs in Ohio, how his team had its work cut out for it, etc.
In other words, he lathered us up.
By the time I finished reading the article, I was pretty sure we could beat the Miami Dolphins. Which was exactly what John wanted. It was a brilliant psychological ploy.
And it worked.
Sufficiently softened up, we went out and scored a grand total of seven points against John's fired-up Rockets that Friday night. Fortunately, our defense managed to hold Streetsboro to seven points as well, and the game ended in a 7-7 tie (that was one year before the OHSAA instituted overtime for regular season games). It ended up being the only game our class didn't win at Wildcat Stadium in our four years at the school.
I made sure to bring that up to John during one of the practices at Carlin, shortly after we first met. He said, "So you saw all the nice things I said about you guys in the paper?" I said, "Yep, we sure did. We were feeling pretty good about ourselves before that game." Then he grinned and said, "I was hoping you would."
I smiled, too. It was well played by the wily coach.
And I'm smiling thinking about him now. He was the first coach with whom I had regular contact with, then befriended, at the Record-Courier. My dealings with John those two years paved the way for my future relationships with others, particularly John Nemec and Tom Larkin, among others, at Kent Roosevelt. Keegan was a mentor of mine, only he didn't know it; by connecting on the level we did as coach and writer, he was helping to develop me as a journalist, grooming me for other assignments and beats I would have later on in my career.
I couldn't have asked for two better influences, personally or professionally, at that time than Roger Di Paolo and John Keegan. I will always consider them friends.
And I will miss them both.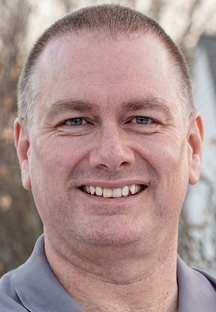 Tom Hardesty is a Portager sports columnist. He was formerly assistant sports editor at the Record-Courier and author of the book Glimpses of Heaven.