We've all been there.
Sitting in our seat at a sporting event, when the referee or official or umpire has the audacity to make a call against our team. Instinctively, we lash out at the offending official — either in our minds, under our breath, or, more often than we care to admit, out loud.
The vitriol spewed in the direction of the culprit in stripes or blue is the kind normally reserved for, say, axe murderers. And if you were one of those voicing your displeasure at a high school basketball game in the Portage Trail Conference and other leagues around the area in the last few decades, chances are Jeff Hoover heard you.
And he has a little advice.
"All the yelling and screaming in the world will not change the outcome of the call," he says, "but it might get you removed from the game. It is a game. Sit back, relax, forget about life for a while, and enjoy watching your student-athlete compete."
Hoover knows whereof he speaks. The longtime area high school basketball official is calling it a career after working boys and girls games since the 1990-91 season — 31 years of working all day, rushing to the game that night, running up and down a hardwood floor for a couple hours with well-conditioned athletes in the prime of their life, trying his level best to tune out the shouts and insults raining down from the stands while doing his job as best he could, then going home and trying to get some sleep before having to get up the next morning and go to work again.
"The average fan doesn't know the rules of the game," said Hoover, a graduate of Southington High School and current resident of Southington, who has spent countless cold and snowy winter nights inside the cozy gymnasiums that dot Portage County. "They think the officials care who wins? We could care less. And they feel as though they have the right to yell and scream at you.
"Officials do not care who wins or loses," he reiterated, "and there is no such thing as a 'homer.' Often times, my wife would ask me who won, and I honestly didn't know."
At first blush, it would seem to the average person that the money a high school basketball official makes — "varsity officials get $70-$80 per game; no one officiates for the money," Hoover said — would not be worth the incessant verbal abuse night after night. But Hoover kept coming back for more decade after decade because of his love for the game — he played basketball as well as baseball and golf at Southington — and its human element.
"It was a pleasure to work with the kids all these years," he said. "I really enjoy the relationships I have built with my fellow officials, athletic directors and administrators over the years. And it keeps me somewhat in shape."
It's that latter point that has his body telling him it's time to hang up the whistle.
"The kids do not age, but you do," Hoover said. "Today's athlete is faster and stronger, and I just get older and slower. I have watched, over the years, some of the best officials I know overstay their time. I didn't wanna be that guy … and we are relocating to Florida in the fall."
Keeping up with young athletes isn't all that's required of an official.
"I feel most people don't understand the scope and gravity of the officiating process," he said. "The good official starts thinking about their game over their morning coffee. They drive to work, work their 9 to 5 job, grab a bite to eat, and head to their game, all the while preparing themselves mentally for what's about to require their full attention and focus. It is a second job.
"The travel always makes things difficult. The OHSAA doesn't care that they send you to Dayton on a Wednesday night for an 8 o'clock tip. That's four hours to get there, 2 1/2 hours for the game (pregame and postgame conferences) and four hours home. I get home at 2 a.m. and have to be up at 6 for my real job," said Hoover, who recently retired from his job of 25-plus years in Aurora.
Add to that some of the things officials have to tolerate while actually working games, and it's easy to see why burnout can be rampant and many are discouraged from even giving officiating a try.
"The average age of the OHSAA official is 55. Think about that," Hoover said. "Young people today just have no interest in officiating. I think several factors contribute to this: the pay sucks, the fans are brutal — especially at the junior high level — and the new official is probably working with a veteran official either on the downside of their career or they were just never good enough to officiate at the varsity level.
"I believe that there is a perception out there: go to the store, buy a striped shirt and a pair of black pants and some black shoes and a whistle, and go to work. It's not that easy. If it was, we wouldn't be seeing such a shortage."
It's also not easy to block out the verbal bomb-throwers in the stands.
"I only focus on the head coaches, the scorer's table, and I always know where the police/game administrator are located," he said. "If a fan breaks my focus, you now have my attention, and I will act swiftly to either get them under control or have them removed from the facility. Unfortunately, I have probably thrown out 15-20 fans over the years. Most for the use of profanity — the 'F' word — or threats or trying to confront us while leaving the floor at halftime.
"I have felt threatened several times in my career. I had an assistant coach wait outside in his car on a cold January night to confront me. Fans have threatened bodily harm, and I've had fans come into our locker room. Profanity, aggression, threats or making it personal cross the line and are unacceptable."
To combat this, Hoover said it's imperative that officials take control of their game quickly.
"Coaches and players never really bothered me. I was always in control of them," he said. "They will push you as far as you let them. I have zero tolerance for assistant coaches or disrespectful behavior by a player. I have learned that you just need to communicate with coaches, that really all they want is an answer to a question.
"But I will never allow a coach to rant and rave. And yes, I will give a coach a 'T' if they want one. Often times, they will tell you they want one before they act out, so you know it's coming."
All the while, officials have to remain focused on the task at hand.
"The mental focus it requires … You have to interpret what's happening in front of you and blow the whistle," Hoover said. "You don't have time to process in full what is happening."
But when Hoover reflects on his career — the first 25 years officiating both boys and girls basketball and the past six working boys games — it's the good things about being an official that stand out the most.
"The highlight of my career was having the opportunity to officiate a girls state semifinal," he said. "I have also had the opportunity to officiate some great athletes and several current and former NBA players like LeBron James, O.J. Mayo of Cincinnati North College Hill, Raymar Morgan and Ricky Jackson of Canton McKinley, and Kosta Koufos of GlenOak. These are just a few that stand out.
"I have so many great memories. I would have to say my 16 regional games and my state semifinal were the most memorable. It's been one hell of a ride for the last 31 years."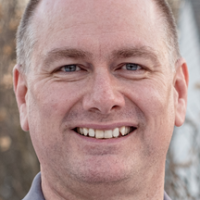 Tom Hardesty is a Portager sports columnist. He was formerly assistant sports editor at the Record-Courier and author of the book Glimpses of Heaven.