A person can go their entire life never figuring out exactly what they want to do with it.
For others, their life path falls into their lap, whether they realize it at the time or not.
In the case of Joe Beardsley, his career was in his hands as a youth when his mother, Tracey, handed her only child a camera — and his love of the lens was born.
Beardsley has since parlayed that early fascination with the camera into a course of study at Kent State that might well find him a part of some of the biggest sporting events in the world following graduation. Beardsley, a junior at KSU, is a Digital Media Production major within the school's College of Communication and Information, working as a camera operator in the Teleproductions program at Kent State, where he can be seen plying his trade at anything from a Golden Flashes football game at Dix Stadium to KSU Fashion School shows.
"My interest began in photography with my mom, who put a camera in my hand at a young age," said Beardsley, a 2019 graduate of Berlin Center Western Reserve High School. "She taught me everything I know about cameras, and my original goal was to be a sports photographer. I then began volunteering at my church as a camera operator and fell in love with live production. My boss at the time, Eric Shelhart, was an incredible mentor with this field and helped prepare me for what I do now at Kent State."
What Beardsley does now is view sports through a lens that few people ever get to see.
"My favorite part about working the games is that I am at the heart of the action, giving people an up-close view into the game," he said. "I am always interacting with coaches, players and fans throughout the game. The most rewarding part of the job is giving people the chance to be on the big screen and seeing their smiles, knowing you made their experience at Kent memorable.
"The most frustrating part of working a camera is having something really spectacular happen and you were there to cover it, but you either missed the key moment or you were out of focus. Missing key moments happens to the best of us, and they are almost inevitable in sports since everything happens in seconds. That is one thing that I love most about sports is that you are always on your toes and never know what might happen next. Getting used to the game and understanding what you're filming is the best way to make sure you capture everything, but like I said, it's inevitable."
Beardsley happened to be at the right place at the right time for one of the biggest victories in Kent State football history. Trailing Buffalo 27-6 in the fourth quarter on Nov. 14, 2019, the Flashes rallied with 24 unanswered points for a 30-27 victory at Dix Stadium that propelled them to a four-game win streak to end the season, culminating in a 51-41 triumph over Utah State in the Frisco Bowl. It was the program's first-ever bowl victory.
"One of the most memorable events that I worked on was the home football game that we needed to win (to eventually) go to the Frisco Bowl in 2019," Beardsley said. "It was a white-out blizzard the majority of the game, and I was on our end zone camera throughout the whole game."
A blocked punt that Kent State recovered at the 4 yard line late in the game led to the tying touchdown — and Beardsley was there to record history.
"My camera angle was used for the replay," Beardsley said of the blocked punt. "I will always remember that game since it was as if we were against all odds, and my shot was the one that captured such a historical moment in Kent football."
Kent State's Teleproductions program is partnered with ESPN, giving students like Beardsley invaluable experience in their chosen career field.
"Within Teleproductions, there are two types of productions that you work," he said. "The first is called FLASH Vision. This involves all of our 'in house' media such as the jumbotron and big screen for basketball and football games. This is strictly in house and is not broadcast anywhere. This is where everyone who works for Teleproductions starts out, as it is easier to learn the ropes and less stressful if you make a mistake.
"The other form is ESPN; this crew is a more hand-picked crew by the producers based on your skill level. It's considered a promotion to be put on these crews, and after you start with them, you are less likely to be put back on FLASH Vision. We are contracted with ESPN to broadcast a certain amount of football, volleyball and basketball games throughout the season. Our broadcasts are either sent to television or are streamed to ESPN+ online. In previous years, we have also been sent to the Super Bowl to broadcast ESPN's Spanish feeds. Although we do some football games, our main sports are volleyball and basketball."
Because of Beardsley's extensive background with cameras at a young age, he adapted quickly to his job as camera operator in the Teleproductions program.
"For me, learning the cameras that we use was not as difficult as others since I had years of experience behind me working for my church on camera," he said. "Once I learned how to set up the camera, everything after that was muscle memory. We have several different positions throughout the stadium and our gymnasium that we have cameras. The only cameras that move throughout the game are handhelds; the others are on tripods and stay in one place. I personally enjoy working handheld because every minute of the game is something different and you are able to be more creative with your shots."
With a constant eye toward his future, Beardsley never misses an opportunity to hone his camera skills while also juggling his regular coursework.
"I try to the best of my abilities to work every game that I can throughout the year so I am constantly gaining experience," he said. "The sports that we cover are football, wrestling, volleyball, gymnastics and men's and women's basketball. Not all of these events are covered by ESPN but all are covered by FLASH Vision. There are many other events that we cover within Teleproductions for the university. There are cooking shows, HR meetings that are streamed and recorded. We cover the Fashion School's fashion show as well as other programs that may need things recorded or streamed."
On a typical football Saturday, Beardsley and the Teleproductions crew are as busy as anyone at the stadium.
"For an early game, I start my day driving to Dix Stadium around 7:30 a.m., getting there around 7:45," he said. "We have a crew call at 8, where everyone on staff for the game meets and gets what they need for the game. For me and other camera operators, we grab our cameras, headsets and cables and go out to our stations. I typically run a hand-held camera, which we run wirelessly from the field. I begin with setting up my wireless receiver at the top of the stadium, then I head down to the field to make sure I have a feed going to the control room and can hear the director on the headset. After that, we do what we call a 'Camera Fax.' This basically means that we check our focus and get our white balance to ensure that all the cameras look the same on the feed.
"Once all of this is complete it is around 9:45, and we head back to the control room for a script read. This is where the producer goes over everything that is happening throughout the game. We work with our marketing team to put up promotions for companies, and these promotions require us to be at certain spots on the field to cover them. My job is to make sure that I know where I have to be on the field for things such as the team running out, T-shirt tosses and fan interactions.
"The next thing that happens is our pregame show, which consists of promos and announcements for the stadium and gives us time to get to our stations. Then a half-hour later, it's game time. Once the game is over, we tear down our equipment and meet back at the control room for a post-game meeting. This is where we go over what went well, what went bad and discuss any problems throughout the game. I usually leave the field around 6 p.m. after everything is done."
While Beardsley's schedule of classes, study and Teleproductions work is a hectic one, he understands that time invested now as a college student will reap dividends in his professional life.
And maybe someday land him on the broadcast crew of, say, a Super Bowl.
"My end goal for my career is to be a technical director for a sports broadcasting company such as CBS Sports, Fox Sports or ESPN," he said. "I am trained in working all varieties of camera positions, and I am currently in training to be a technical director for Kent for the 2021-22 season and the years after that. It is truly a great experience, and I look forward to going to work every day."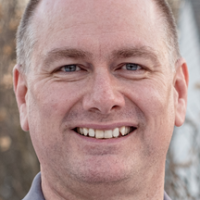 Tom Hardesty is a Portager sports columnist. He was formerly assistant sports editor at the Record-Courier and author of the book Glimpses of Heaven.