Brimfield Bread Oven will still serve Thanksgiving delights despite losing part of its roof
The bakery has taken on a social mission to feed Portage County.
Brimfield Bread Oven's wood-fired oven is still burning despite the pandemic shuttering small businesses across the country — and despite the roof literally coming off.
As the team prepared for hundreds of orders and long hours for Thanksgiving week, all that was thrown into question when last weekend's wind storm swept up part of the bakery's roof. Brimfield Bread Oven owners Jud and Genevieve Smith sent an email out Monday telling customers they couldn't yet promise they'd be open. But after assessing the damage, they determined everything will go ahead mostly like usual: The scents of fresh apple pies and decorative loaves, Thanksgiving menu specials, will soon waft through the bakery during, by far, its busiest week of the year.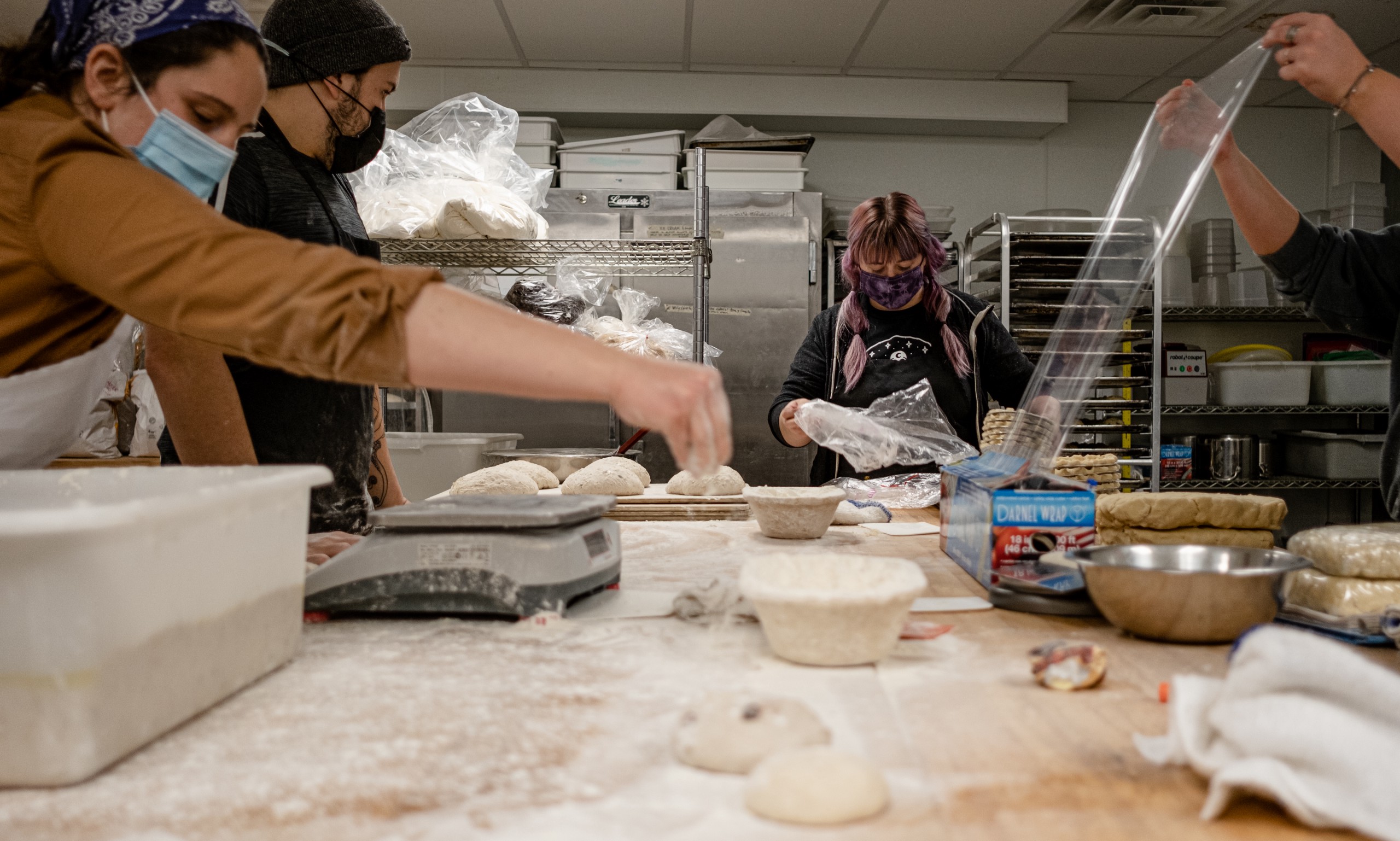 The storm blew off the top layers of roofing above the front counter and waiting area. The interior ceiling's sheet metal is still protecting the counter from the elements, and the Portage County Health Department said the bakery could continue operating with a tarp covering the roof. The kitchen, oven and order sorting area were all spared.
Jud said he doesn't have to cover the cost of repairing the roof. He and Genevieve rent the building, so their landlord will have to fix it.
For Thanksgiving week, the bakery will be open Tuesday and Wednesday for pre-order pickup from 3 p.m. to 7 p.m. and drive-up service from 9 a.m. to 7 p.m. Pre-orders close Monday at noon, or when they run out. For now, Smith said he anticipates more than 200 Thanksgiving orders, which translates to a few thousand individual items and roughly 12 consecutive hours of baking.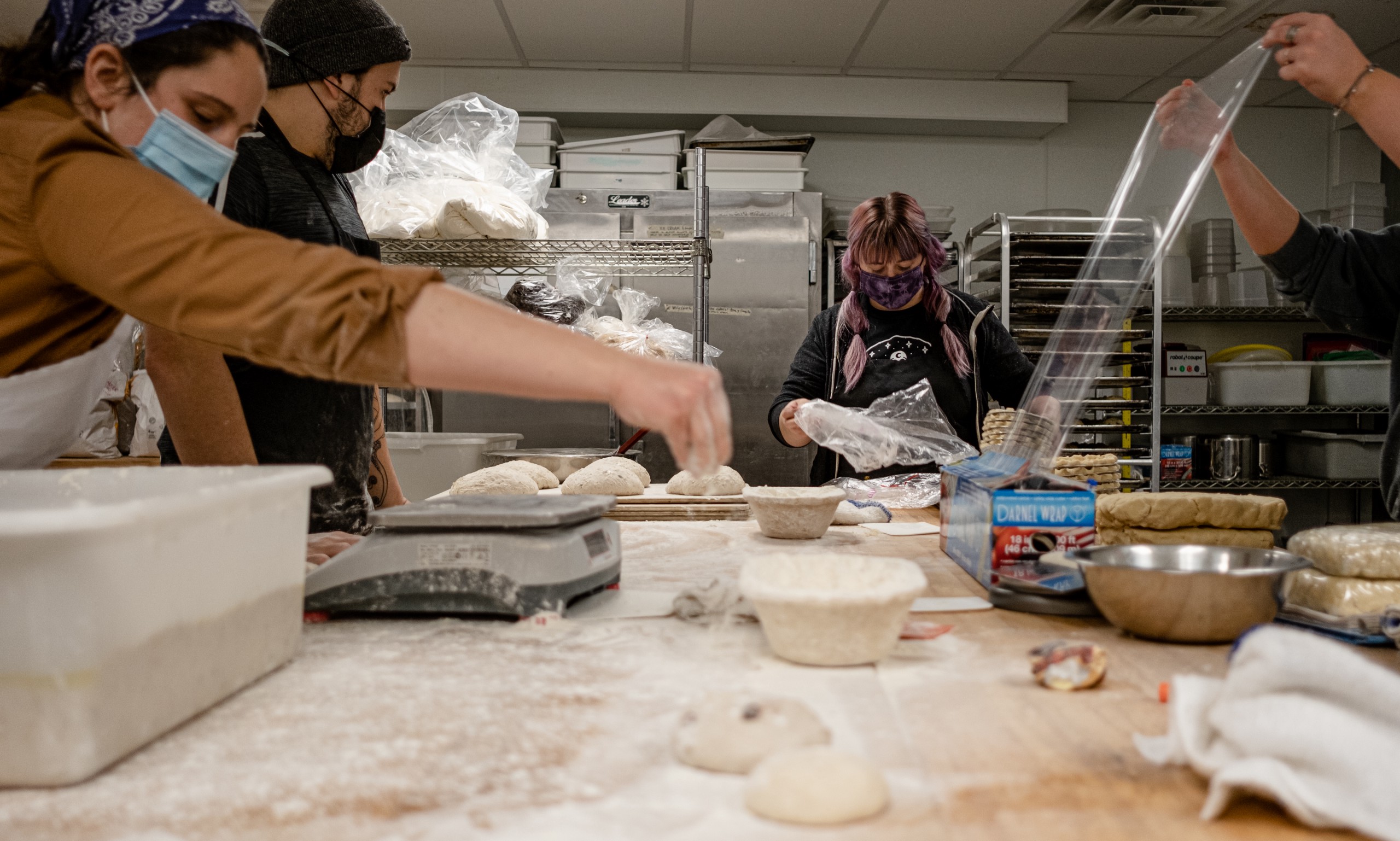 Jud said he enjoys working that hard. In spite of his roof damage, he and Genevieve remained positive.
"She and I both have a good attitude about it," he said. "This stuff just happens. You don't have any control over it."
That attitude seemed to extend to the global pandemic as well. Since their indoor seating area closed when Gov. Mike DeWine first issued a shelter-in-place order in March, the Smiths found a way to support their community. They have consistently stocked a free bread bin outside Brimfield Bread Oven's front door. It's there almost every day, and anyone can discretely take from it.
"That's kind of, I think, the community role of baker," Smith said. "You're supposed to be a food provider. And if your community is struggling, time to find some more creative ways to get the food out there."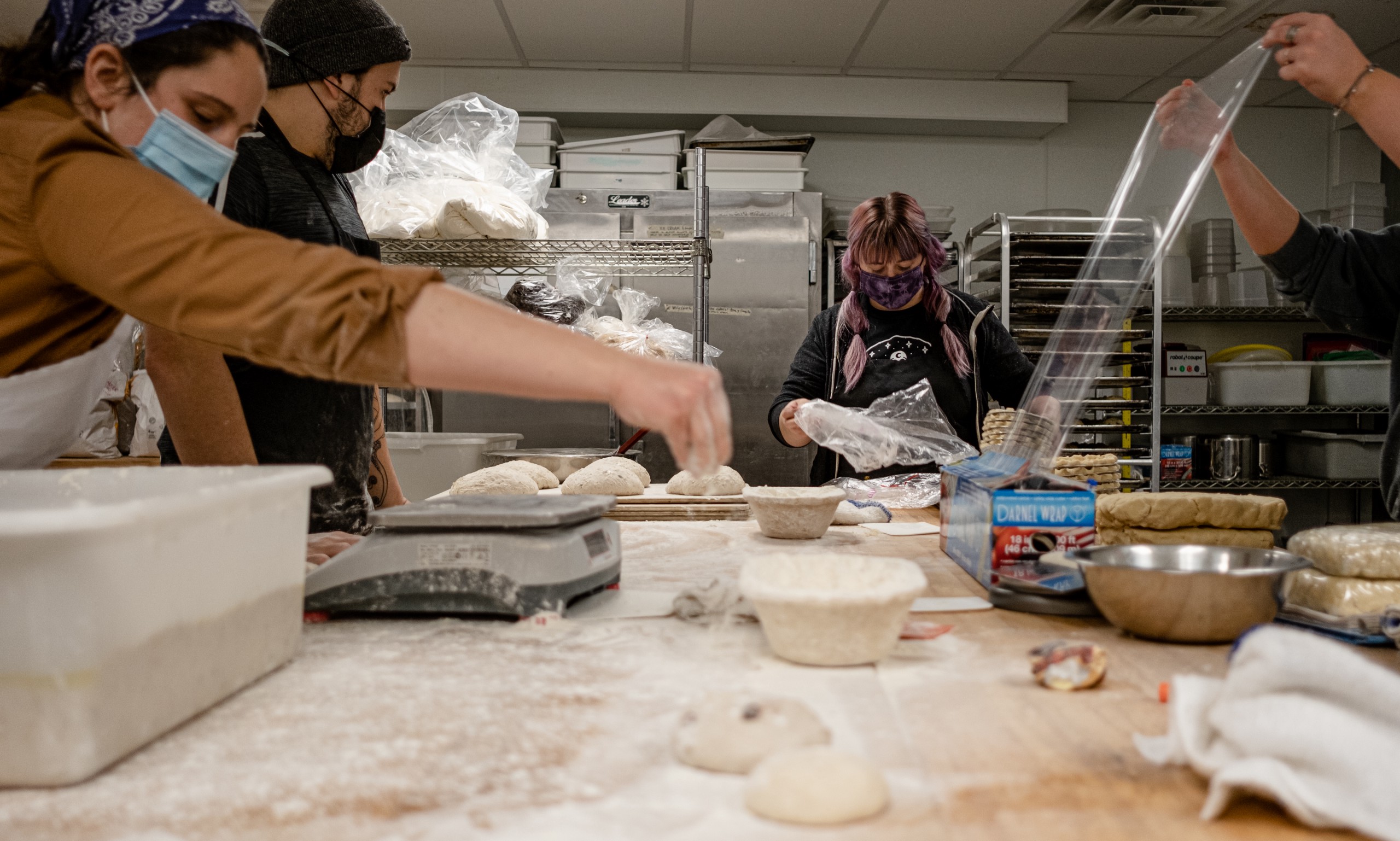 Jud met Genevieve while studying at Kent State. Around that same time, 2008, he got into baking by chance, he said. Financial stress drove him to pick up a part-time job working the front counter at Great Lakes Baking Company in Hudson. A baker called in sick one day, and his boss, needing help, asked him to chip in. But it wasn't easy, he said.
"I sucked at it," Smith said. "But I loved it. I had a blast doing it, and I really wanted to get more involved in the making side of things. And that was it, man. I really caught the bug."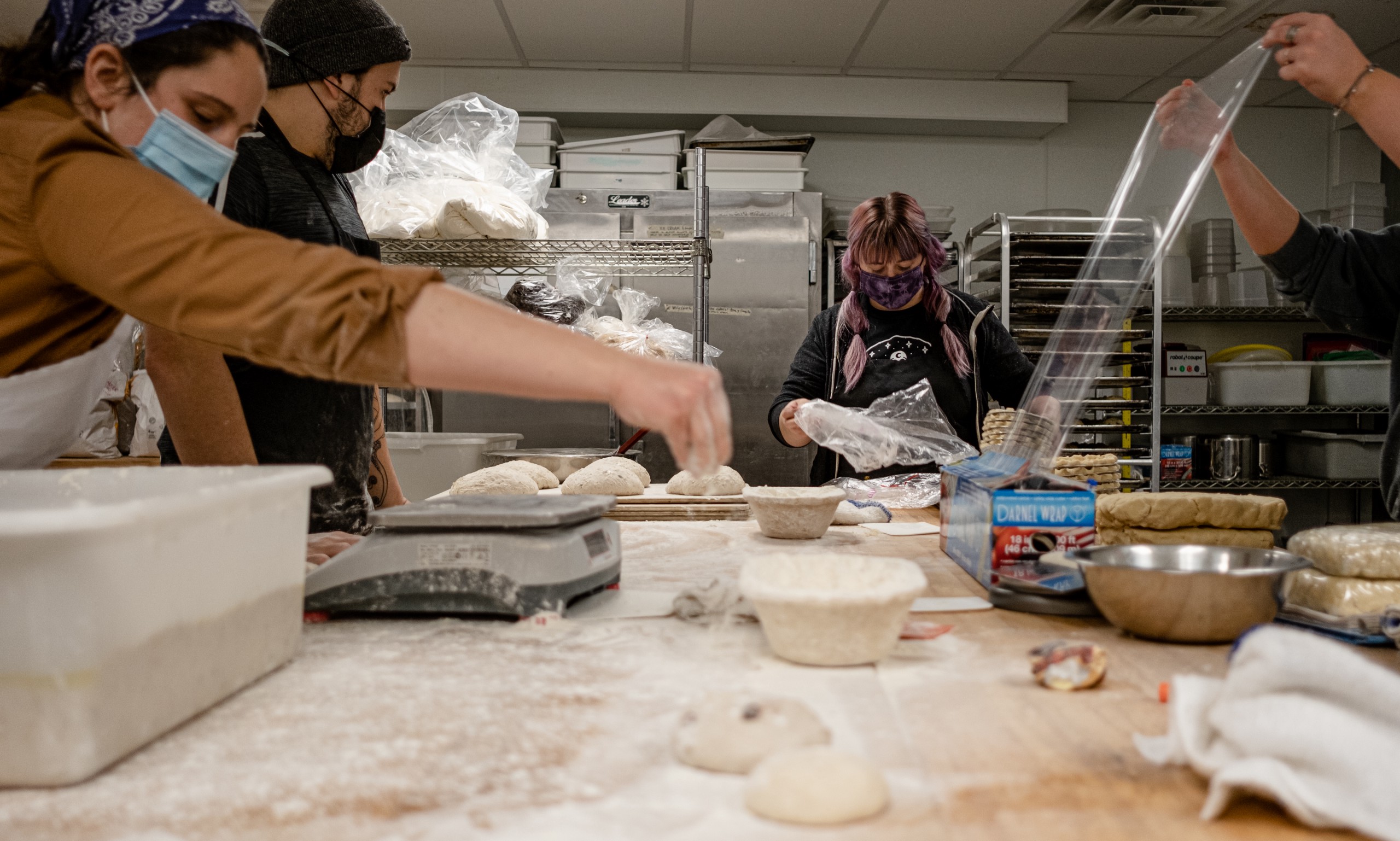 He dropped out of college and pivoted his life toward this newfound passion, he said. In 2010, he and Genevieve moved to Vermont and began working for King Arthur Flour. They read books and took classes to hone their craft until they ended up back in Brimfield four years later, where they started a bakery in their home.
Smith said his wife especially had always wanted to own a business, and their blossoming interest in baking helped realize that dream. Two years and a $22,722 Kickstarter campaign later, Brimfield Bread Oven opened its doors and has since become a local staple for pizza nights and business meetings (pre-pandemic, of course). Smith said he felt like he'd been handed a Mercedes when he first stepped into his new bakery. He felt accomplished, he said, but anxious.
Although Smith didn't get a Mercedes, he got a baker's equivalent. He hired a stone mason to build him a one-of-a-kind, wood-fired oven. It may not have "new, slick tech," he said, but it lends his bakery character. Baking with wood-fired ovens dates back centuries.
"There's kind of a resilience to these methods of making food," he said. "There's very little that can go wrong or break. It's really all about your own skill and knowledge with the tool. … And for me, personally, that's really easy to at least wrap my head around. I know if something went wrong, it was probably something I did."
Since its inception, Brimfield Bread Oven has consistently sourced the ingredients it can from local farmers. Smith buys spelt and rye from Twin Peaks Farm in West Salem and Stutzman Farms in Millersburg. Doing so cuts steps, like excessive transportation, out of the process, Smith said, optimizing his company's resource consumption.
"There's a communication element there," Smith said. "You can talk to the person actually doing the farming or the milling of your flour and give them feedback and customize things if you need to."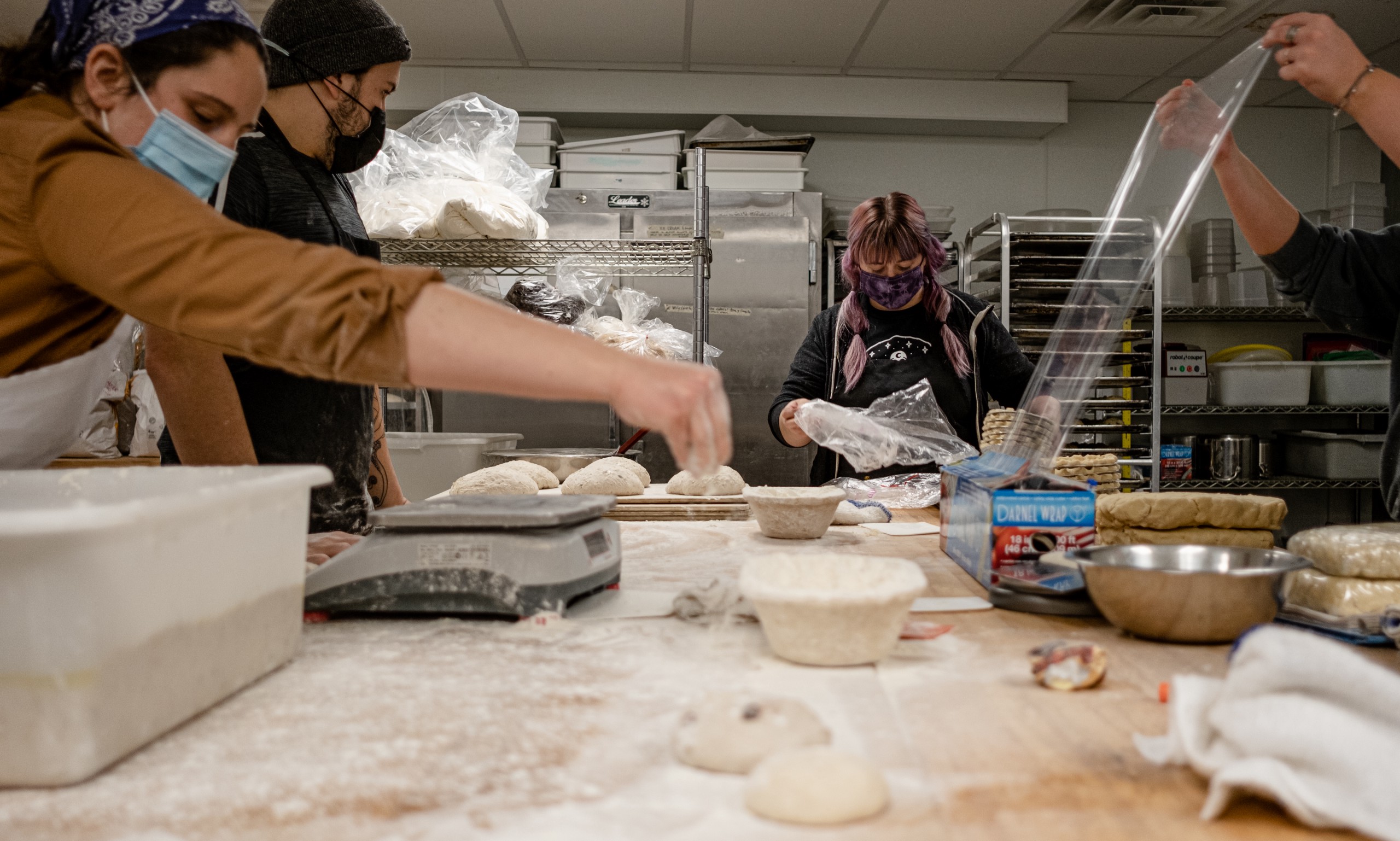 People appreciate that quality control, Smith said. It solidifies Brimfield Bread Oven's reputation as a place for both comfort food and nutrition, he said, but to some, it's more than that.
"Before the pandemic when we had to close our seating area, it was a really nice community gathering place," Smith said. "I mean, people would have business meetings in our seating area, people come for coffee with friends, pizza night was always booming out there. So it was kind of a fun little social gathering place for people."
We're the only locally owned news source covering Portage County, Ohio. Our mission is to help our community thrive. You can help us grow.