Last week in this space, I detailed the football journey of Streetsboro High School standout defensive tackle Mike Hall Jr., who is headed to The Ohio State University to play for coach Ryan Day and the Buckeyes this fall.

By any measure, Hall is a blue-chip recruit. He twice earned All-Ohio honors with the Rockets, including selection as the state's Division III Co-Defensive Player of the Year as a senior in 2020, as Streetsboro posted back-to-back undefeated regular seasons and playoff appearances the last two years.

The 6-foot-3, 290-pound Hall heads to Columbus as the nation's 36th-ranked high school football player in the class of 2021, according to 247Sports. Among defensive tackles, he's ranked No. 4 in the country and No. 2 in Ohio.

The stories of high school student-athletes like Hall, those possessing remarkable skill and jaw-dropping physical gifts, are well documented. After all, they appear on the recruiting radar early and become household names nationwide among rabid collegiate fan bases who spend countless hours scouring video of these must-have recruits.

What isn't well documented, however, is what it's like to be a parent in the middle of this recruiting firestorm, watching their child get yanked to-and-fro by one college recruiter after another.

And in this case, that would be Hall's mother, Lynda, who saw her world turn upside down and sideways as soon as recruiters discovered Hall and found Streetsboro, Ohio, on a map.

Lynda is a football mother who is about to send her son to one of the nation's blue-blood collegiate programs, the end of a lengthy and trying process for a player who was recruited by schools all over the country.

Here is her story, in her own words:

A brave new world

"If you could only imagine. Two words are amazing and stressful. Amazing being able to see your child live out his childhood dreams, stressful not knowing how the process works and who to trust and who not to trust. Coaches are saying everything they think you want to hear. Not only did Michael's life change in an instant, but my life changed also. I found myself becoming a manager overnight without any training.

"It was overwhelming, not only for myself but for Streetsboro High School and the staff as well. Coach (Pete Thompson) is coming to school every day taking him out of his classes and he was getting hundreds of text messages daily. You can only imagine grades dropping; special accommodations had to be made for him. It had gotten so bad even with mail coming to the school that they had given him his own mailbox. I found myself picking up mail from the superintendent. I found myself suffocating, so could you imagine what my child was feeling? Sold-out games every Friday night, reporters everywhere. Coaches walking up to me after games telling me what a great athlete he was. This is only the beginning of a new life."

Too much

"We did not even get a chance to take our five official visits to different colleges. I had to shut the process down; it had become too hard for him. I don't think people understood that he was only 16 years old, still a kid that needed to live as a kid. On the outside, he did look like a grown man – 6-3, 295 pounds. The biggest kid in school. He wanted to announce his commitment on his 17th birthday, but that just couldn't happen.

"What surprised me most about the recruiting process was that they talk to the athlete first before talking to the parents. It's the most disliked part of the process among all of the parents. The recruiters were at the school every day until the principal at that time had to put a system in place because it had gotten ridiculous. I had to let them know I didn't want him to talk to any coaches without an adult in the room. After a Friday night basketball game where coach Ryan Day and (Buckeyes defensive line coach) Larry Johnson attended, I knew it had become too much. People were everywhere, security was everywhere, the mayor was even there. I had just had enough as a parent. I sat him down the next day and interviewed him myself. I found myself traveling to Columbus the next weekend to have a meeting with coach Ryan Day and Larry Johnson. I had several questions written out to ask, not knowing that all of my questions were answered without me even asking them. That's when I knew that Ohio State was the college for Michael Hall Jr. And we committed on Feb. 1, 2020."

Buckeye-bound

"Mike did not have his mind made up about the college he wanted to go to. He was unsure about the Buckeyes when Urban Meyer left because he knew nothing about Ryan Day. The advice that I gave Mike during the recruiting process was to take his time and don't go to a school just because everyone likes it. (But) no other recruiters stood out to me like Ohio State did. Coach Day and coach Johnson are men of few words, but when they speak, they speak volumes. They let me know what kind of athlete Mike was and what kind of athlete he could become with their training. My feelings towards these coaches are nothing but love. Great men of integrity. They made Mike and myself feel comfortable when they told us the plan of care that they had for him without me even asking. They just don't want your son as a player, they want you as a family."

Behind the scenes

"I had to rush him to the emergency room after the weekend of committing because he was so stressed out he couldn't even move his neck. Then things started to get back to normal. I started working on a foundation for him because he was so popular in this little community. Kids were walking up to him asking him for his autograph. So I thought what a great way for him to give back to the community. I have always taught my two boys that it was better to give than receive. Mike is quite the little philanthropist; he and his friend Marvin Montgomery gave away toys to the Boys and Girls Club in Akron this past Christmas during the pandemic. And they raised money to feed the healthcare workers and first responders. We will be hosting our first Big Mike's Skills and Drills Camp on June 1 before he heads off to college on June 4."

Mike Hall's April Fools joke: April 1, 2020

"A day I will never forget. Around about 2 o'clock that afternoon, I began to receive phone calls, text messages. From people I normally don't even talk to, people who are asking me, 'Why didn't you tell me that you were moving?' I'm looking at the phone like, what are you talking about? I had no idea; when I say he got everybody with this joke, I mean it. He got me, too! Then people begin to say, 'You didn't see the post he sent out?' I'm not a social media buff, so I'm still clueless. I'm like, what post? Then my insides began to boil. I screamed, "Michael!" I called him on the phone and asked him what people were talking about. He chuckled and said he sent a post out saying that he was going to (prestigious prep football school) IMG Academy in Florida and he will finish up his senior year there. I guess he thought he was LeBron James at that moment — he was gonna take his talents elsewhere! I mean, he had everyone scared — coaches, the superintendent, I even thought I might be moving to Florida. I was like, am I moving to Florida?

"The funny part was cleveland.com had written an article on it. He didn't announce that it was an April Fool's joke until about 7 o'clock that evening. Now the April Fool's joke turns into a joke on him. Mike has a friend that attends IMG Academy; he didn't know that his friend told his coach about Mike, and the coach watched his film and called me offering him a full ride to IMG Academy. After my son and I saw what the school was offering, we had decided that we were going to send him. Then he began to beg me not to send him; it was too far from home and he didn't want to see any alligators! Then I called coach Larry Johnson to help me make a decision. I wanted to know what would be a better school for him. Coach Johnson told me that Mike will be fine finishing up his senior year at Streetsboro High School."

Special coach, special future

"Yes, coach Johnson was a factor in our decision, but it was not our main factor. I knew that my child has God-given talents and he could be a great player at any college we had chosen. I did not want my child to just be a number, and I knew that Ohio State only chose the best of the best players. So my main concern was, will he be playing? They have everything there for you to become the best athlete possible. The advice I give Mike going to college is stay humble, focused and become the first-round draft pick he always told me he would be. You can always come back and obtain your degree if you're drafted early."

\\\

So there you have it. A peek behind the curtain at the high-stakes, frenetic world of big-time college football recruiting, from a mother's perspective.

And now that it's over, Lynda Hall can finally sit back and enjoy watching her son live out his childhood dreams.

With buckeye leaves on his helmet.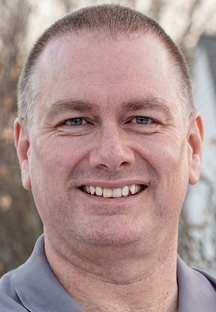 Tom Hardesty is a Portager sports columnist. He was formerly assistant sports editor at the Record-Courier and author of the book Glimpses of Heaven.