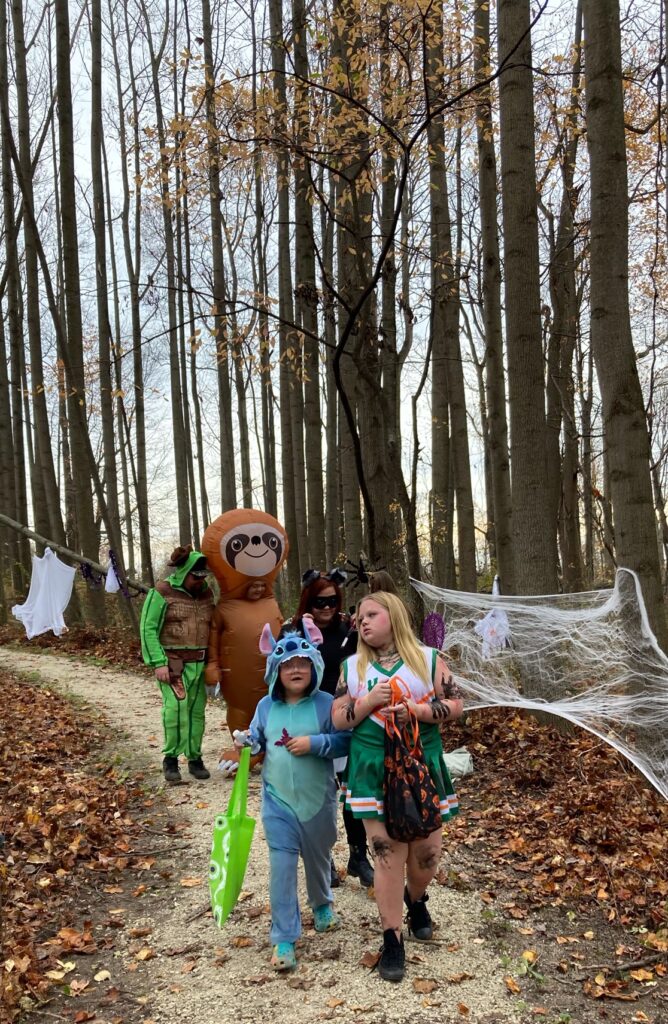 Charlestown's Trunk or Treat was a huge success and the weather was perfect. There was a record number of residents who decorated their trunks and handed out candy.
The number of original ideas made picking the prize winner difficult. Ultimately, Kerri and Mike Fotheringham, their daughter Zoey and pup Momo won the honor with a Ghostbuster theme. The Activity Committee would like to thank all who volunteered their time to make this event happen. Special thanks to Members of the Southeast Leo's Club: Maddy Lane, Haley Crvk, Cadence
Hoover, Zach Hoover and their adviser, Mary Tarka.
---
Would you like to surprise your kid(s) with a visit and a gift from Santa? It could happen if you live in Charlestown township. Santa Claus is coming to town for one special evening (Saturday, Dec. 10) to deliver a gift to your child.
All you need to do is purchase a gift for each child that will be present that evening. Wrap it and plainly mark it with the child's name, age and address of delivery. Drop the gift off at the Fire Department any Monday 7-9 p.m. between now and Dec. 5. The delivery address must be in Charlestown. Santa Claus will be arriving at your home in a fire truck with lights flashing! Delivery will begin at 5 p.m. and usually ends around 7 p.m. No specific delivery times will be promised.
If you have questions, email Susie at [email protected]. This event is free and is sponsored by the Charlestown Activity Committee and the Charlestown Volunteer Fire Department.
---
Once again, the township is sponsoring a Christmas Lighting Contest. There will be $100 cash prizes in three categories: Most Spectacular, Most Traditional and Most Unique. Register to enter at [email protected] with your name, address and phone number. Judging will take place Dec. 18. Let's light up Charlestown!
---
The New Milford Cafe in Rootstown opened in 1941 by Vito and Anna Nardo and is still in business today. Along with their daughters, Dolores and Betty the cafe became a family affair. With the eventual passing of Vito, Anna and Dolores, Betty continued working there until her retirement not all that long ago. Betty Nardo Ward recently celebrated her 82nd birthday and still drops by often to get hugs and high fives from her former customers.
Over the years, the extended family of the Nardos shared many milestones at the the New Milford Cafe, including birthday parties on Sundays, when the cafe was closed. Vito would always supply a huge cake for the celebration. All of this brought about the idea of a mini reunion.
The daughters of Dolores Anderson, Linda, Wise, Becky Gordon and Karen Hendrickson, got in touch with Betty Ward and her sons, Jim, Brian and Gary Ward and picked the date. This is where Charlestown comes in. Charlestown residents, Rick and Janet Burt and David and Pam Burt along with siblings Bruce and Joyce Burt of Columbus and Kim Bradley of Rootstown were thrilled to be invited. They all spent an enjoyable several hours reminiscing at the New Milford Cafe. Betty, who is full of energy just could not help herself and was caught bussing the tables! I guess good waitresses never retire!
---
Contact Ruth Ann Bartholomew at [email protected] or 330-281-3723 with news.