A new diner with an old name has opened in Buckeye Mall in Ravenna.
Woodie Goodnight, 72, and Susan Goodnight, 59, of Hartville opened their long-awaited Horseshoe Diner at 250 W. Main St., suite 204, in the Buckeye Mall in early November. The grand opening and ribbon cutting ceremony is slated for Nov. 24 at 4:30 p.m. with a craft show starting at 5 p.m. and an elf workshop at 6 p.m. All will run until 9 p.m.
The diner is open seven days a week for breakfast and lunch and serves standard American fare: homemade mac and cheese, biscuits and gravy, hamburgers and french fries, as well as in-house smoked BBQ, a daily special and much more.
This isn't the Goodnights' first foray into restauranteering. They were the owners and operators of Angelo's Pizzeria in Rootstown until the state demolished the building.
"The state wanted to widen the roads," Woodie said, "so they tore the building down. We took the little bit of money they gave us and bought the Slop Truck."
The Slop Truck was a mobile food van that served Portage County and surrounding areas for nearly six years, but the Goodnights realized early on that mobile food service had its ups and downs.
"The problem with operating a food truck in the state of Ohio is it gets very cold in the winter," Woodie said. "So, we decide that we were going to find us, find ourselves, a diner. We didn't want a restaurant. We didn't want a pizza shop. We wanted a diner, an old-time diner."
They also have the concession at the food hall in the Randolph Fairgrounds during the Randolph Fair.
After years of looking at countless prospective properties for a place to open their diner, a space in Buckeye Mall became available. Woodie signed the lease the same day.
Buckeye Mall was once Skorman's Miracle Mart, a long-gone department store that was once a main attraction during the holidays.
"Back in the day, that was the go-to place during Christmas time," Woodie said. "They would bring presents in from overseas, Japan, and a couple other places. You would go in the basement and pick up your Christmas presents and talk to Santa. A really cool place."
The original Horseshoe Diner started out in a streetcar next to the Ravenna Hotel in the city center. It operated throughout the '40s, '50s and early '60s.
"That was across the street and up by the hotel," Goodnight said. "We got the name, and we're trying to bring it back a little bit. We believe in history. We also are very proud of Ravenna itself.
"My mother worked there. We've known people that have worked there."
Their hope for the Horseshoe Diner is that it will be a place where they can give back to the community, as well serve as a spot for people to share their stories.
"Today [Nov. 11] and yesterday [Nov. 10] we were giving away free biscuits and gravy to all active duty personnel and any veteran that came in," Woodie said. "We had folks that came in and [I] really felt that they just came in, not so much to eat, just to talk, just to tell their story."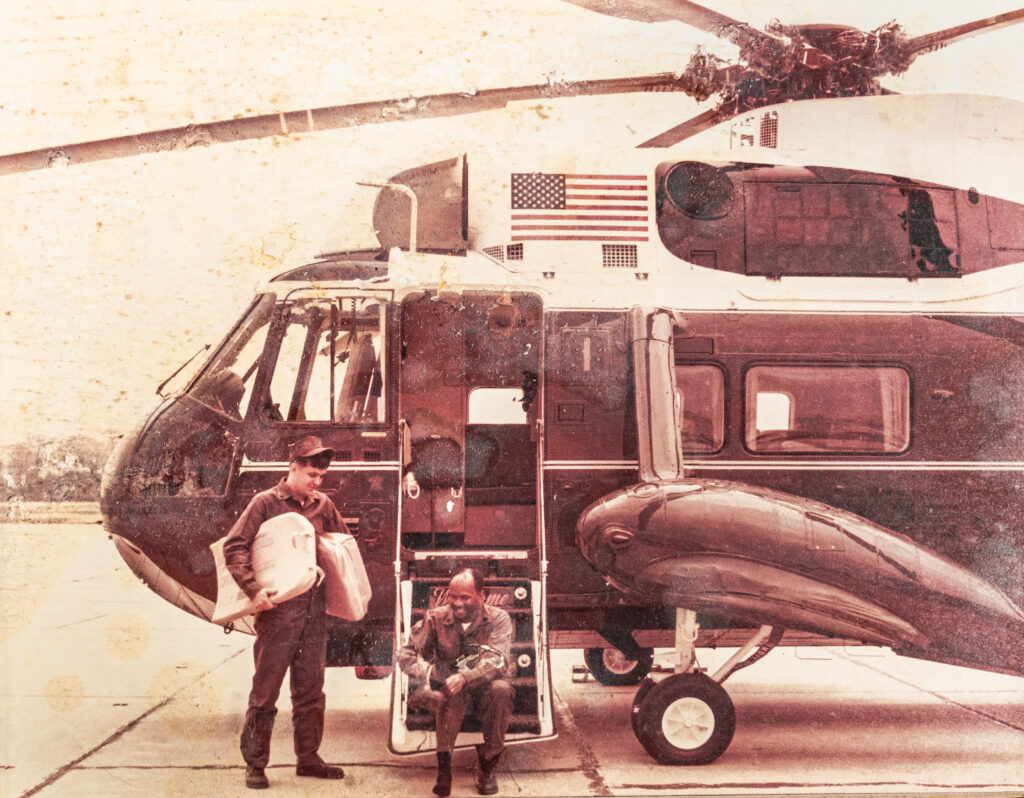 Woodie was crew chief for Marine One during the Nixon and Ford administrations, so he has a few stories to tell, himself.
If anyone has information regarding the original Horseshoe Diner, please contact Woodie. He is specifically looking for a vintage menu, pictures and stories from those who were there.