Streetsboro City Council is revving up its road game, freeing up money it already has and hoping the state comes through with more.
On Nov. 13, city leaders approved contracts valued at $137,410 to keep the Frost Road improvement project on schedule. Funding is needed to repair and resurface the road from Route 43 to Page Road and to mark the pavement.
Council is also applying for Akron Metropolitan Area Transportation Study (AMATS) funding for six road projects and approved an Ohio Department of Transportation resolution for the Frost Road improvements.
On the city's road radar for potential AMATS funding are:
Frost Road from Greentree Parkway to Sunny Lane. The city proposes to widen Frost Road to include a center two-way turn lane along the 1.2-mile corridor and to install sidewalks on the north side of Frost Road.

The city also hopes for funding to widen Route 303 from Streetsboro Plaza to Page Road, a distance of about a half mile. Plans are to extend the existing sidewalks that end at Mount Vernon Drive east to Page Road, thereby providing sidewalk connectivity to the Streetsboro elementary and middle school campus, the proposal states.

Also included in the proposal is a center two-way left turn lane from the plaza to Lakeside Drive so traffic may safely exit the traffic lane and allow motorists to continue traveling without delay.

Additional funding asks are to resurface 2.74 miles of Diagonal Road from the south city line to Route 303, 3.2 miles of Seasons Road from the south city line to Route 43, and 0.91 miles of Aurora Hudson Road from the west city line to Frost Road.

The city also proposes to add pedestrian crossing facilities at the Route 43/Fire Signal intersection on Route 43 and to install 300 feet of sidewalk on the west side of Route 43. The sidewalk will connect existing pedestrian facilities in the city's downtown area, the proposal states.
There is no way to know how many of the projects AMATS might approve, and none are slated to begin for five or six years, City Engineer Justin Czekaj said.
Council also:
Approved $131,725 for light poles at the city center project, future home of Streetsboro's city hall, splash pad, playground and gathering area. The installation, already under construction, is sited on Route 43 near the fire station.

Tweaked the city's zoning code. According to the new code, fences and walls in front yards of R-3 (multi-family urban residential), R-PUD (Residential Planned Unit Development) and R-O (Residence Office) district yards may now be three feet high up from a previous max of two and a half feet. Front yard fences in O-C (Open-Space Conservation) and R-R (Rural Residential) districts may be four feet high if certain other stipulations are met, and side and rear yard fences may be up to six feet high.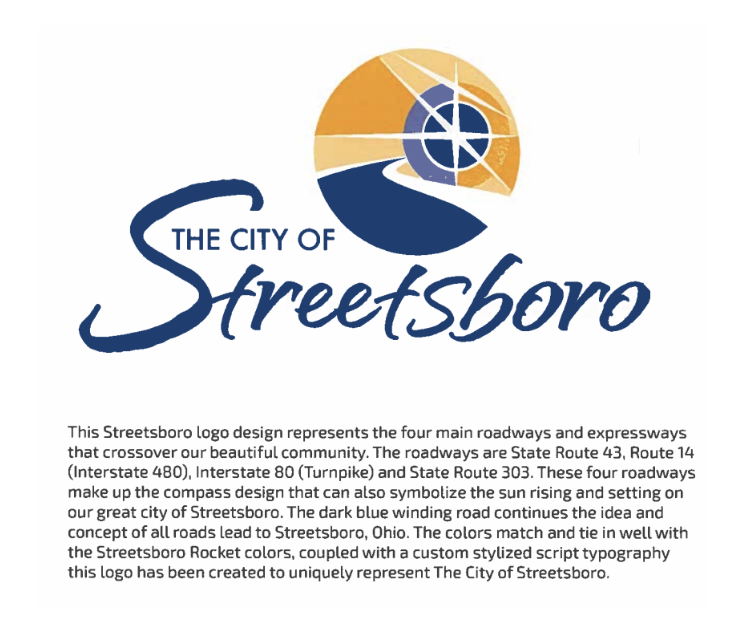 Previewed Streetsboro's proposed logo, which currently includes a compass design meant to represent Route 43, I-480, the Ohio Turnpike and Route 303. The design may also represent the sun rising and setting on the city. The dark blue winding feature is meant to symbolize the idea that all roads lead to Streetsboro, city Parks and Recreation Director Greg Mytinger said. Mayor Glenn Broska noted the logo is not in its final form and, if and when a form is approved, it would appear on city shirts, emails, letterheads and other branding items, but would not replace the city seal.
Council also discussed but took no action on the city's multi-section noise ordinance, which prohibits "excessive, unnecessary or unusually loud" sounds in residential areas. Noise that is audible 50 feet or more away from the source of the sound is clear evidence of a noise violation, the city's current ordinance states.
Council member Justin Ring said a resident had called him, complaining he was cited for having a band, then karaoke entertainment, during a block party he'd organized. The time, Ring said, was between 2 p.m and 6 p.m.
Council members struggled to understand the ordinance, which only specifies noise between 11 p.m. and 8 a.m. in one of three sections. Council members agreed the intent is to allow people a decent night's rest, but could also address incidents at any time of day.
Under the current ordinance, police first warn offenders, and cite them with a fourth-degree misdemeanor if the noise persists.
Police Chief Tricia Wain said police fielded three anonymous calls and issued the party's organizer an M-4 citation after their third visit, notifying the resident via a phone call.
"I don't think that's the intent behind our noise ordinance, to shut down block parties," Ring said. "They're frustrated that one neighbor can ruin it for everybody."
Though council member Julie Field said the current ordinance gives police discretion, her colleagues agreed that more specific language could be useful. They agreed to mull the existing code over to see if clearer language could be written.
Wendy DiAlesandro is a former Record Publishing Co. reporter and contributing writer for The Portager.