Real grass, or artificial turf?
The pros and cons have been weighed between the two since the fake stuff, known then as AstroTurf, first made its appearance on the floor of the Houston Astrodome in the mid-1960s. The argument has raged since.
The operative word being "rage," because that's what a whole lot of NFL players are feeling after watching future Hall of Famer Aaron Rodgers suffer a season-ending — and quite possibly career-ending — Achilles tendon injury just four plays into his debut Sept. 11 as the New York Jets' quarterback. Rodgers completely tore his left Achilles on the new artificial turf at the Jets' MetLife Stadium in East Rutherford, New Jersey.
Rodgers was hit on the play, so it wasn't a non-contact injury. But players aren't convinced that the fake grass didn't play a role.
Green Bay Packers offensive tackle David Bakhtiari, a five-time All-Pro, had this to say on social media following Rodgers' injury: "Congrats [NFL]. How many more players have to get hurt on ARTIFICIAL TURF??!" … I'm sick of this..Do better!"
In case there was any ambiguity, Bakhtiari also posted this: "Can we put an end to this sh*t already."
What happened to Rodgers is non-trivial. Perception is reality, and whether MetLife Stadium's artificial surface actually had anything to do with Rodgers tearing his Achilles is immaterial. Players think it did, and that's all that matters.
Because the players don't like the fake stuff. At all.
And I don't blame them.
The science and technology behind the design and manufacturing of artificial turf has come a long way since I played on the carpet at the Akron Rubber Bowl in a scrimmage in 1985, but it's still not grass. I remember going out for warmups at the Rubber Bowl, looking down and seeing huge rips and tears in the artificial turf to the point that I could see the bare concrete below. And not a little bit, either. I'm talking gashes yards long and several inches wide all over the field — with duct tape applied liberally in a futile attempt to patch the large rips.
My only thought that afternoon was to get out of the scrimmage without cracking a kneecap or shattering an elbow on the exposed concrete, or tripping over the tears in the rug and blowing out a knee or ankle. But even if I managed to avoid those dangers, the "good" part of the turf was hard as rock, and every time I fell to the ground it was like falling on pavement — because I was.
Thankfully there were no injuries on either team that day, and I looked forward to playing on the nice, soft grass fields of the Portage County League the rest of the season (well, most of them were soft, anyway).
But NFL players don't have that luxury. While artificial turf has improved dramatically since the bad old days of painted concrete posing as football fields, it's still not good enough: A study published in The American Journal of Sports Medicine in 2018 showed higher rates of lower-body injuries sustained on artificial turf than on grass. That study showed that between 2012 and 2016, play on synthetic turf resulted in a 16% increase in lower-extremity injuries per play than on natural grass.
That's alarming.
When you consider that 17 of the NFL's 32 teams play on artificial turf, the players feel trapped: They can't get away from playing on the very surface that might well bring a premature end to their career — and they feel like the owners don't really care.
Jets wide receiver Randall Cobb told "The Athletic" after his team's 22-16 win over the Bills in the Sept. 11 season opener: "We wanted the NFL to protect the players with grass fields, but the NFL is more worried about making money. Profit over people, it's always been the case. I've never been a fan of turf. That's my stance."
Kansas City's eight-time Pro Bowl tight end, Travis Kelce, directed this comment at NFL owners last season: "I think it's time you all take some of that money y'all make off of us and invest it in grass fields for every team around the league." Kelce said artificial turf is "like concrete."
So maybe it hasn't improved all that much in the last four decades.
And that's why Rodgers' injury could be a game-changer, and not just at the NFL level. If the NFL starts ripping out its fake fields and installing grass — a big if — colleges won't be far behind. Players at the collegiate level aren't going to be all that wild about playing on a surface that the NFL basically deemed unsafe — especially if that surface costs them a chance to make their own millions in the NFL.
Which brings us to the high school level — and this is where things get sticky. Most schools have several sports teams playing on the same field throughout the fall. If you're a high school in Northeast Ohio, between the constant use and the weather, your grass field could be a mud pit by mid-October unless you're pouring some serious money into its upkeep — and even then it could be a mud pit.
To eliminate that hassle and save money, schools in droves are installing spiffy new artificial surfaces that can withstand the heavy use and won't be affected by weather. It all makes perfect sense — except that they are likely endangering the student-athletes who play on them.
And that endangerment is why the NFL players' union could force the owners' hand on this issue — perhaps even issuing an ultimatum that goes something like this: "Change all 32 fields to grass, or all 32 teams will refuse to play another game until you do."
In fact, Lloyd Howell, executive director of the National Football League Players Association, the labor union that represents NFL players, already issued a shot across the bow to owners with this statement that he released Sept. 13:
"Moving all stadium fields to high quality natural grass surfaces is the easiest decision the NFL can make. The players overwhelmingly prefer it and the data is clear that grass is simply safer than artificial turf. … it simply needs to change now."
If this change to grass fields does come about, it's unfortunate and unnecessary that it took a devastating injury to a high-profile player like Aaron Rodgers to make it happen — especially since NFL players have been vocal in their opposition to artificial turf. If the owners had listened to players' concerns, Rodgers might well be suiting up for his second game as a Jet this weekend in Dallas.
Instead, his career might be over and players throughout the league are left wondering who's next.
And the trickle-down effect could be coming to a high school stadium near you: Schools mulling the feasibility of tearing out their artificial turf — still new in many cases — and replacing it with real grass, or schools opting against installing an artificial surface altogether.
That decision will come down to money. And we're seeing how that's working out in the NFL.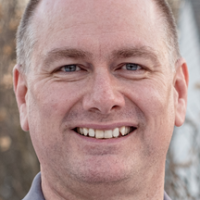 Tom Hardesty is a Portager sports columnist. He was formerly assistant sports editor at the Record-Courier and author of the book Glimpses of Heaven.