I love a good mystery, and if there's a touch of humor and eccentric characters, all the better!
Here are some recent good reads.
"The Maid" by Nita Prose is simply a joy to read. I'll be recommending this wonderful book all year.
Molly's been a maid at the five-star Regency Grand Hotel for four years. Unlike some of the staff, she loves her job. She admires the grandeur of the place and takes pleasure in keeping it sparkling clean. She tells us, "I'm so thankful for my job that I pinch myself every day."
She tells us how the job affords her anonymity: "At work, when I'm wearing my uniform, I blend in. I become part of the hotel's decor, like the … wallpaper. … You could see me in a police lineup and fail to pick me out even though you walked by me ten times in one day. … I am your maid. I know so much about you. But when it comes down to it: what is it that you know about me?"
When she finds a dead man in one of the rooms, we start to realize there's something a bit off about Molly as she reports, "Today at work, I found a guest very dead in his bed. … Other than that, my workday was as normal as ever." She describes the crime scene in detail, seeing what we know are clues but thinking only of how she'll have to clean them up.
Molly takes things literally and misreads the intentions of others. She says, "I often have trouble with social situations; it's as though everyone is playing an elaborate game with complex rules they all know, but I'm always playing for the first time." (Think of Christopher in "The Curious Incident of the Dog in the Night-Time" or Sheldon in TV's "Big Bang Theory.")
But there's something more going on here. We're told that "Odd behavior is par for the course … at the Regency Grand." For starters, Molly's supervisor steals the other maids' tips. Then there's talk of scandal, drugs and possibly organized crime. As for Molly, is she really just a trusting soul who gets taken in by the wrong people? Or did she have something to do with the murder?
At one point, I realized what Molly's telling us is not necessarily what's going on, but what she PERCEIVES as going on. This is when I started to laugh — out loud.
I really can't tell you more. It would spoil the surprise. And Molly gives us so many surprises! For me, the subtle humor was a supreme treat. I always say I don't like thrillers, but what I don't like is violence and inhumanity. This one's heartwarming. It's kind of a mystery, a bit of a thriller, and definitely a character-driven story. Molly's a gem of a character. I loved the whole package.
---
"The Man Who Died Twice" by Richard Osman is the second book in a series that started with "The Thursday Murder Club." The series features a group of 70- and 80-year-old retirees living in a senior citizens community in the U.K. Together, Elizabeth, Joyce, Ron, and Ibrahim, along with their two police detective friends, form the club of the series name. Each has skills and experience they can put to use in solving crimes.
When Elizabeth receives a letter from an "old friend," she is immediately put on alert; the writer uses the name of a dead man from her days as an undercover agent. She understands that the message is a dire signal sent by a personal acquaintance from her past.
The club members help Elizabeth as she goes to the aid of her former colleague. Along the way they get too close to drug dealers, thugs, money launderers, British crime gangs, spies and an American mobster. In addition, one of the club members is beaten and robbed, so the rest of the group sets out to avenge his attack.
Often there are two layers of things happening. For instance, the detective is dating his partner's mother, which brings up some funny situations while the investigation is going on. Did Elizabeth's former colleague steal the diamonds? If so, where are the jewels? Who killed whom? Is so-and-so really dead, or just in hiding? Watching them solve all the puzzles is so much fun!
Osman has created realistic characters with real relationships. The quirky details and subtle humor remind me of writing by Donald Westlake, or a British Carl Hiaasen.
I loved it — so many twists and turns! I was glad I was able to figure out part of the puzzle, but never foresaw the whole thing. I liked it even more than the first one, which was even more complicated. Where's book three?!
---
Now, if you like the murder club idea, try "Death in the Sunshine" by Steph Broadribb. This is the first book of a promised series called The Retired Detectives Club. You'd think it was a sequel to the Thursday Murder Club, as it features several former British police/intelligence personnel now living in a senior citizens community, but it doesn't have the humor of the Osman books.
Moira Flynn, 58, has been living in the Homestead retirement community in central Florida for about a month. She's just moved here from London, where she was an undercover detective. She retired early because her doctor told her she needs a "fresh start" after going through a trauma she won't tell anyone — even the reader — about.
Out for a morning walk, Moira spots the body of a young woman in the community swimming pool, "surrounded by thousands of floating dollar bills." The police are condescending to the senior citizens and seem to be ignoring the case, so the local community watch group decides they'll investigate for themselves. The watch group includes a former U.K. detective and his ex-CSI wife; an ex-DEA agent; 29 volunteer patrollers who keep logs of community activity; and now, Moira.
Murder, burglary, stalking, assault and battery — there's quite a bit going on here. We keep being told that Moira "can't afford to get involved with them; it's too risky." We're also told Philip has secrets he's hiding even from his wife. But we aren't told what or why until late in the book. It's frustrating. It's also odd that the author uses British terms all the time when the book's set in Florida. Ah, well, it's good enough for me to want to read a sequel.
Happy reading!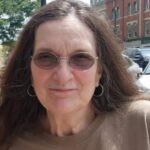 Mary Louise Ruehr is a books columnist for The Portager. Her One for the Books column previously appeared in the Record-Courier, where she was an editor.