Get ready to turn the pages, because these books go quickly.
"Going Zero" by Anthony McCarten is a cyber thriller of the first rank. I'd say it's a cross between "Ready Player One" and "The Amazing Race," a bit of sci-fi, or "tech-fi," but some of the tech is all too real.
Kaitlyn Day is one of 10 participants chosen for the Going Zero Beta Test being directed by a private corporation in partnership with the U.S. government. At an appointed hour, the 10 will "go zero" and will have a two-hour head start to run and hide before security forces come after them, using all manner of spyware. If any are still at liberty one month later, they will receive three million dollars, tax-free.
"Rapidly, they must disappear off the radar, leaving no trace. But this will not be easy." Working to find them will be a team of "supersleuths" — "super-smart engineers, data scientists, intelligence agents, programmers, hackers, and myriad analysts from the private and public sectors," not to mention the numerous kinds of software they will employ. The tracking and data-sharing capabilities are mind-blowing. If these invasive cyber tools aren't currently available, I'm sure somebody's working on them.
It's a giant game of hide and seek with 10 chase scenes, and the way some of the players hide is really clever. It's also a test. If no one wins, the government will award the cyber company a lucrative contract. The cyber managers are as desperate to win as the runners. How far will either side go to succeed?
Besides the participants, there are people opposed to "any organization that wants to collect information about everything on everybody and hold on to it forever." And one character is a real villain. "Ultimately, it's all about control" for this guy. "He really thinks he's above the law. … He thinks that, with such modern power, normal rules no longer apply to him."
The runners can't trust anybody. They can't be seen, can't leave clues, can't even talk for fear of their voice being detected. Can Kaitlyn possibly win? Can she even survive when it gets dangerous?
It's a smart, well-crafted thriller, and I didn't want to put it down.
---
"All the Sinners Bleed" by S.A. Cosby is on the bestseller lists. It's set in present-day Virginia, where Sheriff Titus Crown is the first Black sheriff of the county. And yes, racism, especially against him, plays a role in the story.
The quiet town is shocked by a school shooting that results in the death of a popular teacher. In the aftermath of the tragedy at the school, the sheriff discovers disturbing information that quickly turns into a horror show: A serial killer has been active in his own county.
I liked the sheriff. After he finds horrific and gory images on a cell phone, "He'd put the phone back in the evidence bag after fighting the urge to put it under his front tire and roll over it five or six times, then set it on fire."
Unfortunately, the killer isn't done killing. And it's someone the sheriff knows, but who? "People they knew, people they'd known all their lives, were monsters with human faces." When the investigation gets too close, the sheriff starts getting threats. And is someone in his department betraying him?
The book is not for the squeamish. The murders are gruesome, but thankfully, the reader is spared from too many details. It's a quick read and a definite page-turner.
BUT it's a little preachy, and the writing is — well, let's say he needed a better editor. He used way too many unnecessary similes and overly dramatic statements, which I often found distracting, such as: "… a turgid series of movements that seemed hidden by an opaque sheen" and "The three letters had wicked edges like the serrated edge of the razor blade they used to use to prick your finger when he was a kid."
And "ying" and "yang"? Come on.
That said, it's a great story.
---
"The Quiet Tenant" by Clémence Michallon is another gripping read. You know that old saying, "The pages practically turned themselves"? Yeah. That.
The narrator is a woman in a shed with a chain around her ankle, and the chain is nailed to the wall. She's been there for five years. Five. Years. Her keeper is a "regular" guy who keeps a quiet routine, "who always takes out the recycling on time," who has "a wife to keep happy and a daughter to cradle." He treats the woman as an object, a possession, and one day he surprises her by saying "You've been here long enough." But he isn't going to release her. Oh, no.
He had changed her name and given her rules to survive. Of course, she's followed every rule and has made up a few of her own in order to survive. She has also figured out that he's not just a kidnapper. She tells herself, "He kills. You know that." When circumstances take a turn, she focuses on looking for a way to escape.
The book gives us short accounts of each of the women he's killed, but no ugly details of his exploits, nor of his almost-daily assaults on the narrator.
There's also a female bartender who flirts with him. "Here is this beautiful man, who has done so much for our town," she thinks. And she wants to have him for herself. What will happen to her?
"Everyone's favorite handyman and general good guy around town" is a sexual predator and savage killer hiding in plain sight. Can our heroine survive?
Definitely a page-turner.
---
Happy reading!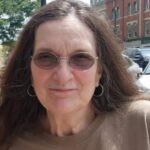 Mary Louise Ruehr is a books columnist for The Portager. Her One for the Books column previously appeared in the Record-Courier, where she was an editor.