City Council approves new roost, recaps 2020 economic upheaval and hears Covid updates
Kent City Council has its eye on chimney swifts, which will soon have a new roost in the Tree City.
Council met Wednesday to review a project to install a new chimney swift tower on the Hike and Bike Trail along Haymaker Parkway, just east of the police station and across from where Erie Street cuts into Haymaker, City Engineer Jim Bowling said.
The project will be financed in part by a $1,000 grant from the Ohio Department of Natural Resources, a $1,000 grant from the Kent Environmental Council and an additional $23,000 from the city's funds.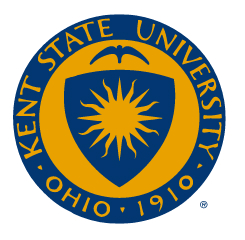 Construction will begin this spring or summer. Turns out chimney swifts, now an endangered species, have a historical Kent connection. With large colonies of swifts breeding in Kent and migrating to South America for the winter, former Kent State biology professor Dr. Ralph Dexter made them the focus of research throughout the 20th century. The university deemed his work so important that they added a chimney swift to the seal, there at the top, just above the sun.
Progress has not treated chimney swifts well, though. Their traditional nesting sites (brick chimneys) are not part of modern construction. Couple that with the demolition of established habitats (including, in Kent, the demolition of the old police station and the Gougler Industry and RB&W stacks), and chimney swifts are in dire straits. With the new chimney roost, City Council hopes they will soon be seen flying in and out of their new tower, and Kent will play a small but important role in supporting the species.
"It would make us cooler than Austin with their bats and Hinckley with their buzzards," Councilwoman Gwen Rosenberg joked, adding that the project could result in some amount of ecotourism as DORA patrons and others enjoy a bit of bird watching.
The city has contracted Kent artist Emily Ulm to adorn the structure with ceramic tiles bearing renderings of chimney swifts. There will also be interpretive signage to help visitors appreciate the birds and the tower.
"In the end, we think it will make Kent a better place, Bowling said.
If the first chimney swift tower is successful, Bowling envisions placing additional towers in various Kent parks and on other city-owned property.
The economic impact of Covid in 2020
Also during its Wednesday meeting, Council reviewed the economic impact of last year.
"2020 will be remembered as the year of Covid," Economic Development Director Tom Wilke said.
Several businesses were forced to shut down, including Longhitano's Gallery Pub & Grill; Peace, Love & Little Donuts; Carnaby Street Style; Gracy Lane; Rush; Cheesemonger; Burger King on East Main Street; and the Kent Stage, which is listed as an indefinite closure.
Of those businesses, Longhitano's Carnaby Street, Gracy Lane, Rush, and the East Main Street Burger King were actually not Covid-related closures, but the Cheesemonger "was a victim of Covid," as was Peace, Love, & Little Donuts, Wilke said. The Kent Stage closure is a real hit to Kent's downtown community as patrons fanned out to support local bars, restaurants, and hotels before and after attending concerts.
"We anticipated re-opening on March 30th, 2020 after the initial 14-day closure ordered Dr. Acton," said Kent Stage owner Tom Simpson. "We will reopen as soon as permitted by the State and their restrictions make opening financially responsible to do so."
Meanwhile, other businesses opened: the Battleground, The River Merchant, Pho King, Coyote's Mexican Grill & Restaurant, Akron Children's Hospital Portage Health Center, the Crystal Clinic expansion, Pita Pit, North Water Street Brewing Co., Tropical Smoothie Cafe, Twin Lakes Tavern, the downtown Kent DORA, and The Fruit Stand.
Coming in 2021 are: the Kwench Juice Cafe, expansion of Barrio (which is actually already completed), Uncle Maddio's Pizza, the Hasawi building (now under construction on Franklin Avenue), Kent West apartments, 257 N. Water St. (courtesy of the Finley Bros.), Dunkin' Donuts, Bell Tower Brewing Co., the expansion of Montrose Mazda and Davey Tree, and Clean Express Auto Wash.
The Hasawi building will include retail on the ground and second floors, with apartments on the upper four stories. Kent West apartments will be a 47-unit, six-story building where Buffalo Wild Wings used to be, Wilke said.
The Wendy's location, now undergoing major renovation on East Main Street, will include a driveway onto Lincoln Street. This should improve access to the restaurant. The project is slated for completion in the next few months, Wilke said.
The pandemic continues to be a major economic factor in Kent and across the nation. Reviewing the second quarter of fiscal year 2020, Kent was reeling under a 12 percent unemployment rate, a 17 percent decrease in year-over-year income tax collections, and the downsizing of Kent State.
Bars, restaurants, and hotels have been hit hard, and all special events were canceled. Hit disproportionately are Kent's low-income workers. Manufacturing has been negatively affected, and many businesses have downsized.
Covid updates from the city health department
Kent Health Commissioner Joan Seidel said the city has tallied 1,926 total cases of Covid-19 and mourned seven deaths.
"As the pandemic progressed, the number of people being affected by Covid got younger in age," she said.
With ultra-contagious variants on the way, Seidel urged Kent residents to double down on mask wearing — literally. She suggested to wear a cloth mask, but put a surgical mask on as well, she said. And keep social distancing, washing hands and disinfecting surfaces.
Kent has obtained Needlepoint Bipolar Ionization units, which can be used to clean and filter air inside buildings and vehicles, including ambulances, Seidel said. The technology has been around for decades, but is especially useful in the current pandemic climate.
Kent has also been studying wastewater from The Province and Flats 345 apartment complexes. Wastewater monitoring provides up to a week of advance warning of increasing illness in a community, even prior to symptoms appearing, she said. At one point, samples from The Province showed a sharp increase in viral count, which may or may not be related to concurrent reports of large gatherings there.
As the vaccination campaign falters for lack of supply, Seidel and Council agreed that the current system ignores people who do not have or cannot negotiate the internet, or who are homebound and cannot realistically get to a vaccination site.
In light of recent news reports of people getting shots that were later deemed to have been handled improperly, Seidel said getting a replacement shot should not pose any health risk. She urges Kent residents to register for an appointment as soon as they are eligible.
This week, Kent's target population is residents 70 and older. Starting Feb. 8, people aged 65 or older may register. Kent schools staff, including at St. Patrick School, will take their turn starting Feb. 15.
If a person has missed their date for any reason, they will still be eligible in subsequent weeks, so they should still register, she said. Also, anyone who has received their first shot should be aware that the dose for the second shot is already in place, so no one will be left half-vaccinated, she said.
Research is ongoing regarding how long a person who has had Covid is safe from being reinfected. The current thinking is about three months.
"You may not have Covid protection," Seidel said. "You want to take the shot when it is your turn."
Don't be idle
Council also debated how best to educate Kent residents that it is illegal to leave their vehicles while they are idling. Councilman Mike DeLeone noted the practice is common outside gas stations, convenience stores and coffee shops. Council Member Roger Sidoti noted he sees food delivery drivers frequently leave their vehicles idling, as do city employees operating city vehicles.
While it may be effective to simply start ticketing these folks, Council opted to continue reviewing this issue.
New life for Allerton?
Council is also eyeing a possible intergenerational village to be built on Kent State grounds at the former Allerton apartment complex. No action was taken: Council will continue to investigate the potential of the project.
Wendy DiAlesandro is a former Record Publishing Co. reporter and contributing writer for The Portager.