Every weekday evening, millions of Americans bark trivia "answers" at their televisions, claiming they have a fighting chance as a "Jeopardy!" champion. Meanwhile, Kent resident Katie Sekelsky worked hard, auditioned twice and did what most of those would-be contestants will never achieve.
Her episode airs Friday.
Sekelsky started taking online contestant tests while she was in college, but always knew she wanted to be on the quiz show. "It's basically been my favorite TV show since my parents moved my bedtime from 7 to 8 when I was like 6 years old," she said. "It's always been kind of my top goal in life to get on the show."
Unfortunate timing landed her a spot in March 2020, right as the pandemic lockdowns started. The shoot was postponed for a year, during which time, the news of Alex Trebek's death in November left viewers wondering who would take over for the beloved host.
"When the news came out that he had passed, that was particularly horrible to find out," she said. "Especially because if not for Covid, I would have gotten on while he was still around."
Friday's episode (along with previous episodes aired this week) will be hosted by Mayim Bialik of "Blossom" and "Big Bang Theory" fame.
Covid affected more than just the timing of the shoot. Seselsky said the contestants waited for their quiz at the sound stage next door, rather than in a more traditional green room or waiting room; she and her fellow contestants were left to settle nerves on the set of "Wheel of Fortune." Not that she had any nerves to settle.
"A lot of people say, 'I thought I had everything down and then once you have the lights and the camera on you, it's like a whole different thing.' I didn't feel that," she said. "I wasn't that nervous when I got on the set. … I felt pretty calm on set, which actually surprised me. I did not expect to."
Sekelsky suspects it might have had something to do with the lack of a live studio audience, but hard work and years of preparation couldn't have hurt. She and her husband, Matt, are avid trivia fans, and she even developed a side job writing quiz questions, which Sekelsky says can boost your answering skills.
While couch-quizzing "Jeopardy!" watchers tend to ignore the wagers, Sekelsky said she paid special attention to the show's betting structure in her preparations. "You know, it would be pretty devastating to have a real shot at winning, and then not win because I wagered incorrectly."
Spoilers are off the table, so we'll have to watch along to see how the wagers worked out. Sekelsky will be watching along, too.
"We have about a dozen people coming over. Weather permitting, we're going to move the TV to the patio. But if not, then everyone's vaccinated. So we'll squeeze everyone into the living room."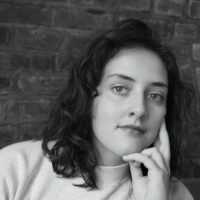 Natalie Wolford is managing editor at The Portager. A native of Randolph, she studied film in New York City and is producing a feature-length documentary about her aunt, a small-town journalist.