By weekday, Ross Maenza serves as Vice President of Operations at Olstrad Engineering in Kent.
On weekends, however, Maenza trades his Olstrad manager's hat for a Cleveland Browns football helmet.
That's meant in a figurative sense, of course. But when you talk Browns football with Maenza, you get the feeling that his passion for the team runs deeply enough that given the chance, he might well suit up and take the field with his beloved Orange and Brown.
"I became a Browns fan, I guess, from birth," Maenza said.
And since he can't actually wear the uniform of his favorite NFL team, Maenza has found another way to affiliate himself: as president of the Browns Backers club of Amherst, one of the 360-plus chapters of the far-reaching Browns Backers Worldwide organization.
"It's the largest organized fan backers (group) in professional sports," Maenza said. "I have been involved since the Browns returned in 1999 and took over the club as president last year."
Like any self-respecting Browns fan, Maenza has suffered through it all: the Red Right 88 loss to the Oakland Raiders in the 1980 AFC Divisional Playoffs, and of course the heart-ripping AFC Championship Game defeats to John Elway and the Denver Broncos in 1986 and '87 forever known in NFL lore as The Drive and The Fumble, disasters that are forever seared into the memory of every Browns fan. The mental images of Elway driving the Broncos those 98 yards of hell and of Browns running back Earnest Byner fumbling three yards short of the end zone.
But Maenza's Browns fandom goes much farther back than those soul-crushing playoff disappointments.
"My father attended the 1964 championship game and used to dress me up in kids football uniforms," he said. "A lot of the old Browns in the 1960s-1970s lived on the east side of Cleveland where I come from, and my father used to take me to places they would hang out – gas stations, barber shops, etc. Remember, back then, players were not celebrities as they are now."
As a Browns Backers chapter president, however, Maenza doesn't have to wander the neighborhoods of Cleveland hoping for a chance encounter with a player.
"Each Backer club president and a 'plus-1' meet every year at the Presidents Summit Weekend," he said. "This event is two days of meetings, meet-and-greets, training camp, locker room sales, and of course some glad-handing with coaches and a select few players and alumni. I've met several current and former players, all very gracious with their time. The most noteworthy for me I guess would be Bernie Kosar — a genuinely nice person. But I have met quite a few over the years and actually became friends with a few."
But while being a Browns Backers chapter president certainly comes with its fair share of perks, it takes a lot more than just fun and games to get to the actual fun and games of an NFL Sunday afternoon. Because while Maenza is busy coordinating combustion and automation projects from his office in Kent, he's also busy coordinating gameday activities for his next Backers gathering at Ziggy's Pub and Restaurant in downtown Amherst.
And he's pretty much a one-man show doing it.
"My routine starts about Wednesday the week of the game where I prepare postings for the chosen charity fundraiser that Sunday," he said. "I send emails to prospective donors throughout the week and follow up with phone calls to confirm donations. We have a weekly 50/50 raffle, and I organize the tickets and prepare the organization chosen to run that raffle — this year, it's the Amherst Comets High School athletics. We have a 'squares' board as well, and I prepare that also. On Sunday mornings, it's get everything together, make up bags for 50/50 consolation prizes and load up — I arrive at the venue at about 11:30 for a 1 p.m. kickoff.
"No help here — I run the club solo, but I do have a few friends that will pitch in when I need them. Like I said, there is some prep, but most is in the offseason: setting up fundraisers, getting donations, acquiring merchandise and memorabilia, T-shirt designs and new logos, working with my suppliers and the BBW (Browns Backers Worldwide) getting ready for the following season."
Gameday is when the fun really begins, and it's Maenza job to serve as master of ceremonies and get the crowd pumped up for the game.
"We draw roughly between 100-150 patrons a game depending on the kickoff time and time of year — it also depends heavily on the Browns' current win-loss record," Maenza said. "The restaurant provides an awesome viewing location with over 30 TVs all tuned to the Browns game. I have a microphone provided by the bar and make announcements prior to kickoff — who the 50/50 is benefiting this week, special raffles and charities they benefit, etc. It's a pretty raucous crowd. There are a lot of 'armchair quarterbacks' out there, and I would be lying if I said I was not one of them."
Unlike your average sports bar, where fans of opposing teams often mingle with the home crowd (whether they like it or not), gameday at a Browns Backers event is generally football's answer to safe spaces.
"Sometimes they show up," Maenza said of fans of the Browns' opponent on a given gameday. "We poke fun, but nothing I would describe as friction. Everyone knows Ziggy's is a Browns Backers bar, so most steer clear."
And like your average sports bar, there's never a dull moment when emotions are running high and the place is jam-packed.
"Every week there is something," Maenza said. "We've had past Browns alumni stop by and sign autographs, and I think it's funny how people just fawn all over these guys."
While Maenza wears his love for the Browns on his sleeve (in fact, he sports a Browns polo shirt at work on Fridays ahead of the next game in an act of fandom solidarity), he also considers himself a student of the game, having even played in the United States Flag and Touch Football League.
"I played linebacker in high school, no college, and played organized touch football in the USTFL, but I just enjoy studying the game," he said. "I tend to look at the sport and try to remove the allegiances that shadow the intricacies of the game. I watch the strategies, the coaching, and I watch future opponents as well."
And Maenza, like the rest of Browns Nation, has his fingers crossed that the strategies and coaching can carry the Browns into the playoffs for the second straight year and perhaps hearken memories of the glory days of the 1980s, when Kosar quarterbacked Cleveland to three AFC Championship games between 1986 and 1989.
"I remember the win over the Jets, that amazing comeback," Maenza said of the Browns' 23-20 double-overtime victory in the 1986 AFC Divisional Playoffs, a game that saw the Browns somehow rally from a 20-10 deficit with 4:14 left in the fourth quarter to force OT and eventually win. "The 51-0 trouncing of the Steelers (in the 1989 season opener). I used to listen to Gib Shanley and Casey Coleman all the time on the radio. I was at the 51-0 game."
Whether or not those days indeed return, Maenza is doing his part, presiding over a Browns Backers club while making the long journey to work and back five days a week. It's the kind of dedication and sacrifice that has come to be associated with long-suffering Browns fans over the decades.
"I've been with Olstrad for four years now," he said. "I love the atmosphere here in Kent and Portage County, although it is a bit of a drive from Amherst."
About 60 miles, to be exact.
But still better than 98 yards.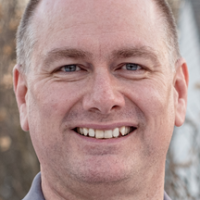 Tom Hardesty is a Portager sports columnist. He was formerly assistant sports editor at the Record-Courier and author of the book Glimpses of Heaven.