I see Christmas every time I walk into our bedroom.
In this instance, Christmas is personified by a large stuffed panda that sits on the bottom of one of our nightstands next to the bed. There is a drawstring in the back of the panda that, when pulled, would prompt it to "speak" one of several phrases. The panda's voicebox hasn't worked in eons, and its "fur" has become course and its white areas noticeably darker, but that's understandable considering its age:
Santa Claus brought me the talking panda as a gift for Christmas 1972. I was 4 years old.
In fact, I still have a photo from that Christmas morning of me standing in front of the tree showing off a present, with the panda sitting on the floor behind me.
The panda — I call it "the panda" because, for some reason, I never gave it an actual name (I have a smaller panda bear I named "Pandy" that is even older, which may partially explain why "the panda" went nameless) — has somehow survived nearly a half-century of moves from one home to another and of its owner growing up and moving on to the hectic pace of daily adult life, where it's easy to forget the halcyon days when clutching a teddy bear was all it took to make you happy.
The panda endured decades of being shoved inside boxes, stuffed in the back of closets and attics, forgotten and ignored, a casualty of time and change. Once the apple of a small boy's eye on Christmas, only to be relegated to the scrap heap of family history, yet always … there.
The panda has since risen from the ashes like a Christmas phoenix and has been prominently displayed in our bedroom for a while now, a constant reminder of Christmases past every time I see it.
And when I see the panda and think of Christmas, images of my dad on his favorite day of the year instantly come to mind. I've never seen someone so moved by the Christmas spirit as much as my dad. When the calendar flipped to Dec. 24, a switch flipped in Dad that remained on a solid 48 hours. A man beaten down by the cold insensitivities and rank unfairness of serving as a pawn for someone else's gain in corporate America suddenly found an inner peace and solitude that was absent the other 363 days of the year.
Dad was truly happy at Christmas. His smile was genuine, his laughter sincere, his childish exuberance coming straight from his soul. It made me wish every day was Christmas … for his sake.
Dad was the life of the party at Christmas, given to fits of orneriness that often included tossing a present in the air to see if it rattled (Dad's way of guessing what might be in the box), making a loud monkey screech as the gift tumbled in the air above him, acting like he was going to drop it to put a good scare into those around him — then actually dropping it, the gift careening off his fingers and crashing to the floor — and, more than once, the item inside breaking upon impact. Which, of course, would send Mom into full Grinch mode, very much displeased that Dad's antics caused the unnecessary destruction of the gift she had bought him.
Mom took that picture of me in front of the tree at Christmas 1972. I know that, because Mom wouldn't have let Dad come anywhere near her camera. Dad wasn't exactly known for his technical prowess, and I can assure you there was no wind on the day the apple fell from the tree. If there was one thing Dad and I shared most in common, it was that we both had a far better chance of breaking something than fixing something.
Which I witnessed firsthand one Christmas — I'm fairly certain it was the same Christmas as the panda — when Dad was putting together the electric football game Santa brought me. If you grew up in the 1970s, you know exactly the game I'm talking about: the little plastic players on the metal football field that vibrated and buzzed loudly when you turned it on. The players, whom you had lined up perfectly for the "snap," jostled aimlessly around the field once the play began, going every direction except where you wanted them to go, some even falling to the ground like in real football. The best part of the game was how the teams were painted in the uniforms of the previous season's Super Bowl participants, and I envisioned that one day — maybe one day soon — Santa would bring me an electric football game with one of the teams painted as the Cleveland Browns.
Still waiting on that one.
But I loved that game, and I couldn't wait to play it as soon as I opened the box that morning. I talked Dad into putting the game together for me while we were still opening presents (it took some coaxing — Mom had left cookies and "milk" on the kitchen table for Santa to enjoy during his stopover in the Hardesty apartment, and the "milk" hadn't quite worn off by morning), and he dutifully set about assembling my game.
And by assembling I mean disassembling, because one of the game's plastic goalposts was no match for Dad's clumsy fingers as he tried to wrangle it into position in one of the end zones. So in a matter of minutes, my shiny, new electric football stadium was down to one goalpost.
No matter. It was impossible to kick the little fuzzy football through them, anyway.
The important thing was he tried. And he usually succeeded. My interests were Dad's interests, so he was very good at buying Christmas presents: Through my formative years, it was common for me to get books about military history, particularly World War II, for Christmas, and in 1978 he got me a globe that I still have.
In fact, Dad shined particularly brightly at Christmas 1978, even if I didn't. I'm slightly ashamed to admit that as an only child, I received the lion's share of the presents on Christmas. It was a safe bet that of all the presents under the tree on any given Christmas morning, a solid 75 percent were for me. So when I made my way down the stairs from my bedroom to the living room on Christmas morning 1978 when I was 10 and saw a pile of presents under the tree, I couldn't wait to dive in.
And dive in I did — a little too enthusiastically. I opened one box and pulled out a fuzzy pink sweater. I was at a loss why I was receiving such a gift, but not wanting to appear rude, promptly thanked Dad for the nice present. Dad, who hadn't been paying close attention up to that point (probably a product of too much "milk" overnight once again), said, "Wait a minute, I don't think that was for you." I responded: "It said 'To Tom.' " Dad grabbed the box, checked the label and said, "No, it says 'To Mom.' "
I handed the fuzzy pink sweater to Mom and set about opening more presents with tags that said 'To Mom' — always realizing it after the fact — to the point that I was getting the distinct impression that I had actually gotten nothing that Christmas. Mom, sitting on the couch, could hardly be seen beneath all the boxes and clothes surrounding her, while I crawled around in my pajamas under the tree desperately looking for something for me amidst the rapidly dwindling number of boxes available. One box after another said "To Mom."
As I searched, I remembered the night before when Mom poked her head inside my darkened bedroom around 11 p.m. and asked if I was asleep. Ever the night owl, I said no. She said, "You better get to sleep, Tommy. The radio just said Santa is in Suffield and he's going to be in Mogadore in a few minutes. If you're not sleeping, he won't come here tonight."
With the pressure firmly on, I of course was unable to fall asleep right away worrying that he might not show up. And apparently he didn't.
Finally, after some digging, I began to unearth some presents tagged to me. I later found out that Dad had received a bonus check from work just before Christmas that year and decided to lavish Mom with presents for the first time in their 11-year marriage. And as the morning wore on, realizing that it was Mom's Christmas that year and seeing the joy on her face made me begin to understand, at 10 years old, what Christmas was supposed to be about: bringing joy to others, not collecting it in boxes yourself.
In my teenage years, Dad and I often stayed up into the wee hours on Christmas Eve, talking about the meaning of Christmas, which usually led to deep philosophical conversations about the meaning of life and our place in the universe. Sometimes we would even step outside together and listen to the late-night silence of Christmas Eve as we shivered in the cold and snow.
That usually came after a hectic day at the malls when, as others were frantically wrapping up their Christmas shopping, Dad was even more frantically just starting his. With me as his stressed-out wingman, Dad could somehow knock down the entirety of his shopping on Christmas Eve, starting first thing in the morning and ending when the stores all but ushered him out at 5 or 6 p.m. We would have a small mountain of bags and boxes crammed into the car and several hours of wrapping ahead of us, but it was always with the satisfying feeling of a mission accomplished as we headed back home armed with Mom's Christmas. There were years — many years — when I thought Dad might not pull it off this time, but he always came through. He was a true Christmas miracle worker.
By the next morning, Dad would be at his most relaxed of the year, sitting in a chair and clutching a hot cup of tea as he stared at the pile of presents surrounding the tree, muttering: "What a disgusting display of opulence." Dad, sporting his customary Christmas morning uniform of his robe or sweatpants and sweater, would then proceed to squeeze every last bit of enjoyment out of the day, which had nothing to do with the number of gifts under the tree and everything to do with the spirit of Christmas and its deep meaning to him.
And looking back, it's the same for me. Sure, I remember the presents, but it's what they represented that means most to me now. Those Christmases were magical, moments that were fleeting when they occurred but will last forever somewhere in time.
Dad died in July 2005, a sudden death at age 63 that no one saw coming. That first Christmas without him, Mom, my wife Kim and I decorated the two little fir trees next to his headstone with ornaments; we couldn't stand the thought that Dad would have a Christmas without a Christmas tree, so we made sure he had one.
We did that for a few years, but eventually it tapered off. Mom became too frail to make the trip to the cemetery, eventually dying in 2014, and I realized what Dad had been trying to tell me in all those late-night Christmas Eve discussions we had through the years: Christmas comes from the heart and the soul. It's not tangible; it's an idea, an emotion, something deep within us that releases the better angels of our nature.
Dad understood that. I saw it in him, that overnight transformation from a man teetering on the cusp of defeat, the way too many in our culture feel, to a man experiencing happiness on a level he could never reach otherwise. He was truly filled with the Christmas spirit.
So when I go to bed this Christmas Eve, the panda on our nightstand will be one of the last things I see before I close my eyes and drift off to sleep. Forty-nine years on, it's still here, at my side, a gift given with love to a young boy on a magical morning so long ago yet still so fresh in his memory. And it means as much to him now as it did then.
Merry Christmas, Mom and Dad.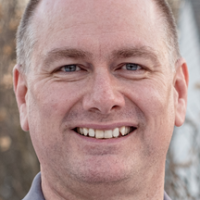 Tom Hardesty is a Portager sports columnist. He was formerly assistant sports editor at the Record-Courier and author of the book Glimpses of Heaven.