Welcome to the revival of the Around Edinburg column! My name is Cathy Klein and I wrote the Around Edinburg Column for the Record-Courier from 2006-2018 and am excited to be back in the saddle to spread local news and goings on in our community. I thought it might be fun to first catch you up on what has been happening with me these past five years.
Many people in the community know me as Ms. Cathy from Southeast Cooperative Nursery School and that has remained the same. I have taught there since 2008 with Michele Cagle and we have a great time getting to know so many kids in our township as well as watching them grow into adults through the
magic of social media.
I am also still married to my husband, Michael, since 1995 and we have two daughters, Grace and Hannah. I used to include them in my columns often as they grew up and had achievements of their own, and I can happily update everyone that they are both doing well. Grace is about to complete her Master's in Education at Duke University after completing her undergrad at Denison University. She'll begin teaching eighth grade social studies at a middle school in North Carolina in the fall. Hannah just completed her junior year at Notre Dame College of Ohio where she is also a collegiate bowler. She is majoring in Emergency Management and also recently completed her EMT training.
As for me, I decided that I liked being busy all of those years while my girls were growing up. I ran them from practice to practice and watched them at all of their school events and extra curricular activities.
I have also always been a big reader and loved working in bookstores before I had kids, so I decided that it was a good time to get back in the business of books with having extra time and started a pop up bookstore called Books a Go Go. I named it that because I go from business to business setting up my pop-up shop to bring books for sale to the community since we do not have a local book shop specializing in new books. An awesome addition to that business has been starting two book clubs as well. I hold monthly pop ups and book clubs at both Halliday's Winery and Lost Trail Winery and Vineyard.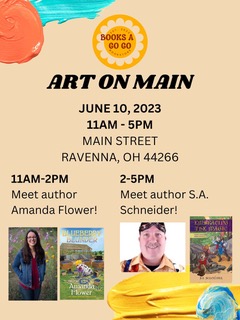 I am super excited to be set up at the upcoming Main Street Ravenna Art on Main event to be held June 10 where local authors Amanda Flower and S.A. Schneider will be signing copies of their books.
Now that you have the quick rundown of my life, let me hear about yours! I will be writing this column to appear on the third Wednesday of the month so send me your news, achievements and accomplishments. Brag about yourself, your kids, your grandkids or your neighbors. Let me know when you have a community event coming up, and I will help spread the word. Don't forget to include photos as we all love to see what is happening as well as read about it.
Send information to my email at [email protected] by the second Wednesday of the month to be included in the column, and welcome aboard.