Editor's note: This article contains references to trauma and descriptions of suicide. If you or someone you know is in need of help, the 988 Suicide and Crisis Lifeline offers 24/7 crisis support through Townhall II.
Ben Stasik was making his morning breakfast at his home in Tallmadge when he felt the faint shockwave of a nearby explosion.
It was Jan. 31, 8:30 a.m., and Stasik was welcoming an off day as Brimfield's deputy fire chief. Piqued and concerned, Stasik joined the dispatch call. Something had happened.
A mile south, people closer to the blast were alarmed. Jeff Charlon was readying paperwork for the day at Diptech Systems in the middle of the Kent-Brimfield industrial park. Industrial accidents weren't common here, but Charlon considered it a possibility. "Was that a truck overturning?" he thought. "Was it two trucks crashing into each other? What was that?"
"And it wasn't until someone walked out, [I] saw some smoke up in the air that was from the street," he said. Then, "everything started unfolding."
Less than 10 minutes later, at 8:39 a.m., Stasik arrived at the spacious gravel parking lot of Korkan Granite, a mom-and-pop kitchen countertop installer about 300 yards from Diptech. Fifteen officers, including Mogadore firefighters, the Ohio State Fire Marshals and members of ATF, joined Stasik. "Just the report of the plume made us think a possible fire."
Instead of a fire, Stasik found the body of 25-year-old Jacon Williams, a Cuyahoga Falls resident who had been working for the Korkans since 2018. He was lying in front of a storage crate. In an hour, Stasik ascertained the situation: Williams was using a welding torch to thaw the icy door to the Korkans' rail container when the torch met the fumes of leaking propane tanks inside.
Tallmadge police investigated the accident and found no evidence of criminal wrongdoing.
"Unfortunately," Stasik said, "that day, the conditions were right — when he let that fuel mixture in the air was the right mixture to ignite and explode."
As the firetrucks and squad cars pulled out of Korkan's lot that day, Stasik went through the protocol despite his discreet sadness. The U.S. Occupational Safety and Health Administration had taken over the investigation and assigned the three witnesses of Williams' death — owner Bob Korkan, and employees Brooke Korkan, 28, and Chelsea Stover, 32 — with grief counselors. (None responded to calls for comment.)
After the heavy rescue and medical units drove away, Stasik ordered all of his firefighters to the Safety Forces Support Center in Akron for critical incident stress debriefing. For Stasik, who's been a firefighter since 2002, debriefing is as necessary for his crew — he's known four officers who have died by suicide as a result of trauma — as it is for the rest of those involved.
"It's certainly a tragic day for his family and employees," Stasik recalled. "It's always our concern. The family that is left behind to deal with that. It's never easy."
This was the second workplace death in Portage County since 41-year-old Alvin Kelly Jr. was killed at General Aluminum in Ravenna on March 13, 2021. In June, OSHA slapped General Aluminum with $315,952 in fines for its lax safety precautions, following five workplace violations. In both cases, there were witnesses whose lives would be forever altered by the violent deaths they saw. In the Kelly case, a colleague's mental trauma culminated in a shooting by sheriff's deputies.
But under Ohio's workers' compensation laws, mental health claims are almost always denied. In the last five years in Portage County, there have been 27 amputation injuries and four deaths claims, according to state data, but Ohio largely ignores the ripple effects of workplace tragedies. According to interviews with experts and those affected by trauma, the state and employers are not doing enough to care for those who've witnessed such brutality.
Support investigative reporting at The Portager.
Validating mental health
The typical process for filing a mental health claim for workers' compensation is as follows. A worker in an injury-prone field — a sheet metal worker, crane operator, paramedic — has two options to treat post-traumatic stress: through their employer or through the state.
After OSHA wraps up post-incident interviews and decides the extent of the trauma, the employer's insurance will, if aligned with policy, provide workers with a grief counselor.
The problem, say local experts, is that what's commonly called "mental/mental claims" — claims of PTSD only, no broken bones — are notoriously difficult to receive compensation for from the Ohio Bureau of Worker's Compensation. The BWC pays out injury claims from a massive $24 billion fund, one of the largest in the U.S. (Wyoming, Washington and Utah are the only other states that follow this payout structure.)
Ohio "wants to be a business-friendly state," said Frank Gallucci, a work injury lawyer based in Cleveland, "and business-friendly means, 'Don't create any relief for an injured worker.'"
Galucci, who handles "thousands of cases" a year, has garnered a large roster of clients who've lost mental/mental claims against the BWC's gatekeepers.
He often describes one case, a story of a construction worker who witnessed the deaths of his older and younger brothers in a 14-year span while on the job. The man had sprained his ankle attempting to resuscitate his younger brother — so Galucci used that physical injury as a chess piece. But the mental/mental claim was rejected: the "ankle sprain" push of getting comp wasn't enough.
"Here's a guy that was a giant, a guy who looked like he could walk through walls," Galucci said. "And fast forward, two, three years later, and he's tiny and curled up on my floor crying. It's because there wasn't any relief for what he was going through from a mental health standpoint."
The difficulty of convincing BWC's claims specialists that non-physical injuries are worthy of recompense has led some larger companies to rely instead on advanced insurance policies to remediate PTSD claims.
Ron Johnston, head of the International Union of Elevator Constructors, Local 45, in Kent, says the healthcare policy his union favors — the National Elevator Industry Benefit Plan — has only adopted clear mental health assistance in recent years.
In fact, after 20 years of collecting tales of collapsing ladders, grinding wheel lacerations and falling PVC pipes, Johnston says that just this month new safety-first bylaws for NIE's 31,000 members will go into effect. Among the main features of the new rules are a requirement to send a text message to all members if someone is injured — or for "even a close call," Johnston says — and a regular email with mental care tips.
Ohio generally has fewer workplace injuries than other states — at about 3% fewer cases per 100 workers compared with national rates, according to a report from the Ohio BWC's Division of Safety & Hygiene. From 2018 to 2019, construction and manufacturing injuries decreased by 1,400 and 2,500 cases, respectively — mostly hand injuries, falls, slips, trips. (In Portage County, 27 workers had amputated limbs in the past five years.)
But while one in four of private sector cases led to the injured taking at least a day off work, and most likely getting workers comp, it doesn't mean any recompense for PTSD.
"My experience with interviewing witnesses is they often carry the grief with them for a long time," said Howard Ebert, OSHA director in Cleveland who responds to Portage County work accidents. "Severe amputations where someone loses his arm or leg? A witness to that experiences a lot of trauma as well."
After a workplace accident, OSHA compliance officers inspect the company's equipment for potential violations and hazardous conditions. But any violations they find often do not support the success of a mental/mental claim.
Galucci, the work injury lawyer, said it's negligent that the state refuses to view mental health with the same gravity as physical health. He suspects officers at the Ohio bureau fear a deluge of "nuisance claims" — fakers crying wolf to get paid days off. But outright denying, he says, is offensive to the thousands of witnesses.
"I would say for every one of these hugely traumatic events, to assume that there's not a situation of somebody suffering mental health consequences is ignorant on behalf of the state," he said.
'It's been raining in my head'
Kody Osco was aiming to start a new life when he got a job as a finishing blocker at General Aluminum, cleaning off aluminum casts.
This was Feb. 22, 2021, and Osco was living at home on state Route 14 in Ravenna, after serving a two-month sentence for vandalism that ended in December. While locked up, Osco "had some kind of mental breakdown," he told The Portager in a letter from Portage County Jail. "Starting hearing and seeing things afterwards. Bad anxiety on a whole new level."
Nevertheless, Osco was home, living with his mother, Dianna Young, and his grandmother, Wilda Mace, both medical nurses. Young was cautious but sympathetic to her son's push for self-betterment. He had worked for Stevens Worldwide moving company as a driver in his 20s and early 30s, but a drug charge and a health condition prevented him from getting his commercial license. "He went to heavy equipment operators school, he went to truck driving school," Young said. "He was a hell of a truck driver, too."
Young added, "He was trying to better himself so he could provide for his children."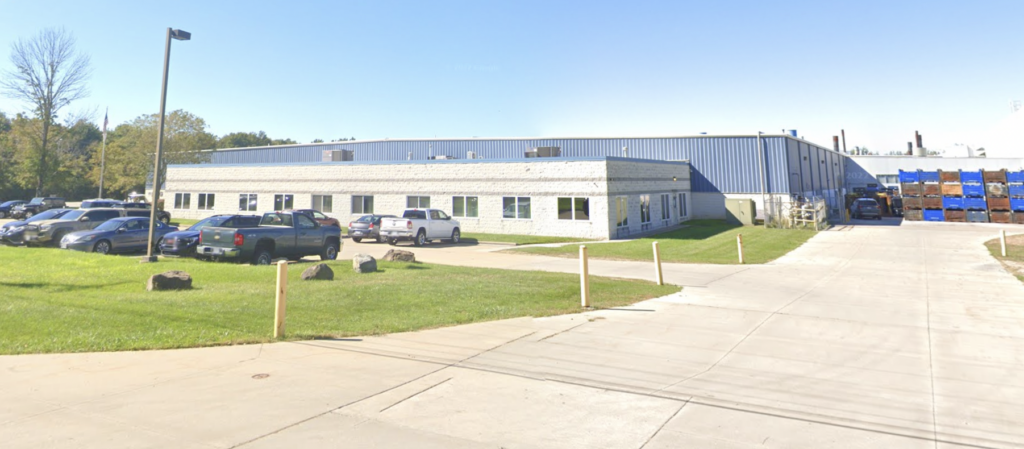 But the circumstances at General Aluminum didn't help. There Osco said he witnessed a fraught atmosphere just three weeks into his job loading aluminum cast into a machine that shakes off sand. He saw coworkers smoking weed and pressing him to sell them drugs.
General Aluminum did not respond to three calls seeking comment for this story.
On March 22, a staff shortage required Osco to run General Aluminum's two knockout machines, which rattle enclosed pieces of aluminum casts to rid them of dust and sand. Typically, the machine Osco was using operates as follows: The front door is opened, a piece of aluminum is set inside. The two buttons — an arm's length apart — are situated several feet away, as to ensure the operator's in the clear. If the operator lifts his hands off the buttons, it's programmed to shut off.
But, according to OSHA, a maintenance person had "jerry rigged" the machine; it no longer needed to be held down, just pressed. This, Osco says, was to combat understaffing. One day, Osco was running this particular knockout when his reused gloves got caught on flash, excess metal scraps. A 65-pound aluminum mold crashed down on his right hand. (It also had a leaking air gasket, Osco said.)
Osco broke his right ring finger. He was given four days off.
After Osco made his supervisor aware of the blocker's lack of safety features, "he laughed," Osco said.
On March 30, with his maimed hand, Osco returned to work. Because of an apparent staffing shortage, General Aluminum had transferred a handful of Spanish-speaking workers from their Detroit plant, including 55-year-old Alberto Martines, according to police records. Already under the pressures of understaffing, Osco felt training new hires in Spanglish on an already poorly maintained machine was a disaster waiting to happen.
"I was completely dumbfounded as to how any company thought this was normal," he wrote.
On the bandsaw adjacent to Osco and Martines was Alvin Kelly Jr., a 43-year-old father of four living on Summit Road in Ravenna. In many ways, Kelly was a paragon of Osco's hoped-for future: He was married with children, a passionate preacher, "jocund and jocose," Osco says, with a can-do attitude. "He called his children every break. He had everything I was trying to find."
And Kelly treated Osco with kindness, including on the day he died.
"Hey, Osco," Kelly shouted the day of the accident, according to Osco's retelling. "I see you're getting frustrated. You wanna switch spots for a little bit?"
"Please," Osco said. "I'm scared to death this guy's gonna kill me."
Twenty minutes later, Martines placed an aluminum piece in the blocker "cockeyed." Kelly reached into the machine to level it, and spun around. Martines already engaged the cycle. The safety door shut, instantly locking Kelly inside for eight seconds, according to the accident report. "Al didn't stand a chance," Osco said. Because of the airy gasket, the door was slow to open. When it did, "Al fell straight to the concrete, limp."
"Al died for the most selfish, stupid, negligence of the company," Osco wrote. "In all honesty? It was reckless homicide."
As General Aluminum faced its fifth OSHA investigation in a decade, Osco returned home to deal with a deep spiral into suicide ideation, he said. General Aluminum assigned a grief counselor to Osco, but for just one day. 
Living in Young's basement, Osco said he "very quickly spiraled out of reality" and "elevated my PTSD to an all time high." He ate staples, razor blades, three-pronged fish hooks. He was prescribed the antidepressant Cymbalta by a University Hospitals doctor, and began suffering serotonin syndrome, a neurological imbalance typically caused by an antidepressant overdose. Osco again tried to kill himself. When a doctor asked him why, Osco responded, according to the incident report, "It has been raining in my head for the past 10 days."
On April 27, Young called 911. Ravenna police found Osco locked in the bathroom with a "white powder residue" and a pipe. Osco was given naloxone and sent to UH. Young told deputies that Osco "hasn't slept" since Kelly's death and is endlessly under the belief the "cops are outside his door," according to the police report of that incident.
"When they took him to the hospital, I said, 'Somebody pink slip him! Hell, I'll pink slip him,'" Young said, referring to involuntary admittance to a mental hospital.
Less than a month later, Osco had skipped three court hearings related to multiple charges, including vandalism and public indecency. Five deputies from the Portage County Sheriff's Office arrived at his home at 4:45 a.m. on May 12, 2021, to execute an arrest warrant.
Mace, the grandmother, opened the front door, and the deputies entered. An investigation concluded Mace "allowed the deputies to enter," but the family disputes this. Osco ran to his bedroom and fetched a large letter opener, which had the appearance of a curved knife.
One of the deputies drew his gun. "Drop the knife!" the deputies yelled. In the Bureau of Criminal Investigation report, Osco apparently "lunges" forward. (Osco told The Portager he "tripped" on "floor clutter.") One of the deputies fired three shots from his Smith & Wesson, striking Osco in his legs.
The sheriff's office did not respond to requests for comment.
"Kody was a mess, you have to remember," Young said. "They knew he had a serious mental health problem, and they came here to confront him. To me, that's asking for a problem."
Fines but no reforms
On June 30, the U.S. Department of Labor announced that General Aluminum, already under their Severe Violator Program, would be fined $315,952 for failing to install guard protection on its knockout machines. Kelly's death led to a region-wide inspection of General Aluminum's three other facilities in Ohio and Indiana, where OSHA agents found lackluster PPE and a workplace rife with electrical hazards.
"General Aluminum's continued failure to protect its workers is unacceptable," said William Donovan, OSHA's midwestern regional administrator. "OSHA will continue to take necessary steps to hold General Aluminum accountable until the company takes action and demonstrates it is serious about preventing debilaring injuries and saving lives."
General Aluminum is expected to contest the fine in court.
Asked whether the $315,952 fine is recompense for Kelly's death and Osco's trauma spiral, Young scoffed.
"It's not even enough," she said. "[Kelly] had four little children. And they didn't care. It was production over safety."
Osco himself says he's in a slightly better environment. After seven months at North Coast Health Services, an in-patient rehab facility, he began serving a four-month sentence at Portage County Jail. Recently, Young hired former Brimfield Police Chief David Oliver to investigate Osco's failure to appear charges under an insanity defense. But nothing's come up yet.
"I suffered a severe mental health crisis," Osco wrote to The Portager in early July. "It took me seven months at North Coast to dial myself back into reality."
Deputy Fire Chief Stasik himself wonders weekly, if not daily, if Ohio state legislators will ever pass laws fully recognizing mental/mental claims.
Even though most workers' pleas are ignored, lawmakers have at least shown an interest in helping first responders, acknowledging the mental toll of their work on the front lines of catastrophe.
Stasik has his hopes set on House Bill 545, which would provide state-funded talk therapy to first responders, firefighters and law enforcement officers. Stasik feels the bill would help reverse his department's two-year staffing decline, acting as an incentive for new hires scared by the ills of the job.
"One of the best ways it was described to me was, everyone has a bucket that fills up," he said. "Everyone's bucket is different. And you don't get to know when your bucket is full. But when it's full, it's full."
Lyndsey Brennan contributed reporting.