Mantua township trustees declined to approve a Mantua Restoration Society proposal to renovate the first floor of the Center School building at their meeting Thursday night. They did, however, unanimously approve Trustee Matt Benner's motions to correct problems with the school's heating and sewer systems.
Benner will coordinate with Kent-based Kline & Kavali Plumbing and Heating to remove, rebuild and reinstall one of the school's two pumps for a total cost of around $1,800.
Rebuilding the pump is more cost-effective than buying a new one for over $7,000 and will ensure the heat doesn't fall below 40 degrees in the school this winter, Benner said. He doesn't yet have a timeline for the project but hopes the company can complete it before winter arrives.
Chairman John Festa said he wasn't clear on why they were fixing the pump if both boilers are broken. When the trustees requested a quote to replace one boiler, it came in around $32,500. Benner said Kline told him one pump must first be fixed before they can diagnose what is wrong with the boilers.
The trustees also voted to spend $5,000 to hire CT Consultants wastewater engineer Rich Iafelice to evaluate the township's four historic buildings — the town hall, civic center, church and Center School — to find out how to best connect the sewers to the county's main lines.
The trustees have decided to put some of the $500,000 stimulus money they will receive from the American Rescue Plan toward the sewer system, Benner said. He doesn't yet know how long the study will take to complete.
Resident Terrie Nielsen asked if it is necessary to connect the building to the county's sewer lines if the package plant that is currently servicing the building is repairable, especially since residents discussed using the building as an emergency shelter in the past.
Iafelice said that while he didn't inspect the package plant, it is generally best to connect older buildings to sewer lines to maintain water quality standards, and that is what the trustees want to do.
Festa then addressed the restoration society's proposal to renovate the north classroom, fix the water damage in the fiscal officer's office, reconnect the heat and finish the floors. (The proposal can be read in its entirety here.)
"I don't think that fits in with our overall plan, to fix one room in the building. That's just my opinion," he said. "But I do appreciate the hard work you put into" the proposal.
Restoration Society President Mark Hall asked if the group's proposal would have been acceptable had there been an overarching master plan in place for the building.
Festa and Trustee Jason Carlton said yes.
"The question is then," Hall said, "is one of you going to start putting a plan together for that structure?"
"We are putting a plan together," Festa responded — and hiring Iafelice is proof of that, he said.
Until the trustees put next steps and a schedule with tentative deadlines on paper, Hall said he won't feel confident a plan exists. He then asked, "What can we all do here to get a plan documented and moving forward?"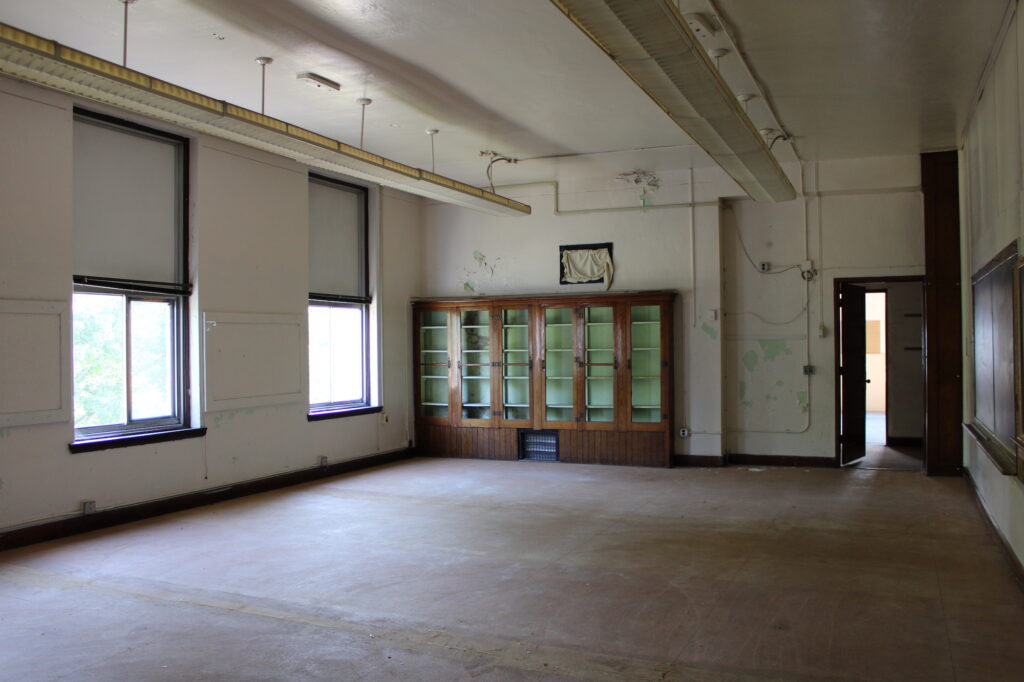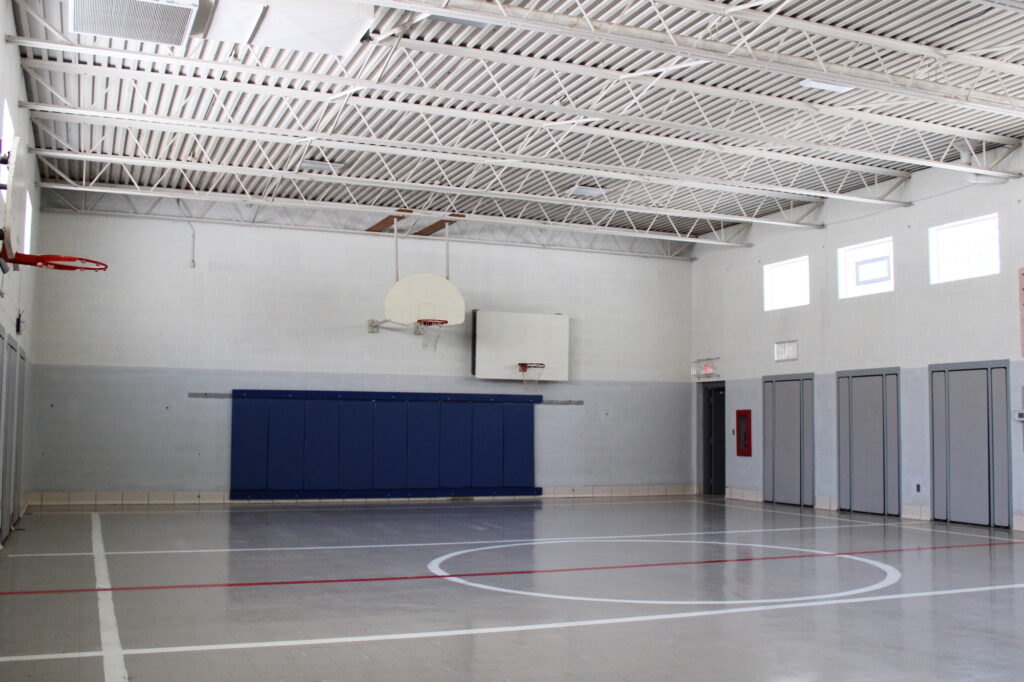 Trustee Matt Benner said the trustees are prepared to hire engineers to put together a master plan, but the township needs to tell them how they want to use the building: for business, educational or assembly purposes? (Notably, in 2014, Regional Planning Commission Director Todd Peetz conducted a survey and a series of meetings asking residents how they wanted to use the school and published his findings in a report.)
For instance, Benner continued, if the township decides to use the building for assembly, it will need to install sprinklers in the rooms. "Do you guys want to spend $20 or $30,000 dollars to put in those rooms only to find out later you have to put sprinklers in there? Don't you think the right thing to do is have an engineer and an architect tell us how to do it?"
According to notes from a community activist, the trustees approved a motion in 2015 to earmark $9,000 to hire Kent-based Dave Sommers Architects to draw up a master plan. As of Friday, the township has not yet fulfilled the Portager's public records request for this plan.
The architect they had hoped to work with, Doug Fuller, has retired, and the trustees may be looking to hire CT Consultants architect Bill Gallagher, who was also in attendance at Thursday night's meeting, to take on that task.
"My first gut reaction is it's a beautiful building, structurally sound, with a lot of character, and I'd love to see you do something with it," Gallagher told attendees.
"We still need to know how much this is going to cost us," Festa said. "And we need to know where we're going to get the money. Because the township certainly doesn't have it in the budget. And I don't know what anybody's thinking about batting around $200,000," he said, referencing the figure the restoration society put forward in their proposal.
Festa continued: "We're looking at, approximately, in my estimation, around $4 million," though when pressed for details, he was unable to name who supplied that figure.
Restoration Society Treasurer Lynn Harvey said the trustees need to get estimates from professionals.
"We had professionals," Festa said. "We had committees. We had a building [assessment] committee. Did they ever come up with an estimate of how much it was going to cost to fix the building? I've never seen it."
Resident Frank Horack, who had been on the building assessment committee years ago, said they never came up with a cost because they never found out from another committee what the building was supposed to be used for.
In meeting notes from 2016, resident Dave Pollard said the assessment committee had been ready to develop a master plan but never got the go ahead from trustees. Festa deflected blame, saying Peetz was responsible for the master plan at the time, not the trustees.
Nielsen, who has "volunteered hundreds of hours and raised over $380,000 for this township" in grant funding, expressed frustration that the trustees' strategy at this stage seems to be, "We're not going to do this piecemeal. We're going to put a bond on the ballot."
She continued: "This township won't even put money toward the damn schools. They're not going to vote for a bond issue. Then the trustees are going to come back and say, 'See? Nobody wants to [restore the Center School]' — which is baloney, based on the survey done by regional planning."
She asked if Festa wanted her to continue applying for grant money, and he said he did. (Part of the restoration society's proposal was to secure grant funding to pay to replace the school's windows.)
Nielsen's husband, Dean, asked the trustees to explain the way they handled Jeff Jackson and Chad Delaney's community center proposal, which he said had been "disheartening" to read about in a recent Portager article.
The trustees had wanted Delaney's group to become the building's managers and take care of everyday maintenance tasks, which involved drawing up a lease, Carlton said. Delaney's group also wanted to sublease the building to other organizations. Chief Prosecutor Chris Meduri, Carlton and Jay Schabel, a businessman who attended Delaney's church, spent months trying to craft a lease that would satisfy Meduri.
But "at no point would Chris agree to that contract," Carlton said, "so we were at a stalemate."
At that point in Thursday's meeting, a Portager reporter asked if the lease they were referring to was the same one Terri Vechery said the Community Center Management Board signed with trustees in 2018. (Vechery had chaired the board at that time.) Festa said the trustees wouldn't address the question because it was not The Portager's turn to speak.
The trustees also took time to directly address a Portager article published Wednesday, for which they declined to answer questions.
"Anyone can say what they want to say, but we have not lost focus on the project," Benner said. "We're moving in a positive direction," as evidenced by the funds the trustees approved to fix the heating and sewer systems.
"The building's not closed. It's been open. We've voted in there for I'm guessing eight years. And it's been open for rental that same amount of time," Carlton said, referencing the work the trustees have done to put new windows in the gym and a $60,000 generator.
He continued: "The taxpayers here in the township voted us in — some multiple times. If they were unhappy with the way we were doing our jobs, they wouldn't have."
Festa said that because the trustees "don't make unilateral comments," they would only speak with The Portager at an open meeting. Because The Portager chose to publish ahead of the meeting, Festa claims the publication didn't give trustees an opportunity to state their case. (The Portager sent emails to trustees on July 15 and 21, requesting interviews by phone. The Portager also sent them a list of questions, an unusually accommodating effort to seek input, on Aug. 2.)
When asked to respond to points raised in the Portager article, Festa and Carlton instead attempted to invalidate it by calling into question the publication's reputation and the integrity of the reporter assigned to the project.
Previously, Festa said the meeting would be an opportunity to "ask and answer pertinent questions and share ideals" and "present an honest accounting to the Mantua Township residents."
A full transcript of the Portager's conversation with trustees is below:
The Portager: Larry Lietzow said he got two of you put in office. Is that correct?
Festa: (Smirking/smiling) That's Larry Lietzow.
The Portager: Does his—
Festa: Nobody got us elected. The township — people elected us.
The Portager: Does his opinion factor at all into the decisions you make? Because he's saying [it will cost] $5 million [to renovate the school]. You're saying $4 million.
Festa: You believe what you want.
The Portager: OK. Jason?
Carlton: (Looking up from his computer) What's the question again? Repeat that.
The Portager: I feel like you've just been sitting here on your computer while these people (gesturing to attendees) try to talk to you.
Carlton: [I'm] taking notes. Reading emails. Responding [to emails].
The Portager: OK. Do Larry's opinions have any bearing on your decision making around the building?
Carlton: I would say every person in the community's opinions have bearing on what we do. We're elected by the people.
The Portager: When I asked Larry if the trustees listen to him, he said, "They listen to 'common sense.'" And I just don't understand: In 2013, you received three bids [to renovate] the first floor of the school.
Festa: (Referring to Lyndsey's mask) I can't understand a word you're saying.
The Portager: (Pulls down mask) In 2015, John Zeit and Doug Fuller submitted master plans to you that I requested records for and never received. You had multiple opportunities to get this building into use. So my question to you is, where's the common sense in paying utilities, property taxes and insurance on this building and not allowing people to use it?
Carlton: We don't pay property taxes on it.
The Portager: Well, if you would have spoken to me for my article, I could have checked that.
Carlton: If you would have come to a meeting [and waited to publish] the article after you talked to us—
Festa: We wouldn't be questioning your abilities. So again, there was a lot of misinformation. And I could go on and on and on.
Carlton: I'm not sure The Portager has the greatest reputation, to be honest with you.
The Portager: (Trying to steer the conversation back to the topic) Does it make any sense—
Carlton: The many folks that I talked to that are in elected positions feel this exact same way when it comes to The Portager. So I will just say that, for whatever it's worth. Print it, don't print it, don't care. But that's what I will say, if you want to know. I've talked to five elected officials that feel the exact same way.
Festa: (Impatiently) Do you have any more questions?
The Portager: What is the sense in wasting everybody's time and money?
Festa: I don't think we wasted time. That's your opinion.
[In interviews for the initial article, multiple sources shared they felt that the trustees had wasted time. This is not the reporter's opinion. It is a fact that volunteers feel the trustees have wasted their time.]
Festa: (Continuing) You are a reporter. You're not supposed to have opinions. You're supposed to write facts. Isn't that what reporters do? Or they used to anyway.
Carlton: Report on facts.
Festa: Right. (To the Portager.) Thank you, we appreciate it.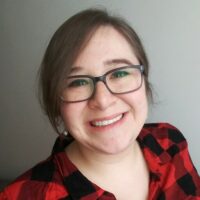 Lyndsey Brennan is a Portager general assignment reporter. She is completing her master's degree in journalism at Kent State and is an alumna of the Dow Jones News Fund internship program. Contact her at lyndsey@theportager.com.