Harry DeVault was a legend long before I arrived at the Record-Courier in March 1994.
Harry had covered Kent Roosevelt High School and Kent State athletics for decades by then — decades that included yours truly reading his stories daily in my formative years. As far as I was concerned, no R-C sports section was complete without seeing Harry's byline in it.
I even had occasion to meet Harry — sort of — when I was the men's basketball beat writer for the University of Akron's campus newspaper, The Buchtelite, in the 1988-89 season. The Zips and Golden Flashes were preparing to square off at Akron's James A. Rhodes Arena, and I was sitting in my customary seat at a tiny two-person table courtside watching warmups when a whirlwind suddenly hit the table, the chair next to me violently jerking backward and the table itself moving a little.
That whirlwind was Harry DeVault. I had never seen him in person, but I recognized him immediately from his column mugshot for "DeVault's Diggings," which I had faithfully read for years. 'It's Harry DeVault!' I thought to myself. 'I can't wait to pick his brain about the game, the rivalry, his career, sports in general, anything.' I settled in and prepared for an evening of spellbinding conversation listening to Harry wax poetic about all things sports as we watched the arch-rivals do battle in front of us.
Harry never said a word. For nearly 2 1/2 hours he was silent, sitting stone-faced except to get in the ear of the officials when a call went against Kent State.
But that was Harry. When it was game time, he was as locked in as the players and coaches. I didn't understand that then, but I understood it several years later when I worked with him at the R-C. We only worked together for two years, with Harry retiring in 1996 after working at the paper since 1951 — when he was still a student at Ravenna High School — and serving as a sports writer since 1964. But it was a heck of a two-year ride, chock full of great "Harry stories" — either told by the man himself or occurring to the man himself. Either way, they're unforgettable.
When Harry died on Dec. 15, 2018, I was no longer in a position to write a tribute column in his memory. Now I am.
Here, then, are my favorite Harry stories:
Planes, trains and automobiles
It's doubtful any college beat writer loved the school he covered more than Harry. He bled blue-and-gold. Harry attended Kent State and, in 32 years as the Flashes' beat writer for the R-C, never missed a home football game and missed just one home men's basketball game. (As an aside, in describing his three-plus decades covering KSU football, Harry would raise an index finger and proclaim, "No writer in America has covered more losses than I have." And it was hard to argue with him.)
And back when local newspapers covered such expenses, Harry traveled to Flashes' road games as well. He loved to tell the story of his first road game covering the men's basketball team. He was on campus the day the team bus left for the Flashes' game at Central Michigan, and in fact had watched the bus pull out of the parking lot that morning. He was asked if he wanted to ride with the team up to Mount Pleasant, Michigan, but politely declined, saying he had already booked a flight and would be waiting for the team at the hotel.
"So I drove to the airport right after the team bus left Kent State," Harry told me, "waited around at the gate, boarded the plane, the plane flew us to Michigan, we landed, we got off the plane, I got my luggage, got my rental car, drove to the team hotel, and when I got there the team bus was sitting in the parking lot. I never flew to a game again."
Planes, trains and automobiles II
This one involved another Kent State men's basketball road game and the team bus. Seems the bus was having mechanical issues, so Harry was asked if he could fit a few players into his car and drive them back to Kent. Harry obliged, and he crammed as many college basketball players as he could into his car, and off they went into the night toward Kent.
At some point during the drive home, Harry noticed a car uncomfortably close behind him.
"He was right on my bumper," Harry said in his trademark starting-to-get-angry-but-still-matter-of-fact voice. "He would get so close I couldn't see his headlights, then he would back way off, then he would get close again."
The auto harassment was just beginning.
"Then he would race past me and disappear up ahead, and a few minutes later I would come up on him in my lane and he would be going real slow, to the point that I would have to swerve into the other lane to avoid him. Then he would speed up again and cut over into my lane, cutting me off and forcing me to slam on the brakes."
Needless to say, the KSU basketball players in the car were not amused.
"They kept telling me to stop the car and see if he would stop too," Harry said. "They wanted to kick his —."
The mystery driver's game continued unabated.
"He played chicken with us for a couple hours," Harry said. "Finally, I decided to listen to the players and I pulled over to the side of the road."
What happened next makes you wish there was cell phone video in the mid-1970s.
"Sure enough, he pulled over behind me, got out of his car and started walking up to my car," Harry said. "Right then, a bunch of car doors swung open and all these Kent State basketball players jumped out. You never saw someone run so fast in your life."
Obviously, our intrepid mystery driver had no clue that several large college athletes were waiting for him in Harry's car.
"He's lucky he got to his car before the players did," Harry added, "because they were pissed."
Deadline pressure
This one I witnessed myself.
It was a Saturday night in the winter back at the old downtown Ravenna office on North Chestnut Street. Harry had just gotten into the building from covering a KSU men's basketball game at the M.A.C. Center, and since his story was to be the centerpiece of then-sports editor Tim Houser's front page, Harry was under the gun to write as quickly as possible to get the story finished on time.
Fortunately, this was Harry's wheelhouse. Harry didn't miss deadlines. You needed 40 inches of copy in 15 minutes? Harry was your guy. You'd have 40 inches of copy — in 14 minutes. Newspaper deadlines were no match for Harry's mental toughness and tireless work ethic.
The sight of Harry "in the zone" at a keyboard on deadline was something to behold, his fingers a blur as he raised his hands and forcefully struck each key with his fingertips as he pounded out a story in every sense of the word. It was like something right out of Phantom of the Opera. The only thing missing were the dozens of lit candles ringing the desk as Harry struck each chord — er, key.
And this particular night was no different. Due to space constraints on a typically busy Saturday night in the office, Harry was forced to sit at a news desk adjacent to the sports department, where Tim and I were sitting. The computer and keyboard at this news desk sat on a small stand that was situated perpendicular to the desk, allowing Harry to face sideways in relation to the desk and stretch his legs out in the mostly empty space underneath the stand.
I say mostly, because his legs did have to share space with the tangle of wires and cords that hung down from the computer and plugged into the floor outlets below — something that will become pertinent shortly.
As the deadline rapidly approached, Tim asked Harry how his story was coming along. "Almost done," Harry said loudly. "Just a couple more sentences and you can have it."
A minute later, it was as if Godzilla rose from the sea behind me. "GAWDD*MMIT!!" Harry bellowed.
Tim quickly swiveled in his chair. "What's wrong, Harry?" he asked.
"I just crossed my legs and unplugged the computer!!" Harry exclaimed. "I lost the whole damn story!"
Sure enough, Harry's legs had become entangled in the mess of wires underneath the computer stand — a fact unbeknownst to Harry until he moved his legs and the screen went black.
"When was the last time you saved?" Tim asked. It was always a good idea to constantly save your story for times just like this.
"I didn't save it," Harry said. "The whole story is gone. I was writing the last sentence. I'm going to have to write it all over again."
And with that, Harry went right back to work, feverishly pounding out a story he had just written as I sat at my own computer desperately trying to suppress my laughter. Because Harry was funny without trying to be funny, which made it even funnier. His tone, his voice inflection, his mannerisms, his facial expressions … all of it was funny.
And that was his true gift: Harry could make you laugh without even trying. A Portage County high school football coach you've heard of once told me that not only would Harry question his play-calling to his face after a game, he would also publicly question it in his game story in the next day's paper.
"Wouldn't that make you mad at him?" I asked the coach.
"No," he replied. "That's Harry. I thought it was funny. And he was usually right anyway."
Funny then, the stuff of legend now.
Just like Harry himself.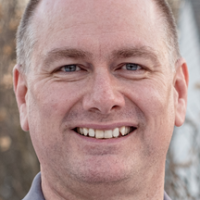 Tom Hardesty is a Portager sports columnist. He was formerly assistant sports editor at the Record-Courier and author of the book Glimpses of Heaven.