Streetsboro police will increase their presence around the school district in response to a threatening message scrawled on a middle school bathroom on Dec. 13, which appeared just two days after a picture of a BB gun on social media caused widespread concern.
In the Dec. 11 incident, a 14-year-old Streetsboro boy is facing a first-degree misdemeanor charge of inducing panic after he allegedly posted the BB gun photo, which depicts a person holding what appears to be a handgun in front of Streetsboro Elementary School.
The post prompted residents to call Streetsboro police, who used information available in the post to help them locate the boy, Streetsboro Police Chief Tricia Wain said.
Police found the boy in the community, took him home, and released him to his mother, confiscating what turned out to be a toy BB gun, Streetsboro police Lt. Richard Polivka said.
"While it appears the picture was meant to be artistic and not threatening, it should serve as a warning that inducing panic is a real crime," Wain said in a statement released to The Portager along with a blurred reproduction of the social media post and side-by-side images of the BB gun and a real Glock.
"The 'toy' is indistinguishable from a real firearm, and had an officer encountered the juvenile playing with it, things could have ended tragically wrong," Wain said.
Her comment evoked the killing of Tamir Rice, the Cleveland boy shot by police while he was holding a toy gun in 2014.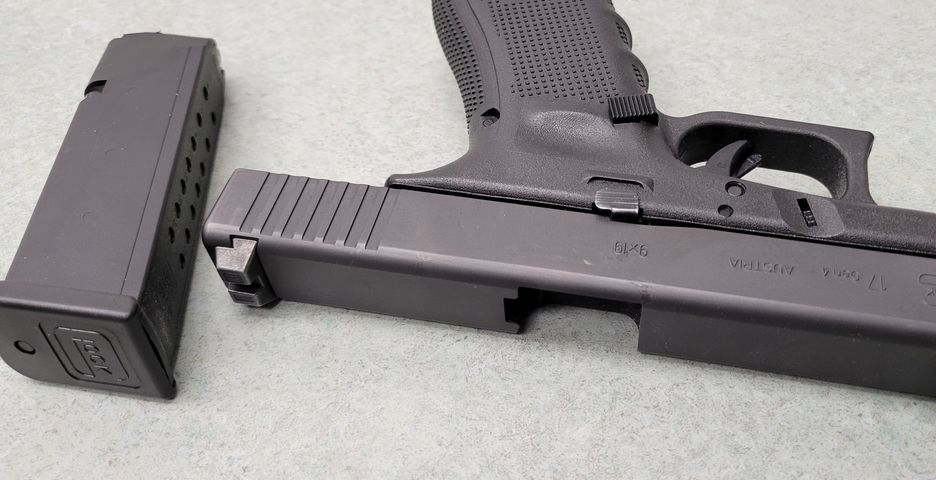 "We just want to thank those that came forward," Wain said. "It is the best example of seeing something and saying something, which allowed us to investigate and immediately resolve the issue."
As Streetsboro was digesting the outcome of the social media scare, police announced Tuesday, Dec. 13, that someone had written "I like to hurt people. Don't come to school tomorrow" in a bathroom at Streetsboro Middle School.
"After consultation with Superintendent Daulbaugh of the Streetsboro City Schools, and out of an abundance of caution, the Streetsboro Police Department will have extra officers on patrol in and around the school district," the police department said on its Facebook page. "If your child has any information regarding who may have written the statement, please let administration know immediately."
They said the school district was reviewing security camera footage from outside the bathroom to try to identify the person who wrote the message.
Community members reacted explosively on Facebook to the Dec. 11 incident. The complaints often focused on how much, or how little, information the district administration and police department decided to disclose over the course of events.
"While I appreciate the (vague) superintendent message… I still have questions," said one community member in a Streetsboro discussion group, referring to an automated phone message from Superintendent Mike Daulbaugh. "Was the child suspended? Will the child be at school tomorrow? Was the weapon confiscated? I'm happy and support the police now being involved, but that message did not quell my nerves and does not answer many questions."
The comment echoed similar sentiments expressed after other school threat incidents in Portage County this year, including at Kent schools and Kent State. Administrators walk a tightrope in such moments: Facts are scarce, and safety is a higher priority than communication. Officials balance their duty to quickly inform the public and quell rumors against the risk of creating panic and sharing information that may turn out to be false.
Some school and city leaders took to Facebook this week to express support for the way district officials and police handled the Dec. 11 situation.
"If the school district and police do nothing and something happens, they would be crucified. If they investigate a threat and do something, they are crucified in the court of public opinion," wrote Kevin Grimm, who is a school board member and the spokesman for the Streetsboro Fire Department, in reply to the community member's comment. "Why can't this community unite to say a potential threat was stopped; someone is learning a hard lesson on right from wrong…all our students are safe!"
Reached by phone, Grimm said school board members only know what the school superintendent and police tell them.
"There are some individuals that think they're entitled to a lot more information, and we may not even have that information," he said. "The school district has always tried to share what they can as soon as they can, to be first with the message, be fast with the message, be accurate with the message. People still have a problem with that. They think it should be faster and a lot more. Nobody in the school district is going to make up that information."
Mayor Glenn Broska also weighed in with an extended Facebook post. Noting that people want "the entire story right now," Broska said that isn't possible in many situations. He applauded Daulbaugh's decision to send out a schoolwide blast and a social media post on the evening of Dec. 11.
"Very thankfully, upon investigation, this was not a threat. Instead, it was a juvenile making a juvenile decision without thinking of the outcome of his actions," Broska wrote.
Daulbaugh's announcement to the district, still visible on the district's webpage, stated in part that the district takes threats seriously and investigates them immediately.
"Thank you to all the people who brought this to our attention, and thank you to the Streetsboro Police Department for handling this swiftly," he wrote, noting that the situation had already been resolved by the evening of Dec. 11.
To educate people, Streetsboro police posted a picture of a real gun along with the toy gun the boy used in the photo.
"As you can see, it is an ultra-realistic toy down to the logos. We encourage parents and guardians not to purchase these toys or let their children play with them unsupervised. Playing with these types of toys can have very disastrous consequences as it looks exactly like a real gun," Streetsboro police wrote in a Dec. 12 post.
The student was not in school Monday. He is expected to appear in Portage County Juvenile Court once the police file charges, Polivka said.