It's not often a boy from a hard-working Streetsboro family steps onto Nashville's iconic Grand Ole Opry stage, but Brian Poston is getting ready to do just that.
Lead guitarist in the country band The Shootouts, Poston and bandmates Ryan Humbert, Emily Bates and Kevin McManus will appear at the Opry Feb. 24 to promote their new album, "Stampede."
"I'm very excited," Poston said. "I can't believe it's happening. It's a dream come true. It's where all the greats played. Hank Williams, everybody's been there. It's nuts. It's absolutely insane."
The Opry call came in while the band members were still in the green room after a Dec. 2 gig in Defiance, Ohio. Humbert excused himself to take the call, and "about 10 minutes later, he comes in crying. He is crying like a baby, he's so excited. And he tells us we got the Opry gig, and it's just an unreal moment. I can't believe it. It's something I'll never forget," Poston said.
Bands don't get to the Opry stage by sounding like everybody, or even anybody, else. What sets The Shootouts apart from other country bands, Poston says, is "we play every genre of country music. I don't know too many bands that do that."
"We've been a honky-tonk band from time to time. Sometimes we go into the really cool Americana, reverby stuff. Sometimes we're playing western swing, like heavy jazz tunes, and then we'll go straight into a Buck Owens feel. We're just across the map. We're writing original music that is deeply based in the roots of pretty much every genre of country music," he said.
Taking the show the road
Stepping out of Northeast Ohio and onto the national stage was eye opening for a 2010 Streetsboro High School graduate.
"It's been cool. It's nuts to get to travel around and see, listen to different bands, different cultures. It's crazy to see how different every state is. It's a pretty incredible country," he said.
There was New York's subway system, which Poston described as "terrifying," and being instantly overwhelmed in Chicago.
"It's like Cleveland, if Cleveland was huge, and had a million suburbs," he laughed. "They're just really cool cities."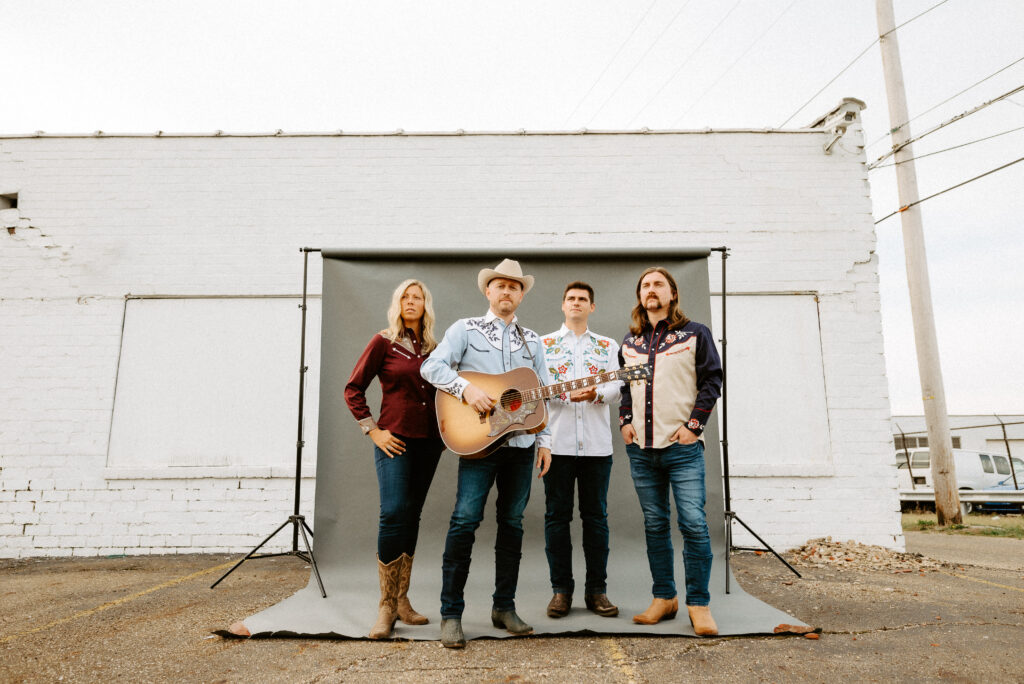 February will find the band promoting "Stampede" in a month-long tour featuring some of country music's heaviest hitters: bluegrass legend Marty Stuart's signature mandolin on the track "Better Things to Do" that was recorded offsite in Nashville, western swing giant Ray Benson and members of his band Asleep at the Wheel on "One Step Forward," Raul Malo of The Mavericks on "I'll Never Need Anyone More," Jim Lauderdale on "Tomorrow's Knockin'" and Buddy Miller on "Anywhere But Here."
"Stampede" came together at Son of Moondog Recording Studios, a private professional venue in downtown Kent. Benson and Asleep at the Wheel manager Sam Seifert produced the album, which Poston said "just happened to work out." Having already toured with Asleep at the Wheel, the connection was natural for The Shootouts.
"They [Asleep at the Wheel] were in Ohio, they played the Kent Stage, and then they had a four- or five-day break. All of Asleep at the Wheel was there, so we had the whole band with us on a couple tunes," Poston said. "We had Mike Daly on steel — he's Hank Williams Jr.'s guitar player. It was just a crazy coincidence. We were just coming out of Covid, so not everyone was super busy or on tour. It was just a one-in-a-million shot. We were lucky enough to have everybody do that stuff with us."
How about kicking back at Kent's Venice Cafe and the Water Street Tavern with Benson, a living legend of country music?
"It was crazy to us. We were just hanging out, having a beer or two," Poston laughed.
Beats hanging drywall
Integral to the band's development and success is veteran Kent pedal steel guitarist Al Moss. Not an official member of The Shootouts, he describes himself as a song contributor, collaborator and friend.
"Even spiritual adviser," Moss laughed. "Maybe a little Yoda thing going."
Moss wrote five of the 11 tracks on "Stampede" and co-wrote another. Having performed music for decades, he said he enjoys watching the band take his suggestions and filter them through their own musical lenses.
"The entire band impressed me from the very beginning," Moss said. "They were all quite talented, and they were fun to be with. You knew that their talent was bottomless. Little by little, Brian blossomed into a country music student and a student of the guitar. He already was quite a brilliant player. He just took to this style of music."
Perhaps influenced by Moss, Poston said, "If I could do anything in the world, I would be a pedal steel player. I would spend all my time doing it. It's my favorite sound. The thing sings. It's the most beautiful-sounding instrument in the world."
For now at least, The Shootouts' lead guitarist sticks to his six-string. Regardless of whatever else may be going on, he practices every day.
Watch Poston play:
"I'm kind of a nutbag when it comes to that. I practice technique every day. I have a little exercise I do just to try to keep my chops up," he said. "Technique is key. It's half the stuff I practice. We play a lot of up-tempo tunes, stuff that it's almost polka speed, double-time stuff, so right-hand technique is so important. Sitting down with a metronome, going over and over again through arpeggios and going through simple scales, working on your chicken pickin' techniques, just nonstop practice. It never ends."
Chicken pickin'. That rapid-fire, clucking, staccato tone that is as percussive as it is melodic. The heart of true country and honky-tonk music, it takes practice — lots of it — to do well. Poston put in the hours, days and years. He learned how to repair equipment and record music. He played endless gigs, always waiting for the lightning to strike.
If it hadn't, Poston said he'd likely be installing drywall full time for Poston Drywall & Construction, his family's third-generation drywall business. Poston can point to the many houses his grandfather and father built in Streetsboro and where he still manages and maintains Woodview Estates, which his family built and still owns.
Becoming Brian Poston
Poston, now 31 years old, picked up his first guitar when he was a small boy and has been gigging since he was 13 years old. He remembers his first formal music lessons at Streetsboro's now-closed Guitar Shack, where he learned his first chops from Trevor Haylett, owner Rick Haylett's son.
"He showed me how to play the cowboy chords, stuff to get started. I just remember learning the very basics, the fundamentals, where everything starts. The fundamentals carry through. Technique is so important. I remember him yelling about how to hold the guitar pick and really simple stuff like that. If you don't have good technique, you ain't got much," Poston said.
He cut his teeth on rock 'n roll guitar until a chance magazine sighting changed his life's trajectory.
"I stumbled upon a Guitar World magazine with Brad Paisley in it," he said, "and I think that was my first hardcore introduction into, 'Oh, my goodness! There's country guys who can play the heck out of a guitar!' And they had tablature [musical notation indicating instrument fingering instead of musical pitches] in the book, so I was learning some Brad Paisley stuff, and the chicken pickin' thing just came naturally to me. After I figured out, 'These guys shred, too,' I got pretty deep into it."
It wasn't long before Poston's parents, no fans of country music, relegated him to the basement. Poston didn't care.
"When I was a teenager, I got home from school and I played until it got dark. That's the kind of kid I was," he said. "I care so much about it. I still practice every day, an hour or two a day. I just love it. I've never considered not doing it."
Basement and bedroom aside, far from encouraging their son to think of music as a hobby, Poston said, "If anything, they pushed me towards it. They were like, 'Go to college. Go play music, kid.' Nothing but support from both my parents."
Now with years of gigging under his belt, Poston has learned to take the good with the … not so good.
"If you make one person feel something, come up to you after and say, 'Oh my goodness. That was one of the coolest guitar licks I ever heard!' or, 'It made me feel a certain way.' Just the connection with somebody else. I think that's why everybody does it," he said.
The worst shows are where something goes dramatically wrong. Poston recalled playing in a cover band when the lead singer made what he termed "a terrible joke" about his dog dying.
"This lady's dog had just passed away that morning, and she was at this gig. She thought he was talking to her. She comes up with a mustard and ketchup bottle, and she just squirts us down. She soaks us in mustard and ketchup, all our gear, everything. That was a pretty terrible gig," he said, laughing at the memory.
To aspiring musicians, Poston says, "Go out and play music. Go to jam nights. Go to songwriter nights. Go see bands. Book shows at VFWs if you're just getting started. Go out and play. Play to people."
For more information about The Shootouts, visit their website at shootoutsmusic.com. To hear their Feb. 24 Opry debut, tune into WSM (650 AM) radio at 8 p.m.
Shows are also aired on Willie's Roadhouse via SiriusXM channel 56.
Pre-orders of "Stampede," which Soundly Music is releasing the day of the band's Opry debut, are available on The Shootouts' website.
Wendy DiAlesandro is a former Record Publishing Co. reporter and contributing writer for The Portager.