After eight years and multiple court rulings, former Kent resident Fred Molai says he can finally grieve in peace at his son's grave.
Last Friday, a Portage County Common Pleas Court jury awarded Molai damages of $750,000, siding with Molai that the Standing Rock Cemetery Board of Trustees had breached Molai's contractual rights related to a family plot he had purchased in the cemetery.
Molai's court battle may not be over, though. Kent Law Director Hope Jones, who handles Standing Rock's legal matters, told The Portager the cemetery will appeal the verdict.
If the verdict is upheld on appeal, though, Jones said the damages will be shared between Franklin Township and Kent, as both jurisdictions administer the cemetery.
She offered no other comment, citing the pending litigation.
Molai's lawsuits are rooted in a tragedy. In 2011 his son, U.S. Navy Petty Officer Adam Molai, went rafting with friends in a California river. According to Adam's dad, the young men dropped over a dam and got trapped in the water below. Eight of the sailors made it out, but Adam's body wasn't recovered for 64 days. He was 23 years old.
Molai brought his son back to Kent and buried him at Standing Rock Cemetery. The gravesite encompasses five of the 12 contiguous plots Molai bought in 2011, 2012 and 2013.
He erected two posts on either side of Adam's gravestone, and in 2013 he adorned each with eight-foot-tall pictures of his son. According to court documents, the posts were each about six feet high, and some excavation was necessary to securely erect them. He also installed fencing and a flower garden.
Standing Rock's leadership objected, telling Molai in writing on Sept. 13, 2013, that he could replace the posts with metal posts that would not require excavation into the ground, or the Board of Trustees would remove the posts and posters. Molai was also directed to lower the posters so they did not tower over the headstone.
Molai refused and sued Standing Rock Cemetery in Portage County Common Pleas Court.
"They were going to destroy my place," Molai said. "We had to file in court to put a stop to that."
According to the rules then in effect at Standing Rock Cemetery, no one was permitted to make any excavation without permission. The cemetery could modify or remove anything deemed to be in violation of the rules or considered objectionable to the lot, adjoining lots or the cemetery's general appearance.
Transcripts from Portage County Common Pleas Court reflect that cemetery Superintendent Roger Donell helped Molai stake out the five gravesites that constitute the artificial flower garden, helped him remove the sod, and had no problem with a fence Molai erected.
Donell also testified that Molai did not have permission to erect the poles and posters, which would have to be removed if people complained. He stated that he knew of no other lots that had freestanding signs or posters. Standing Rock Clerk Jean Chrest told The Portager that there are no other sites that look remotely like Molai's.
Court documents also indicate that the cemetery's clerk and an unnamed lot owner found the posters "objectionable and gaudy." Cross examination revealed that the cemetery did not have what Molai's attorney called a "gaudy rule" and that such determinations are entirely subjective.
Portage County Common Pleas Court Judge John Enlow determined that Molai had erected the poles and posters without the superintendent's permission and that they were not in keeping with the general appearance of the cemetery. Molai was given 10 days to remove them, and if he did not comply, the superintendent had the right to order the removal himself. The Court did deem Molai's artificial flower garden and fence appropriate, and ordered that they not be disturbed.
Molai appealed, and the case moved to the Eleventh District Court of Appeals, which in 2019 upheld the lower court's decision. Molai removed the posts and posters, replacing them with different posts that were not cut into the ground, his attorney Doug Kehres said.
According to Kehres, a cemetery employee then called Molai, saying he had been ordered to cut the photos off the posts. Molai rushed down to Standing Rock and ended up arguing with an office worker who called Kent police, who reportedly considered it a civil matter and left. Molai also left.
Later, cemetery workers cut the framing that was holding the pictures from the headstone and, Kehres said, cut an American flag in half while they were at it. Molai retrieved the items and arranged with a monument company to create two granite posts with the pictures etched into granite slabs. The posts are attached to Adam's gravestone, and Chrest said that part of the matter is now resolved.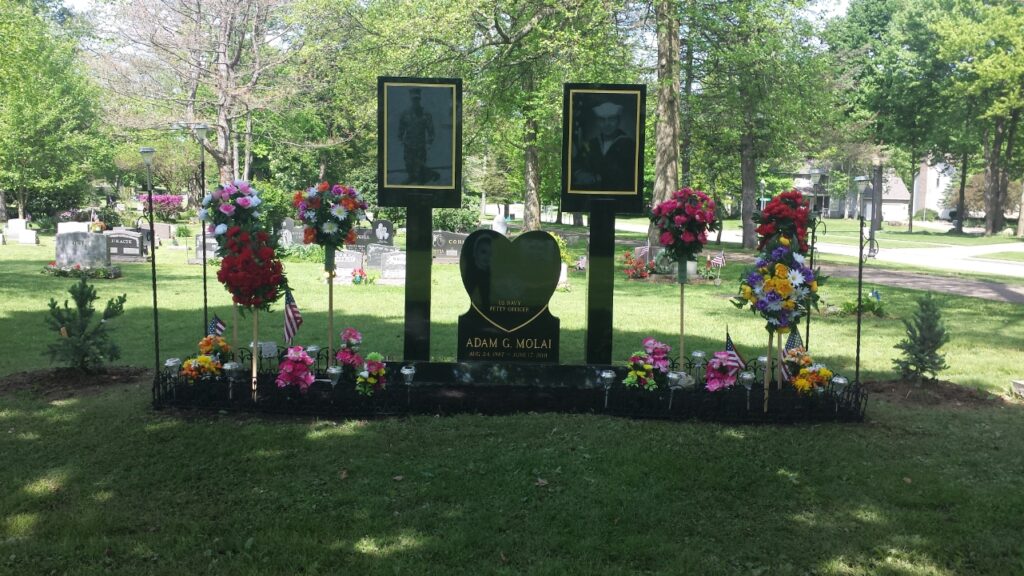 All that remained of the lawsuit, then, was the breach of contract matter that was decided on Friday.
"This case was never about money, but ultimately that was all we had to go in front of a jury with," Kehres said.
Though he now lives in Munroe Falls, Molai, now 64 years old, continues to visit his son's grave every day.
"All I want to say is I am so glad that I had my day in court and it came to an end. All I ever wanted to do was to go grieve in peace until I reunite with my son, Adam," Molai said.
Wendy DiAlesandro is a former Record Publishing Co. reporter and contributing writer for The Portager.