For years, Streetsboro leaders have envisioned a community stage that would serve as a gathering place for area residents.
The city built one in the early 1990s in Streetsboro City Park, but they removed it to make way for basketball courts that were completed this summer. For city leaders, the real question has been where a new venue could be built and what it could look like.
Last week, the parks department presented an initial vision of that plan to the city's Finance Committee: a $1.75 million outdoor amphitheater with space for about 1,800 people, just east of Streetsboro's police station on state Route 303.
Parks and Recreation Director Greg Mytinger said it would be a gem for residents and for all of Portage County. He looked at existing amphitheaters in Mentor, Rocky River, Broadview Heights and Jackson Township, to name a few, and said he was impressed by the facility in Broadview Heights.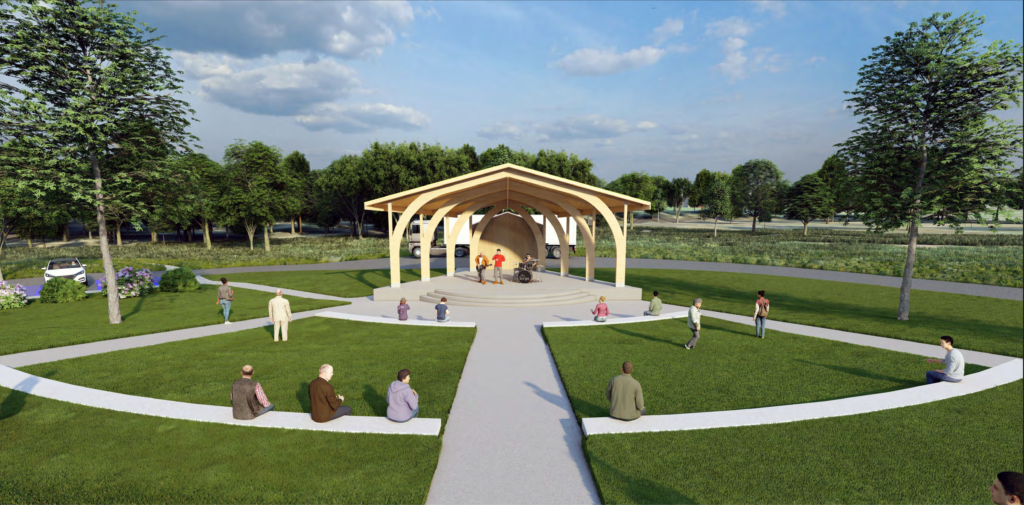 Created by EnWood Structures, the central structure is a pre-engineered bandshell. Mytinger said it would be much simpler to choose a design from a catalog than to commission one from scratch.
At $750,000, the bandshell itself is less than half of the total projected, Mytinger said. The bulk of the funds would be devoted to site preparation and infrastructure such as parking and utilities.
The city has no intention of asking voters for a levy or borrowing funds to build the amphitheater, city officials agreed.
"The city has the money," Council Member Justin Ring said. "We have a rather large carry over so we would just fund it with cash. That was the goal, not to burden residents with an additional tax and not to borrow money and pay interest on it."
That said, Ring said he experienced sticker shock at the price tag, having imagined a total project cost closer to $750,000. Still, he is willing to look at construction documents and take it from there.
"I want the project to move forward," he said. "We feel that it's something that can give back directly to the citizens. It's actually kind of cool because it brings the community together."
Mytinger's next step is to get actual construction documents estimated to cost almost $18,000 from The Thrasher Group, which already produced a $19,250 conceptual site plan. Funding conversations would kick into high gear at that point, he said. City Council could decide to completely finance the project, scale it back, build it in phases or even table it.
Mytinger said approving the project in phases would likely increase costs as contractors would have to remobilize their equipment.
"I think it is a lot, but I don't see that we have a lot to offer our residents," Council Member Jen Wagner said, supporting a plan that would have the city paying for the entire project at once and then paying itself back with venue profits.
If built in stages, the stage itself, areas for alcohol and food vendors, functional restrooms, and electrical service are priorities, Mytinger said.
"Any profit generated by any of the entertainment, I feel should go into a capital improvement fund for [the venue]," Mayor Glenn Broska said, adding that with eight or 10 events a year, the amphitheater should be self-sustaining, even if it is built in phases.
Council Member Chuck Kocisko objected to the venue's proposed location, saying it would be less expensive to site it elsewhere. He also predicted that the cost of the entertainment could easily overshadow any profits. His solution? Choose another site and create a dramatically scaled down plan.
He would like to see the stage in the rear of Streetsboro City Park, which he said would give Family Days, the city's longtime premier festival, a "fighting chance of existence." Moving Family Days to the proposed venue would not work because the infrastructure would be insufficient, he said.
Recalling the plywood stage that used to be at City Park, which he said lasted for some 30 years, Kocisko said the city could easily opt for the same size stage but a different covering. Or perhaps a gazebo that would provide any number of entertainment possibilities.
"Streetsboro cannot afford it. I would look at less than half of that [cost for the stage]," he said, vowing to oppose the project. "It's like anything else. Do you want a Cadillac or a Ford? It's still a car."
Kocisko also foresees cost overruns which he said could easily bring the project price tag to over $2 million.
If council does decide to move forward with the project, in whatever form that might be, then the bidding process would start. If they approve a bid, construction would be the next step.
The city would own the facility while the Streetsboro Parks and Recreation Department would handle management and booking duties. Mytinger is unsure at this point if that would involve additional employees with specific expertise.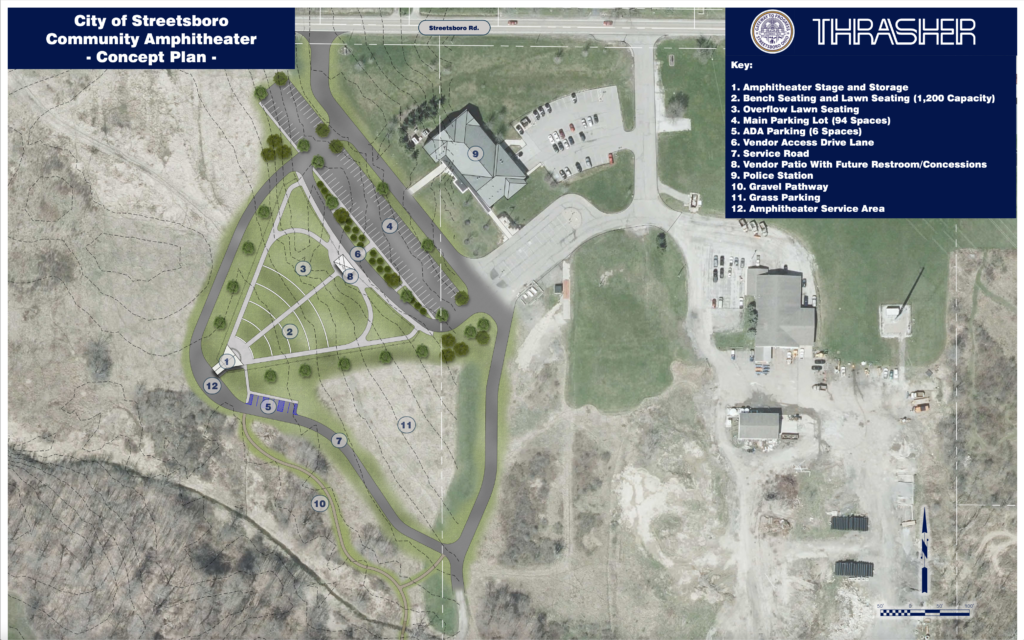 If it is built as Mytinger currently envisions, and if EnWood Structures is chosen as the vendor, Streetsboro could see a 43'x25′ stage, large enough for most local and regional acts. Programming opportunities include community movie nights, farmers markets, outdoor fitness classes, rentals, dance performances and community theater.
The amphitheater would hold 1,200 patrons in a lawn seating area, with additional overflow seating available for another 600 people, Mytinger said. This would be nearly triple the capacity of the 642-seat Kent Stage and would become the largest non-collegiate venue in Portage County.
There would be 94 parking spaces, with six ADA spots right by the stage. They also envision a vendor patio, restrooms, greenroom/storage area, fencing, gravel walkway, tree plantings and access drives.
Space and noise constraints prohibit placing the amphitheater near the area of a much-discussed "city center," closer to the intersection of state routes 43 and 14, Broska said.
"That area we want to put the amphitheater in is a relatively sparsely populated area, and considering that we would want to have concerts and movies and entertainment out there, we felt that putting it out there would be more conducive to not bothering the neighbors too much," he said.
The amphitheater will be connected to Streetsboro City Park via an access road behind the police station.
Though Broska said he would like the venue to be ready in time for the city's September 2022 Bicentennial events, Ring and Mytinger say there is no set timeline at this point.
Wendy DiAlesandro is a former Record Publishing Co. reporter and contributing writer for The Portager.