Editor's note: This article is part of a series produced in partnership with Leadership Portage County, an organization that seeks to deepen people's interest and understanding of our community and to develop community leadership. As part of that mission, LPC invites a group of individuals to participate in a year-long program of educational and networking events. The Portager's Jenna Gobrecht has been invited to participate in this year's class and to write about her experience.
Hi there! Jenna Gobrecht here again to share this month's Leadership Portage County adventure!
For our October Leadership Portage County session, the class took an all-day tour of Portage County. Traveling together by bus, the trip helped the class of 2023 gain a better understanding of some of the most important places in this 504-square-mile county we call home. As we all know, Portage County is such a unique and diverse place, and the context the group gained from this experience will help us all become better leaders of the community.
We kicked off our session meeting at the Masonic Temple on West Main Street in Kent. Fred, who takes care of and maintains the building, met us there bright and early to show us around and tell us all about its rich history.
The home originally belonged to Marvin S. Kent, a railroad president, politician and businessman from Portage County. Today he's best known as the namesake of the city.
The first brick of the Masonic Temple was laid on June 7, 1880. As we traveled through each room and up the winding staircase, we saw the elegant floral wallpaper and hand-carved wooden trim accents. We also saw the Kent family's library, dining area, ballroom, bedrooms and even Kent's bed where he slept.
Next we hopped back on our bus and headed to the Hattie Larlham Center for Children with Disabilities in Mantua. A nonprofit service organization, Hattie Larlham provides care and support to children and adults throughout Ohio. The organization is the largest service provider in Portage County with a whopping $60 million budget. The staff at Hattie Larlham strive every day to support the comfort, joy and achievements of their clients, and that was very clear after our tour of the campus!
Our next stop was Oscar Brugmann Sand and Gravel in Mantua. The company processes and supplies 32 different products and loads about 200-250 trucks daily. We got a front-row seat to the dredging process and learned all about how the Brugmann family has been putting natural materials to use and leaving nature at its best since 1929.
Before I knew it, our day was nearly half over as we headed to the Johnson Home Church of Jesus Christ of Latter-Day Saints in Hiram Township. We split up into small groups as the sisters took us through the house, sharing with us the timeline of how the church evolved.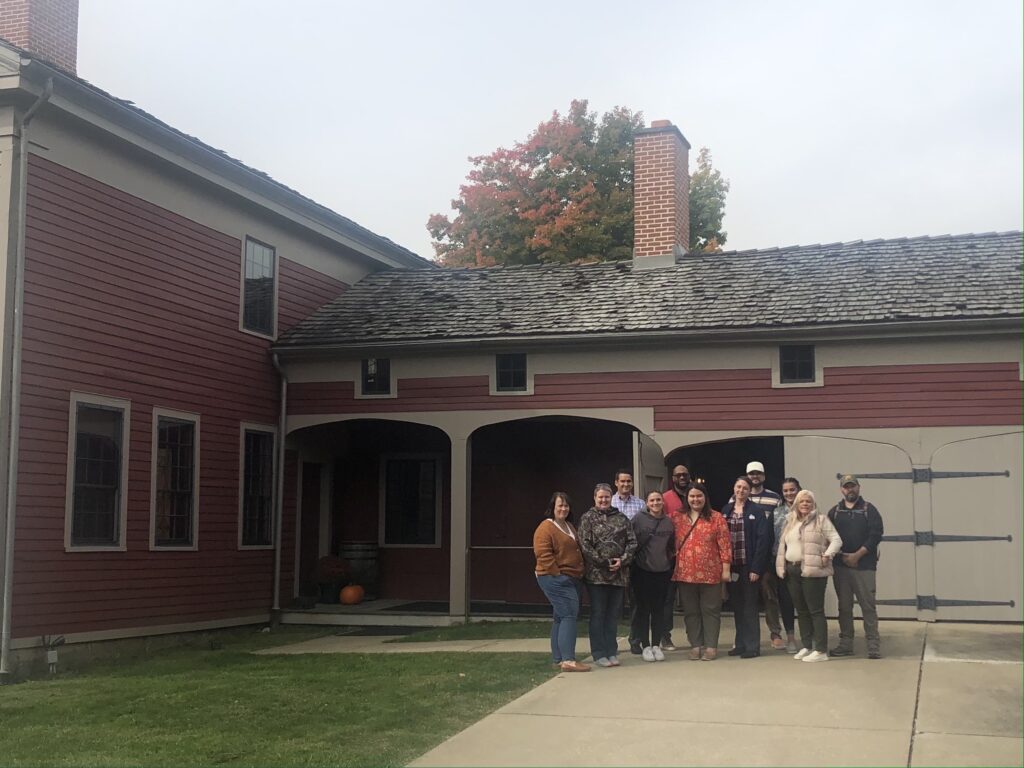 The home originally belonged to John and Elsa Johnson who housed Joseph Smith, the founder of Mormonism, during 1831 and 1832. It was believed that Joseph was given profound revelations from God. Smith lived there until he was tarred and feathered by a local mob.
After we toured the home, which is now on the National Register of Historic Places, we stopped for lunch at Nelson's Ledges and got in a few extra steps with a post-lunch hike before heading to our next destination.
One of my favorite parts of our day was next, visiting Hope Town recovery housing in Windham. Those who run the house believe that successful recovery starts with access to treatment, recovery support, food, jobs, health, transportation and community. The facility offers a safe, clean, affordable and drug- and alcohol-free environment, but it also provides clients with a foundation for their future.
We wrapped up the day by visiting Portage County Airport, The Grotto in Randolph and the Kent bogs for our second (and last) stroll of the day.
My journey with Leadership Portage County continues this month. I can't wait to take you along with me.
Correction: Because of an editor's error, an earlier version of this article included incorrect dates for Joseph Smith's residence in Hiram Township.
Jenna Gobrecht is Director of Sales and Growth at The Portager. Reach her at jenna@theportager.com or 330-548-1717.