All the excitement surrounding the City of Aurora's plans to purchase land on the south side of Geauga Lake and turn it into a park area has me reminiscing about the good old days when I worked as a landscaper at the amusement park there.
Yes, I was a landscaper at Geauga Lake. Me, someone who has difficulty screwing in a lightbulb — and I'm only slightly exaggerating — was given heavy equipment to operate. It was the summer season of 1987. I was 19 years old, in between my freshman and sophomore years at the University of Akron, and I somehow managed to finish out the season with all my limbs accounted for — but there were days when that was touch and go.
Hardly a day goes by when we don't hear about the continuing labor shortage and how people don't want to work for $16 an hour because that measly sum just won't cut it. Well, try this on for size: As seasonal employees, we made a whopping $3.25 an hour at Geauga Lake — which happened to be 10 cents below minimum wage in 1987.
Illegal? Not exactly. If you finished the season, you got those 10 cents per hour back that you missed. The idea was to provide incentive to keep employees from leaving their jobs before the season ended — and it worked. It was worth toughing it out, because you got a rather hefty paycheck at the end of the season. Ten cents for every hour worked for several months adds up.
But earning that $3.25 wasn't easy as a landscaper. We worked 9.5 hours a day, six days a week — and, unlike most other jobs at the park, we had to wear long pants regardless of the temperature. At first it made no sense to me, until I started mowing and weed-whacking and quickly discovered that had I not been wearing long pants, I would have had open flesh wounds up and down both legs within an hour.
It was good, old-fashioned hard work. It didn't take me long to find out that landscaping was a whole lot more than just planting pretty flowers. From the moment we arrived at the Geauga Lake greenhouse at 6 a.m. each morning, the hard labor began: carrying and planting deceptively heavy plants and shrubs, mulching what you planted, driving one of the two water tanks around the park to water just about every living thing in it (I never knew watering could be so physically exhausting), constant digging in the blazing hot sun with sweat stinging your eyes to the point you almost couldn't see, and making repeated trips from the park grounds to the greenhouse throughout the day to grab seemingly endless piles of flowers and assorted foliage to plant — which meant more digging and more things to water.
By the end of that season, I was in the best shape of my life — and it wasn't close. Ten years of football didn't get me anywhere near the level of conditioning I was in by the time October rolled around. I was lean and mean.
And worn out. Employees who finished the season had a standing offer to return to their jobs the next season, but I couldn't bear the thought of another grueling summer in the dirt and heat of Geauga Lake. I politely declined, turning my attention instead to my newly declared major at Akron: mass communications, where the heaviest thing I would need to operate was a notebook.
I'm not going to sugarcoat it: I don't miss that job. But I do miss my coworkers, many of whom became some of my closest friends until life got in the way and we lost contact. And I also miss our boss, Tony Bologna, who had patience not of this earth to be able to handle a group of mostly teenagers, many of whom were still in high school, who knew next to nothing about landscaping when they were hired. Tony affectionately called us "blanks," for reasons that should be obvious.
Thirty-six years later, he's still one of my favorite bosses. We developed a great camaraderie with him and with each other. Management in Fortune 500 companies could have learned a lot from the way Tony herded the cats on our landscaping team.
And I also miss Geauga Lake. It was our local amusement park; sure, looking back it was basically "Cedar Point light," but it was closer, cheaper and more intimate. The Double Loop, Corkscrew and Big Dipper were our coasters. The Wave was our pool. The iconic entrance that looked like it belonged on the set of the Addams Family let us into our park.
And now, Aurora is getting some of Geauga Lake back, albeit on the south side where Sea World once stood. But at this point, something is better than nothing. The amusement park isn't coming back, but that's OK.
The lakeshore area will serve a new purpose now.
It will give people a new reason to go there.
And a new generation of landscapers will be needed to maintain it.
---
In last week's Round 2, I detailed where I'm at emotionally 18 years after the death of my dad. Below are responses on The Portager website from two readers who opened up about their own experience with loss:
– "Tom,
My heart goes out to you, I understand. My Dad died of a massive heart attack on a golf course at the age of 69. That was 40 years ago and I still grieve his loss and feel cheated. Dad was physically fit and recently retired. He was a wonderful man, husband, father and grandfather. Last week, we lost my son-in-law's father, who was like a brother to me and my husband's best friend. They were having lunch together at the time. We will never understand why our loved ones pass when they do. We must thank God that they didn't suffer. Thank you for sharing." – Del Tekieli
And:
– "Tom,
Your article was very moving for me. I have also lost my dad, but, yet, I haven't. You see he has dementia. When family visits with him he remembers us all, but not the times we enjoyed. He doesn't remember the places we lived, the vacations we took, the hobbies he pursued. He ran the Boston Marathon, twice with my brother, traveled to Alaska in a motor home with my mom and created a tree farm on the 18 acres he and my mom shared for twenty odd years. We visit him frequently, but he doesn't remember. On occasion, I get a glimpse of my old dad, he comes out in a comment, in a twinkle of his eye, or a chuckle. But mostly that man in that bed, in that room is a shell. Needless to say it breaks our hearts.
I love that man fiercely, he was a warm, loving and caring man, both in his medical practice and with his family. I miss him so very much and I will miss him when he is gone." – Jan Donohue
Nothing more needs to be said.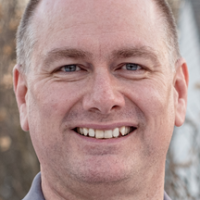 Tom Hardesty is a Portager sports columnist. He was formerly assistant sports editor at the Record-Courier and author of the book Glimpses of Heaven.