Dozens of students at Kent Theodore Roosevelt High School staged a walkout at noon Friday in protest of "sexual harassment by school employees," an allegation leveled in an anonymous Instagram story and later shared with The Portager by the student in an email.
While the student said she is willing to be named, The Portager is in the process of investigating the student's allegations and will withhold details about the student and the employees in question until we learn more.
On Thursday evening, Roosevelt High School Principal Dennis Love issued a robocall to parents informing them that students who participated in the walkout would face disciplinary action.
"We want everyone to know students are welcome to share and document their concerns with administrators, teachers, staff and counselors," he stated in the call. (The student told The Portager she did, in fact, report her concerns.) "We want a chance to go over those concerns prior to a walkout."
Love said the walkout is not condoned by the school.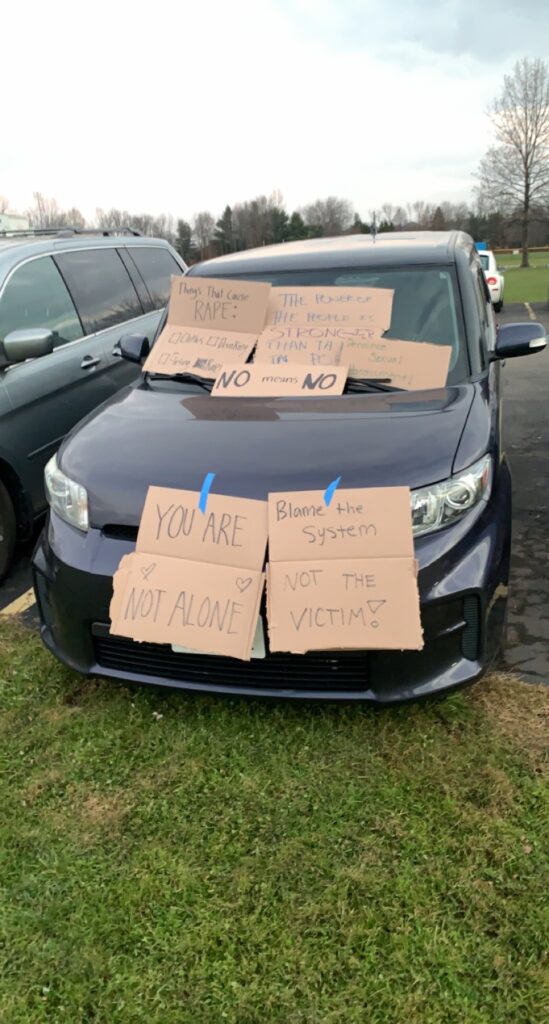 "Students are not permitted to leave the building for the walkout and if they do leave the building they will not be permitted to stay on school grounds or come back into the school," he said. "Students leaving unexcused may also face disciplinary action based on the Kent City Schools conduct code. Walking out of the building does not create a safe environment for our students."
In an emailed statement to TV2, Kent City Schools Superintendent George Joseph said the walkout was organized due to a "student asserting that the District has not taken allegations of inappropriate conduct seriously. In actuality, however, when made aware of the allegations, the District followed Board Policy as well as Federal and State laws in ensuring that full, complete and thorough investigations were conducted, and appropriate steps were taken to address the concerns."
In interviews and accounts posted on social media, students have expressed a belief that the responses to more than one sexual harassment allegation have been inadequate.
"Yesterday there was an account in particular of a senior being kicked off of the varsity [soccer] team when she came forward about the assault," said a freshman at Roosevelt High School. "When people at our school heard about it we were outraged, so we decided to take it into our own hands. We started to plan the walkout and set up a time. Yesterday on the announcements, Mr. Love said that we could be suspended and not allowed back into the school."
According to a freshman at Roosevelt High School who participated in the walkout, about 30-35 students made it outside of the building to protest. She said when she arrived outside and noticed there were fewer people than she expected, she looked on Snapchat where students were reporting that faculty were standing by doors, not allowing them to leave.
"There were so many people from inside supporting us, though," she said.
Once outside, students spoke with reporters from local news outlets and went live on Instagram to share what was going on. Despite warnings from faculty prior to the walkout, the Roosevelt freshman said she didn't hear anything about disciplinary action from faculty and staff during the protest.
"From what I know, most [faculty] were against the walkout," she said.
The walkout started at noon and ended around 2:30, following the end of the school day.
The Roosevelt freshman said she isn't sure if there's another walkout or form of protest planned, but she hopes there will be if this isn't taken seriously.
"I hope that people are going to hear about the stories," she said. "People at our school and at others need to learn about consent and problems regarding sexual assault."