The Lincoln Highway by Amor Towles is a wonder of a book. It starts as a road trip on a very special road, blossoms into an adventure, blooms into a character study, and even turns into a bit of a thriller. Holy cow!
It's set in 1954, starting in Nebraska. The warden of Salina, a juvenile detention facility, is driving 18-year-old Emmett Watson home. Emmett has paid his debt to society, for having killed another boy. Emmett has been let out of the facility early because his father has died, and he's told, "You've got your brother to care for now."
At home, he finds out the banker has come to foreclose on the Watson house, because Emmett's father died in debt. Emmett must take his little brother, Billy, and leave the family ranch. It's a good idea for the boys to exit the area anyway, Emmett is told, because the murdered boy's family holds a grudge, and it could be dangerous for Emmett to remain.
So, where will they go? Well, 8-year-old Billy has an idea: They will go find their mother, who deserted the boys and their father years before. She had sent them postcards from stops along the Lincoln Highway, and Billy turns their postmarks into a road map to help the boys find her. Emmett, being older and more practical, isn't so sure about finding their mother, but decides he'll go along with Billy's plan.
In the short time left them in their family home, they discover that two of Emmett's fellow inmates at the correctional facility have escaped and followed him home: boys nicknamed Duchess and Woolly. We're told, "When it came to telling stories, Duchess was a bit of a Paul Bunyan, for whom the snow was always 10 feet deep, and the river as wide as the sea."
Duchess and Woolly want to make a deal with Emmett: If he will drive them to the Adirondacks to pick up Woolly's inheritance, he can have a share of it. Emmett refuses, but says they can go with him and Billy to California.
I don't want to tell you any of the twists and turns the travelers make! But they go this way and then that way, together and separately, by car, by rail, on foot. At some point, the police are after some or all of them. Somebody betrays somebody else, and help turns up in surprising places.
We get every character's back story a little at a time, so each becomes fully developed. Even the ancillary characters are colorful: a "pastor" has sinister motives, a "tramp" rides the rails to forget his lost family, another fellow-inmate comes to Emmett's aid. Oh, and their Nebraska neighbor Sally plays a part in the plot, as well.
A lovely central element of the book is that Billy is reading a book about heroes, both real and mythological, and he finds his own heroes as he goes along.
This book is nothing like I thought it would be. Don't expect a straight-line journey travelogue! This is a long and lingering trip with lots of little side trips. Among other things, it's a scrapbook of Americana — really, this is America: picnics, Howard Johnson's, apple pie, rural towns, urban neighborhoods.
I kept forgetting they were just teenagers. I also kept forgetting I was reading. (My only complaint is that there are no quotation marks in the book.)
The Lincoln Highway has already been named one of the best books of the year. It certainly deserves prizes — including, I hope, a Pulitzer. Truly, a GREAT book. Just wow.
By the way, Towles also wrote the excellent and unusual A Gentleman in Moscow, in which a man is sentenced to spend decades inside a Russian hotel, on penalty of death if he leaves.
Happy reading!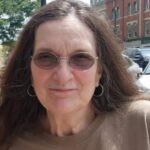 Mary Louise Ruehr is a books columnist for The Portager. Her One for the Books column previously appeared in the Record-Courier, where she was an editor.