The Village of Mantua is hoping to raise over $200,000 more a year from taxpayers starting in 2022 through an income tax hike meant to offset the potential loss of a dispatching contract with Garrettsville that expires in December.
Village leaders are anticipating a $92,000 budgetary shortfall if Garrettsville declines to renew the contract. Their solution, now before village council, is to place a 0.5% income tax increase on the November ballot that would raise an additional $217,000 per year.
That money would go entirely to the police department, even though only a portion of the Garrettsville dispatch contract actually funds the police. That said, next year's allocations to the police, administration, parks and other village services have not been decided.
"Right now, we're looking at not having enough revenue to keep a 911 dispatch, let alone retaining good police officers to stay in the village," village council member Heather Paisley said. "This would ensure law enforcement and dispatch services could sustain themselves without impacting the rest of the 1.5% [income tax] the village currently gets."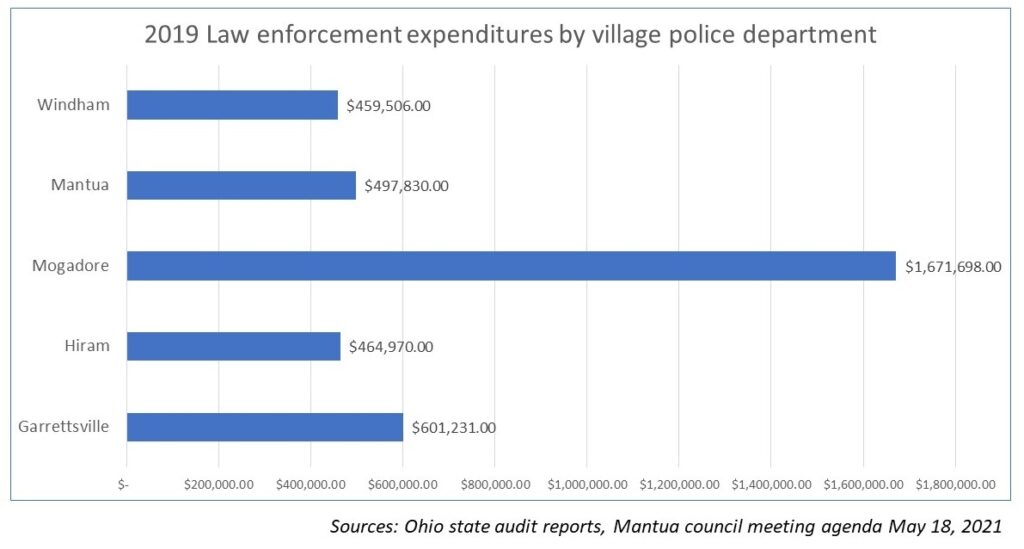 Mantua is the last of Portage's County's five village police departments to retain in-house dispatching services, which council estimates will cost $206,000 in 2022. Mantua helps cover that cost through contracts with Garrettsville and the Mantua-Shalersville Fire Department.
But with the fire department's contract expiring at the end of 2022 and with Garrettsville considering an offer from the county sheriff's office that could save them $55,000, Mantua needs to put together a contingency plan, said Police Chief Joseph Urso.
Mayor Linda Clark is planning to present a counteroffer to Garrettsville in the coming weeks, but even if that works out, Urso said he anticipates losing roughly two-thirds of the revenue Garrettsville provided in 2021.
Mantua's village council is still preparing its 2022 budget draft, which would designate over $585,000 for the police department — more than 60% of the village's operating budget.
If residents vote to raise the income tax, Urso said he isn't sure if police would receive the full $585,000 — totaling $802,000 — or if some of it would be reallocated. The additional revenue, he said, could free up funding to be used somewhere else.
Of the $92,000 Mantua anticipates losing from the Garrettsville contract, the police only receive one-quarter of it, about $23,000, and the rest goes into Mantua's general fund, Urso said.
Mantua's dispatchers next door
Urso would like to see dispatching services remain in-house because local dispatchers are more familiar with a municipality's geography, its officers and its residents, he said.
"A lot of residents we've spoken to have said when they pick up the phone and call, they want to hear somebody in their town. They don't want to talk to someone who doesn't even know what street they're on or who their neighbors are," Urso said. "We provide that personable service."
Windham Police Chief Eric Breiding said Windham was forced to shut down its dispatching center due to funding cuts and because new state mandates on equipment, training and staff size made remaining open difficult. Windham now contracts with Streetsboro for the service.
"In a perfect world, having a dispatch center in a small town would be ideal," he said. "But we all know it's not a perfect world."
In addition to continuing dispatching services, Urso said he'd like to use the additional $217,000 to replace police cruisers that have over 100,000 miles on them and hire two full-time officers over the course of the next three years.
Residents benefit when they're seeing the same officers day after day, Urso said, but in order to provide consistency for residents, the department must be able to provide benefits for officers.
In addition to 10 part-time officers and 10 part-time dispatchers, Mantua's police department employs three full-timers: Urso, a school resource officer and a head dispatcher. The Windham and Hiram police departments, which have comparable budgets to Mantua's, employ three and five full-time officers, respectively.
Breiding cautioned against comparing Mantua to other village police departments, saying "it's like comparing apples to oranges."
"Yeah, we're villages, but we have different dynamics, different makeups, and different crime and activity rates."
Will residents support a new tax?
"We definitely were hesitant to propose an income tax increase. We hate to do that," Paisley said. "But if we wait, we'll probably have to ask for more later, just because there would be other deficits, possibly."
Paisley said Crestwood schools' failed income tax levy was "really sad" but that they've hit a bridge and "we have to cross it."
"We hope the residents do understand that [funding the police] is a necessary tool and it is part of America. It's a part of the way we're structured," she said.
Tell us what you think
If you live in the Village of Mantua, send us your thoughts at editors@theportager.com. Be sure to include your name, and we may include your comments as a letter to the editor. Residents are also encouraged to submit comments or questions to Mantua's Village Solicitor, Michele Stuck, at villagesolicitor@gmail.com ahead of the June 15 council meeting.