Ohio has been referred to as "ground zero" in the opioid epidemic, with overdose deaths remaining one of the highest in the nation. As a result, one man has taken action to provide unprecedented services for those recovering from drug addiction in Portage County.
Ted St. John, executive director of Hope Town Inc., was the catalyst behind the opening of a women's facility May 23 at Hope Town's residential recovery housing in Windham. The expansion comes nearly a year after the opening of Hope Town men's recovery house on June 2, 2021, the first of its kind in Portage County. 
St. John defeated his own drug addiction 13 years ago and therefore is personally invested in helping people in recovery. On June 1, he reached his 4,857th day of sobriety. He said having the Hope Town facility located in Windham is ideal because he was raised in the area and knows many of the residents, so the community is accepting of his pursuit and has been supportive "every step of the way."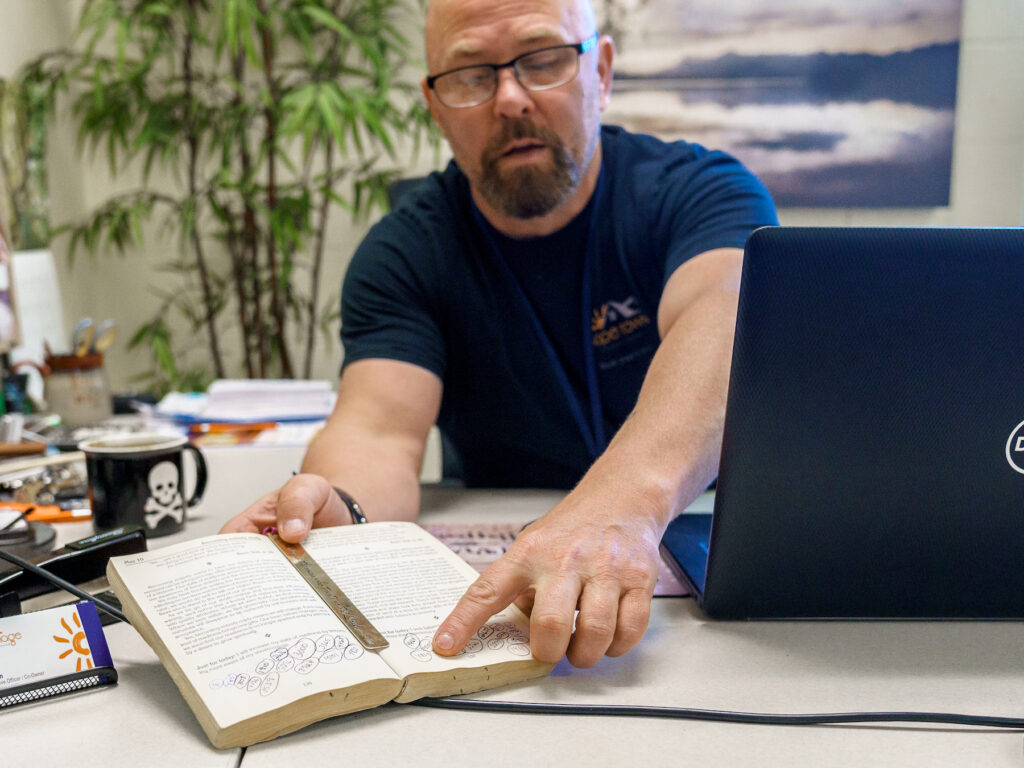 Hope Town men's recovery house has a capacity of 20 residents and currently houses 10 men, half of whom are from Portage County. The rest are from elsewhere in Ohio except for one, who came from Baltimore, St. John said. The newly opened women's house already has residents, with more coming.
"We just opened, so we have three [female residents]," St. John said. "We have another one coming. There might be two more here by the weekend, and then next week we have another one scheduled. We've got a lot of applications."
Hope Town's recovery housing offers a long-term, low-barrier approach to living that provides an affordable, clean and structured environment with the capacity to comfortably house 15 women following the expansion. The peer-led housing consists of five fully furnished apartments where housemates share living space and have access to washers, dryers and community Chromebooks.
"The thing that people say the most is, 'Oh my gosh, this is so nice,'" St. John said. "But the thing that resonates with me is it feels like home. It shouldn't feel like a treatment center; it shouldn't feel like an institution."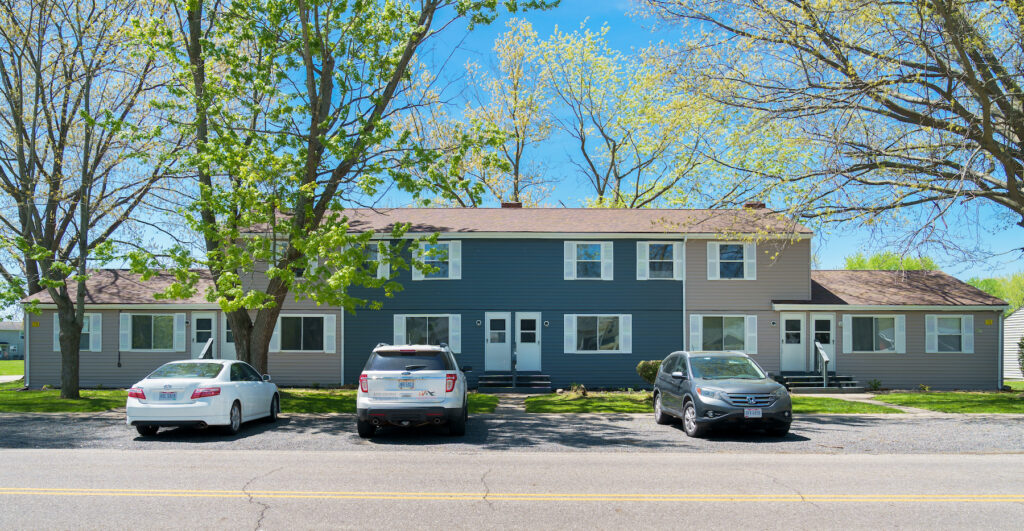 St. John said Hope Town would not have been possible without additional help from the community.
"Everything you're going to see here shortly was donated or volunteered, or in-kind, service-type stuff," St. John said. "We had judges and commissioners and state reps painting our bathrooms, moving furniture, delivering their stuff to us. But the community here in Windham, being one of the poorest communities in the state every year, supported this and donated stuff more than anyone. Our county's been amazing."
St. John's mother, Lynnea St. John, was instrumental in the success of Hope Town women's recovery house. She said she has been helping "since before the beginning." During the development phase, Ted sent contacts for donated furnishings to Lynnea, who then coordinated volunteers to pick up the furnishings, some of which were even stored at her house before they made it to the recovery house. She said she had "school kids with their moms and dads" volunteering for the project.
A donation was recently provided for the construction of a firepit in the backyard, and there are plans to build a similar pavilion to the one that was built in the backyard at the men's house last year.
Hope Town's program is structured after St. John's own experience with battling drug addiction. His background gives him insight into the service gaps that Portage County needs to fill, which St. John said are housing, jobs and transportation.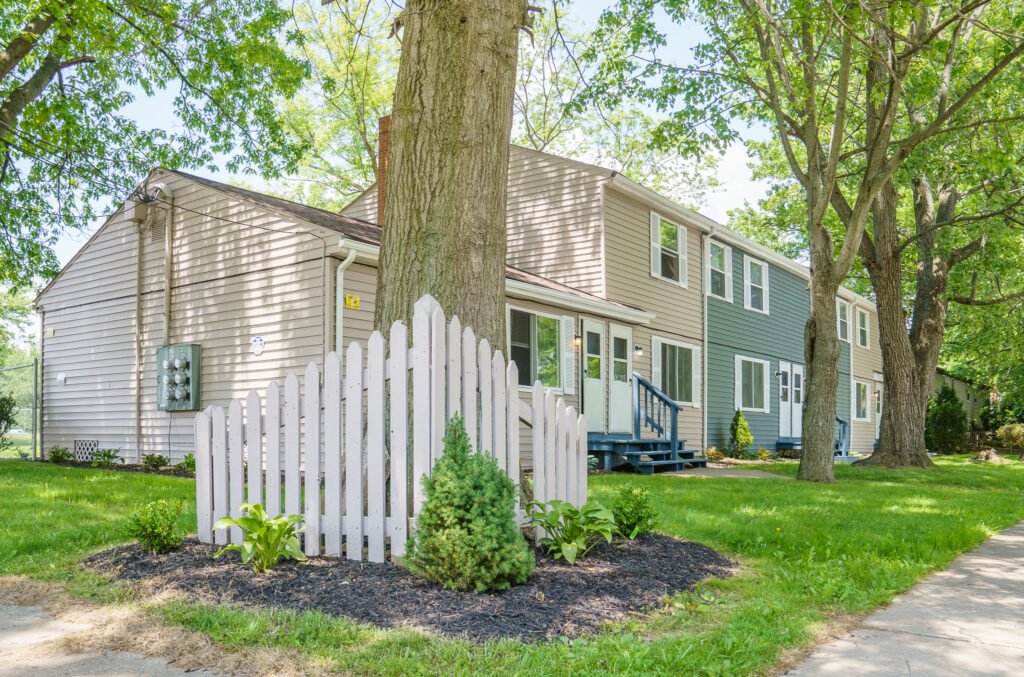 "The thing I like about Ted is, he is a pioneer in the gap services in the recovery community," Portage County Commissioner Sabrina Christian-Bennett said. "One of the biggest problems we had is housing. He has opened up the first recovery housing that basically provides long-term recovery, like a self-initiative, and it increases their independence, and it's structured in that they go to meetings and have peer counselors, recovery support counselors there."
Hope Town's residents sometimes lack simple yet necessary life skills, such as the ability to do their own laundry and stand in line at a grocery store, many times the result of what St. John said is having been raised in substandard living conditions.
"When I started treating people in this county, compared to, like, Cuyahoga, the trauma that's going on in our families and our communities is unbelievable," he said. "So, when you've got a parent when you were 12 who is pimpin' you out for 100 bucks to support her daily habit and that's how you came up, when you've got a kid that is 14 that the first person that shot him dope was his dad and his mom and they got him high because that's just how crazy their life was, that happens in this community."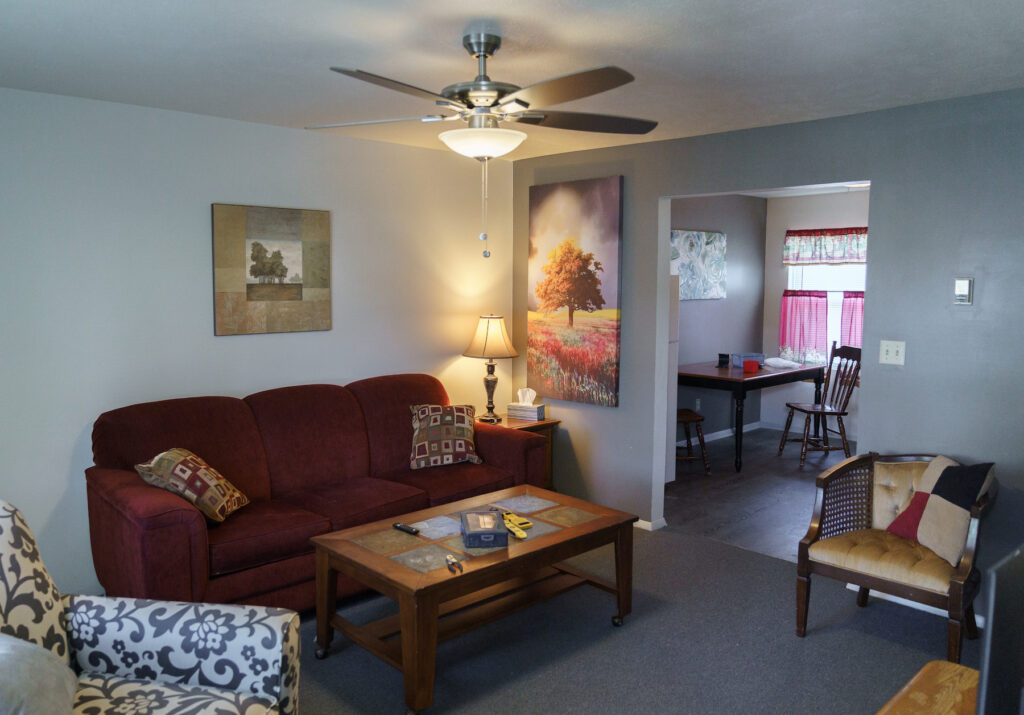 There is an on-site peer supporter at the facility to provide residents with help regarding obvious needs that often get overlooked, such as transportation, assistance getting connected with Portage County Job and Family Services, and creating and maintaining a schedule of routines that work for each individual regarding ongoing life skills and recovery support.
"We bring 'em in, we get 'em connected to treatment, we make sure their transportation's good," St. John said. "They get a peer supporter, they get counseling. If they gotta get to probation on the fly and they can't plan for it, we'll help 'em. And we get 'em jobs. We work with them on a peer level and make sure they're managing their plans."
For many people with addiction, the process of recovery can be daunting, said Hope Town women's peer supporter Krista Chavarria. She recovered from drug addiction herself and understands the care that is required by those seeking help.
"I remember the feeling of not really knowing where to start to change my life," Chavarria said. "I kept hearing you have to make changes, but I didn't know what those changes were, and I think it's a very scary place. Hope Town women's is, really, a place where I help support them in getting into outpatient services, and everything in between. Whatever these women go through, I'm the support and guidance. We're equal here, we're on the same level. I want anyone's lives that I touch to be a happy moment for them."
Because Hope Town is a peer-led facility, meaning residents only have a peer supporter during the day, residents also gain a substantial amount of support from other housemates, which St. John said is an important aspect of recovery.
Hope Town will work with local managed care organizations [MCOs] to provide an unprecedented Medicaid ride program for residents, which St. John believes will help pave the way for other treatment centers, communities and organizations to follow suit.
To live at Hope Town, residents are required to work a steady day job and pay $450 a month for rent. They are also required to undergo random drug tests and abide by an 11 p.m. curfew, as well as attend regular counseling and routine activities.
Hope Town does not provide counseling and treatment; residents can receive treatment in Portage County from facilities such as New Day, Townhall II, On Demand, Coleman and Access Point, or they can go to St. John's facility, Hope Village Outpatient Recovery Center, which is within walking distance of Hope Town. Hope Village is a separate organization with different services. The only thing Hope Town and Hope Village have in common is their director.
Applicants must meet the required criteria to be accepted as a resident, and to continue their residency at Hope Town.
"You're not coming here just because you have no place to live," St. John said. "You won't like it here 'cause you gotta do morning meditation, you've got to create — with help — a recovery plan, and then you've got to execute the plan. If you decide you don't want to go to treatment that day, that's fine if you live at mom's, but it's not OK here. You can't stay if you don't go."
As a long-term strategy for the sustainability of Hope Town, St. John said he is working with stakeholders to build upgraded recovery housing that would eventually replace the current facilities, which were built in the 1950s.