When Brent Pfeiffer looks back on his career, he can't help but wonder what his late father, Dick, would have thought of it.
Brent is retiring after 16 years as a head golf coach at Kent Roosevelt High School, with a haul of trophies and awards that would certify his career as a wild success by any standard.
But Brent isn't interested in just any standard.
The one that matters most to him was the lofty one set by his father — the standard that Brent spent a career trying mightily to reach, first as a player for his dad at Kent Roosevelt and later as head coach of the program that his father had taken to unprecedented heights in his 24 years leading the Rough Riders.
So as Father's Day looms, it's only natural that Brent frames his own career in golf against the backdrop of what his dad accomplished.
"I know that I never measured up to his expectations as a player because I didn't put in the time necessary to be as good as I could have been; it's a ghost I still fight today," he said.
Brent, a 1989 Roosevelt graduate, was an All-Metro League player as a junior and senior, helping the Rough Riders advance to the state tournament in his final high school season. But he says he could have been even better.
"I believe [twin brother] David and I started playing competitively when we were about 8 years old," he said. "Yes, dad started to teach us, but he realized it was a futile attempt. We shut him out at a young age as any teen does, a decision we have both regretted. As I tell my students, your parents don't know a damn thing until you turn 22. This continues to haunt me as I teach."
Brent teaches the Marketing Management (DECA) program for juniors and seniors at Roosevelt.
"This is the same class dad taught as well," he said. "Yes, coaching the golf program after him and teaching the same class/program that he did provides a tremendous amount of pressure. One thing that separates me and dad is that dad would have left teaching and kept coaching if he could have; coaching was his true passion. For me, teaching the DECA program is my love.
"Don't get me wrong, I have absolutely loved my time with the golf program and I have zero regrets, but my first priority has always been the marketing/DECA program. When dad and I had our final conversation the week that he passed away, he made me promise him that I would take the DECA program to new heights if I was going to apply for the job."
And it's there, in the classroom — if not on the course — where Brent feels he came closest to reaching his father's standard.
"I'm not sure I ever achieved the level of success or attained the goals that I set out to achieve," he said, "but maybe that's because I am a perfectionist and my DECA students have been so successful. Am I proud of what we have accomplished? Absolutely. But I will always look back on my coaching career and wonder, 'What if?' "
In 24 years coaching the Rough Riders, Dick Pfeiffer led his teams to a 452-94 record, winning 17 league championships and taking eight teams to the state tournament. In his 16 years as head coach at Roosevelt (2002-12 and 2017-21), Brent went 214-32 with eight league titles.
When Brent looks at those numbers, he sees a hole in his career.
"In my time as head coach," Brent said, "the only player I had qualify for the state championship was Mandi Morrow. Mandi qualified in 2006 and 2007, finishing 11th and fifth, respectively. Having only one player qualify for the state championship is definitely one of the reasons why I feel like I fell short of my goals."
But then, it would be easy for any coach to look at Dick Pfeiffer's numbers and feel like they fell short.
"When I am compared to my father," Brent says, "I am humbled."
Brent, of course, is often compared to his father — and not just on the results.
"Parts of our personalities are similar," he said. "But really, I am a combination of both of my parents. I am fiercely loyal and competitive like my father and I have his work ethic. When it comes to work, I don't have an 'off switch,' which isn't necessarily a good thing, especially for a family man. Stepping away will allow me to spend more time with my wife; I owe her big time. She has been a golf and DECA widow for far too long.
"During the summers I will practice 5-6 hours per day, five days per week and that doesn't include time on the course playing. This was a difficult adjustment for me as a coach. I had to realize that most players were not going to be that committed and it was OK. My work ethic is unique and it can be a curse as well."
Brent relates a story from his playing days at Roosevelt that illustrates his father's unrelenting drive.
"There were nights when cars were pulled up to the practice green with their headlights on so we could continue to work on putting," he said. "My senior year, we lost at Barberton; it was the first time in his career that he lost to Barberton. If there was going to be hell to pay, the players were going to pay it. That Friday night was the home opener for the football team and we had a home match that we were excited to go to. Unbeknownst to us, Dad had made arrangements at Leisure Time for us to practice under the lights at 9 o'clock that night if we played poorly in our match. We didn't have to win, we just had to play well. Today's players and parents struggle with practicing five days per week; the regimen we had would have broken many of them."
Playing golf for his father not only shaped Brent's game but his personality and coaching style as well.
"I have an insatiable desire to win," he said. "I am not motivated by success, I am motivated because I hate to lose. It helped me because I would analyze our losses and where we fell short. I would try to address our shortcomings as a team at the next practice. Dad taught us how to act like men and that we were to carry ourselves like men, regardless of how we were playing. We were to play with pride and honor the tradition of the men who came before us. This helped me as a coach, but also in life. When you walk tall and exude an air of confidence, people take notice and in golf, it can throw your competitor off of their game. This was a very easy lesson to add into my teachings.
"Dad taught us how to prepare for matches and tournaments as well. We always had a sheet that told us how to approach each hole and what the yardages were to specific trees or landmarks on the holes. I would spend hours before matches and tournaments downloading and printing course guides from mobile apps or internet resources so that our players had the information necessary to play their best golf. Dad and I both believed that our teams would never lose because another team was better prepared than we were."
Brent's mother, Beth, meanwhile, started the junior high golf program at Roosevelt in 1983.
"It was tough playing for mom and dad," he said. "Mom started the middle school program, so we played for her for two years and it definitely made for interesting dinner conversations. Mom taught me empathy, compassion and positivity. My mom is the most positive person I know. Even though she has endured more than most people should, she always has a smile on her face and a 'can do' attitude. I honestly don't know how she does it, but she is my hero."
When Brent served as assistant golf coach at Roosevelt from 1996-2001 following his father's death, new head coach Garry Black was instrumental in preparing him for his budding career.
"I was so blessed that I was given the opportunity to be Garry Black's assistant coach," he said. "If I hadn't been Black's assistant, I would have burned out early; I wasn't ready to be a head, although I thought I was. Garry taught me to be patient and how to adapt to players. Without him, I'm not sure I would have lasted as long as I did."
But he did last. Through it all — expectations, comparisons, pressure, everything that comes with being the child of a father who is in the Ohio High School Golf Coaches Hall of Fame — Brent Pfeiffer didn't just persevere. He excelled and put his own stamp on his family's decorated golf legacy at Kent Roosevelt High School, leading a program that hasn't had a losing season in the past 52 years – a span which includes 30 league championships and nine state-qualifying teams.
"Dad had to make sure that he didn't take it too easy on us, which made him be so much harder on us," Brent said. "I was no different coaching my son in ice hockey; I was brutal on him, a product of my environment. At the time, my brother and I couldn't appreciate it, but we sure do today. The lessons we learned were invaluable and we were too immature to understand it at the time.
"I would gladly volunteer to do it all over again and I am sure that most of the players who were committed to the program and to winning would agree. David and I were truly blessed with two amazing coaches and parents."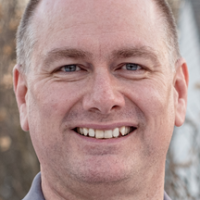 Tom Hardesty is a Portager sports columnist. He was formerly assistant sports editor at the Record-Courier and author of the book Glimpses of Heaven.