It's my fault.
That's what I thought as I watched former Ohio State star wide receiver Garrett Wilson make the winning touchdown catch for the New York Jets with 25 seconds left in the game to cap a frantic 14-point rally in the final two minutes Sept. 18 in Cleveland.
The Jets trailed 30-17 with 1:55 left in the game. They had no timeouts remaining. They were going to need to score a touchdown, recover the onside kick, and score another touchdown in order to win.
There's no way, I thought. With no timeouts left, they won't have enough time to score two touchdowns. And recent rules changes by the NFL regarding onside kicks make it nearly impossible for the kicking team to recover the ball. So that won't happen, either.
It's my fault for thinking none of that could happen. And maybe it wouldn't happen to any other team in the league. But these are the Cleveland Browns, the franchise that turned choking into an art form.
At age 54, I've witnessed those logic-defying choke jobs my entire life. Red Right 88, The Drive and The Fumble get all the glory, but they represent just the tip of a very large and deep iceberg of Browns chokes over the years.
So I should have known better. The moment when, on Jan. 4, 1981, Oakland Raiders safety Mike Davis stepped in front of Browns tight end Ozzie Newsome to pick off Brian Sipe's fluttering pass in the back of the end zone with less than a minute left in their AFC Divisional Playoff game at old Cleveland Stadium, I should have known never to trust the Browns again. The Raiders, who had traveled from sunny California to play in frigid Cleveland (game-time temperature: 4 degrees) to win 14-12 — and then go on to win the Super Bowl — were not built to win in wintry conditions, the conventional wisdom said. Yet, they did.
Right then, as an 11-year-old boy in sixth grade, I should have known that the words "Browns" and "conventional wisdom" never, in any circumstance, belonged in the same sentence.
Game after game, year after year, decade after decade, conventional wisdom never seems to apply to the Browns. No matter who's coaching them or who's playing for them, they always seem to find a way to screw up games. It's like failure has been ingrained into the franchise's DNA.
And it's my fault, after witnessing so much of this futility for so long, for thinking it will ever be different.
"Maybe this year will be different." No it won't.
"Maybe this game will be different." No it won't.
"Maybe this drive will be different." No it won't.
Oh yeah, The Drive. If you weren't born in time for that one on Jan. 11, 1987, consider yourself lucky. And if you weren't born in time for The Fumble on Jan. 17, 1988, consider yourself even luckier. I watched every snap of both games on television, a college student thinking this time will be different.
No it wasn't. John Elway actually drove the Denver Broncos 98 yards late in the fourth quarter in front of 79,973 screaming Browns fans to force overtime in the AFC Championship Game. The Browns eventually lost 23-20. A year later, Earnest Byner actually fumbled at the Broncos' 3-yard line with 1:12 left in the game and the Browns trailing 38-31 in the next AFC Championship Game in Denver. The Browns eventually lost 38-33.
And too many others, just like those, to count. Like one year before The Drive, when the Browns led the Miami Dolphins 21-3 in the third quarter of the AFC Divisional Playoffs in 1985. Somehow disregarding the painful lessons of Red Right 88 exactly five years earlier, I was sure that not even the great Dan Marino could pull Miami's chestnuts out of the fire in that one. I counted on the fact that 18 points was too great a deficit to come back from in less than two quarters.
I counted wrong. Marino rallied the Dolphins to a 24-21 win that afternoon in South Florida.
It will never be different. Maybe if we finally, truly accept that, it will mark some sort of rite of passage necessary for it to change. Maybe fan repentance is what is required for the team's fortunes to reverse.
I repent for believing that the Jets game would be different, for actually having the gall to think that the Browns could make a 13-point lead stand up with under two minutes left, especially considering New York was out of timeouts. How historic was their collapse? It was the first time in 2,229 NFL games that a team winning by at least 13 points in the final two minutes had lost. 2,229 games.
The last time it happened? Nov. 4, 2001, when the Chicago Bears, trailing 21-7 against their opponent that day, scored two touchdowns in the final 28 seconds of the game, the second TD coming on a 34-yard pass with no time remaining, to force OT. The Bears won the game 27-21.
Who was Chicago's opponent that day in 2001, you ask? The Browns, of course.
I repent for getting snookered by the Browns' 26-24 win at Carolina to open the 2022 season. Baker Mayfield seemed primed to get his revenge on his former team, but in un-Browns-like fashion, the Browns yanked victory from the jaws of defeat with a last-gasp drive in the final minute, winning on rookie kicker Cade York's 58-yard field goal with eight seconds remaining.
That's the same Cade York who missed the PAT following Nick Chubb's 12-yard TD run with 1:55 left against the Jets, leaving the score at 30-17 — and leaving the door open to lose 31-30.
I repent for thinking that every time the Browns win in improbable fashion — like the Hail Mary triumphs at New Orleans in 1999 and Jacksonville in 2002 — a new era has been ushered in for the franchise.
But, as last Sunday against the Jets showed, it's still one giant cursed era. Nothing has changed. The Ghost of Seasons Past reared its ugly head once again.
This is a franchise that has spent more than a half-century ripping out the hearts of its fans, and the Jets debacle was just more of the same. I should have expected it. I should have known what was coming. As soon as Cade York missed that extra point, I should have braced myself for what always happens to the Browns when they do something boneheaded like that.
I should have, but I didn't. I chose to believe in the flim-flam men in orange and brown.
And it's my fault.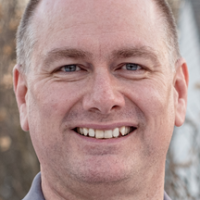 Tom Hardesty is a Portager sports columnist. He was formerly assistant sports editor at the Record-Courier and author of the book Glimpses of Heaven.