Correction: This article has been updated. Because of an error by the editor, an earlier version reported funds from Garrettsville Strong were used to purchase the Buckeye Block property.
The Garrettsville Area Chamber of Commerce has unveiled plans for a new Buckeye Block to rise from the ashes of downtown after a devastating fire in 2014.
Having obtained the property which previously supported over a dozen businesses from former owner Mike Maschek, the chamber hired local landscape designers at The Pattie Group to create visual renderings of the new installation.
Plantings, a historical archway, fencing and grading for walkways and a planned stage will go in first, thanks to funding from the chamber's Garrettsville Strong Fund. The fund had a balance of nearly $100,000 as of October, according to the chamber website.
Phase Two of the project will include construction of the Buckeye Block Stage as well as storage and electrical infrastructure for outdoor events.
Phase Two will be financed by a Raise the Stage campaign that will kick off this spring. Supporters can buy bricks, name plates, and benches, and may arrange for recurring donations.
Multiple fundraisers sprang up after the fire, said Chamber Secretary Michelle Zivoder. Garrettsville Strong funds went to the property owners of record at the time of the fire, and could only be used for rebuilding, Zivoder said. When the chamber acquired the property, it also acquired the Garrettsville Strong funds but again could only use them for rebuilding, she explained.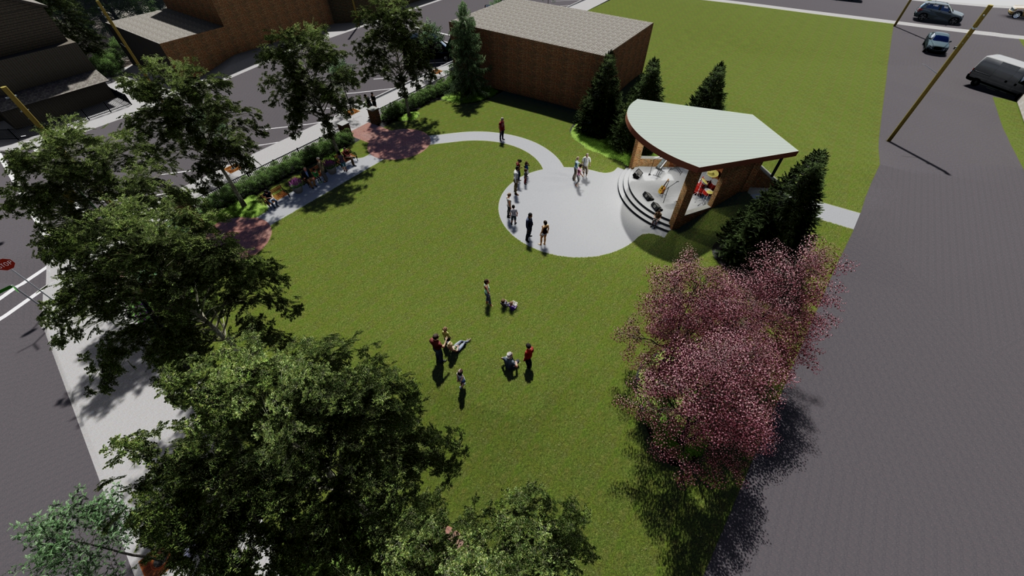 Where there is money, hard feelings may follow. Some of the businesses affected by the fire were renters who felt the funds should have gone to them, and still others had other ideas.
"There were people who felt the money should have gone elsewhere. Talk to 10 different people, you'll get 10 different places the money should have gone," Zivoder said. "There are people not happy that that property's going to be used for a stage. They wanted new buildings."
Garrettsville's Summerfest Festival Committee floated the idea of a permanent stage, reasoning that a prepared venue would be better than renting a stage every year, she said. The chamber agreed.
"We felt that an outdoor venue could attract people from outside of the area for a concert, a movie night, or a chili cook off event. That would benefit the local shops and the local restaurants because people would be coming to town," Zivoder said.
Wendy DiAlesandro is a former Record Publishing Co. reporter and contributing writer for The Portager.