The Davey Tree Expert Company's expansion project has been completed on schedule, and new local jobs are coming with it.
The Kent-based company recently finished construction of a 38,400-square-foot, two-story building, adding to its existing corporate headquarters at 1500 N. Mantua St. The combined total of the three buildings is 80,000 square feet.
Initial planning for the third building began around 1984 when the original architect designed the first two buildings, allowing for expansion of a third structure. Now, 38 years later, the project's full scope has been fulfilled.
With more than 11,000 employees nationwide and $1.2 billion in revenue in 2021, expansion of the home office was essential for future growth. Construction on the project began in April 2020, one year after a contractor was selected.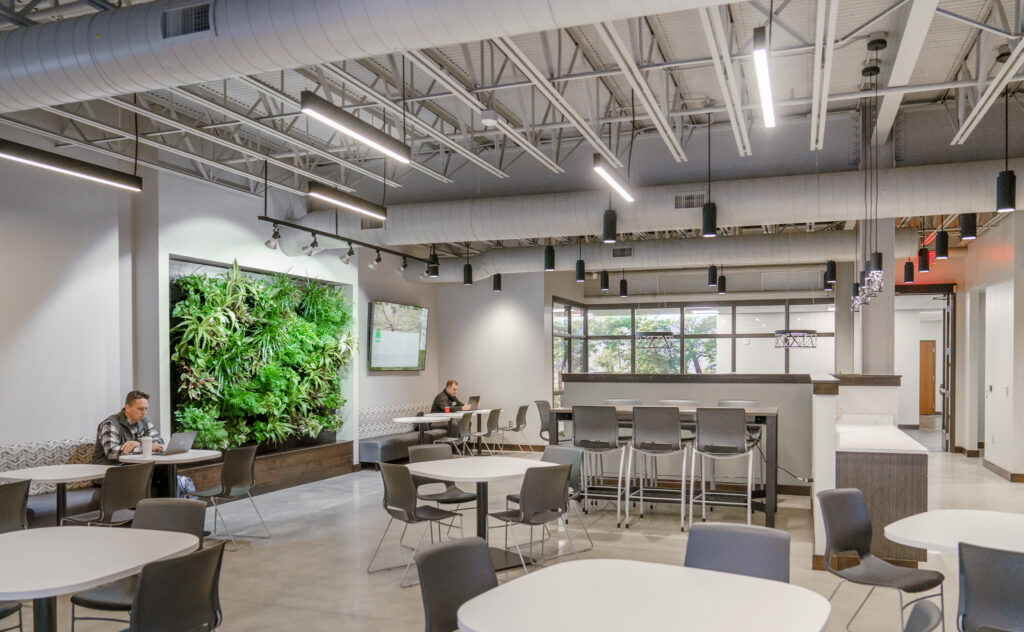 With the new expansion of Davey Tree come career opportunities for local job seekers.
"With the completion of this third wing, we can expect to eventually see 70 new Davey jobs in Kent, Ohio," said Chris Bast, vice president and treasurer. "This new wing almost doubles the current size of our corporate headquarters, so there are now more desks for permanent employees as well as collaboration space and hotel desk spots for remote employees visiting the office to work. We're excited to continue growing in Kent and bringing jobs and traveling employees to the area."
Davey Tree's origins date back to 1880, when John Davey, then 34 years old, founded what is now the largest and oldest tree care company in the United States. It's also one of the country's largest employee-owned corporations.
"For over 140 years, Davey Tree has shown an unwavering commitment to Kent, Ohio," said Pat Covey, chairman, president and CEO. "The completion of this third wing is not only exciting for Davey's employee owners, but also for the opportunities it will bring to Kent and Portage County communities. We are passionate about supporting economic development in Northeast Ohio and excited about continuing Davey's contributions to the region."
To accommodate employees, the new addition includes a fitness center with a shower facility, a large cafe, artificial lighting that automatically adjusts to compensate for natural window light, and more.
"This third wing is meant to be a representation of our employees' preferred work environment," Davey Tree Director of Property Molly Senter said. "Our very first step in this process was conducting a needs assessment with our employees to determine what mattered most to them in this new addition. Some of the key takeaways from the survey were improved access to natural lighting, more collaboration space and employee health opportunities, such as a fitness center and desk height adjustments for all desks. This third wing exemplifies those key takeaways so the building can best serve our current and future employees."
Along with improved access to natural lighting via strategic window placement in office areas and beyond, designers found a way to incorporate the adjacent woods into the interior space.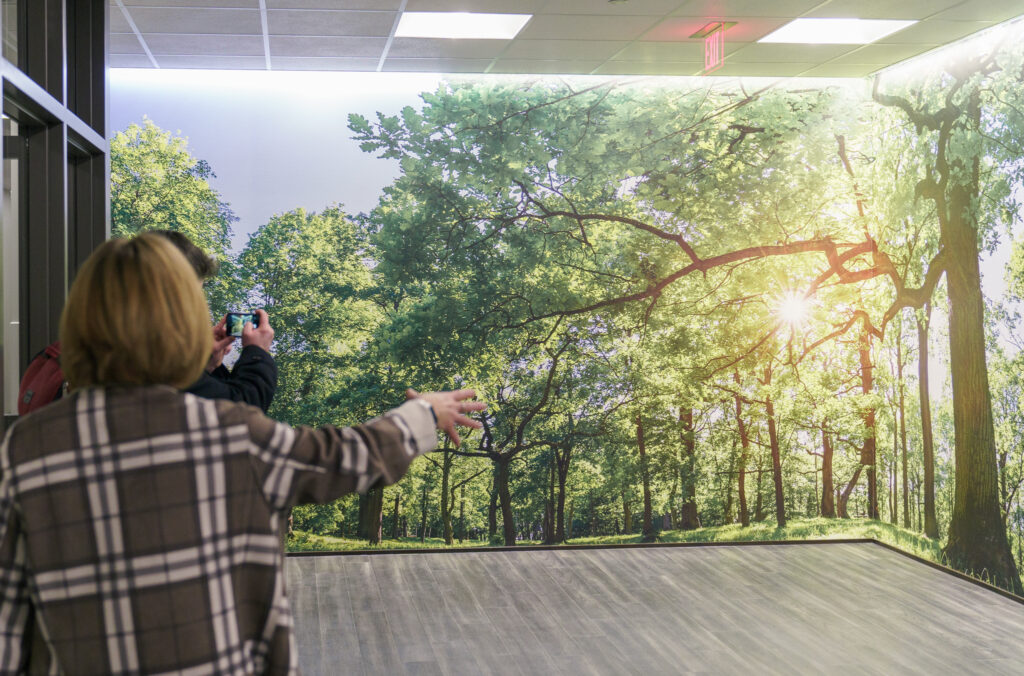 "A great feature about the third wing is the amount of wood we were able to salvage from the small forest of trees that stood on this property," said Dan Herms, vice president of research and development. "The salvaged wood has been used for two large conference room tables and wood paneling around many feature walls throughout the building. Sustainability is one of Davey's values, so it was important that we found a home for this wood in our new addition."
Along with furnishings and paneling made from salvaged wood, an expansive photographic wall covering of a forest scene from the property can be seen in the hallway outside the cafe, as well as a natural fiber mural near the entrance bearing the company name.
Not only was the new addition built with the needs of employees in mind, they also left their mark on the structure by signing a selected green I-beam painted with "Davey" across the front, now a permanent part of the structure.
Davey Tree is currently working on specialized training and research facilities on a 170-acre property on state Route 43 that previously contained Franklin Elementary School and Oak Knolls Golf Course. The facility, known as the SEED (Science, Employee, Education, and Development) Campus, will include a 10,700-square-foot indoor climbing area, a 25,000-square-foot training center, and offices, laboratories, greenhouses, a container nursery, and several research fields and plots.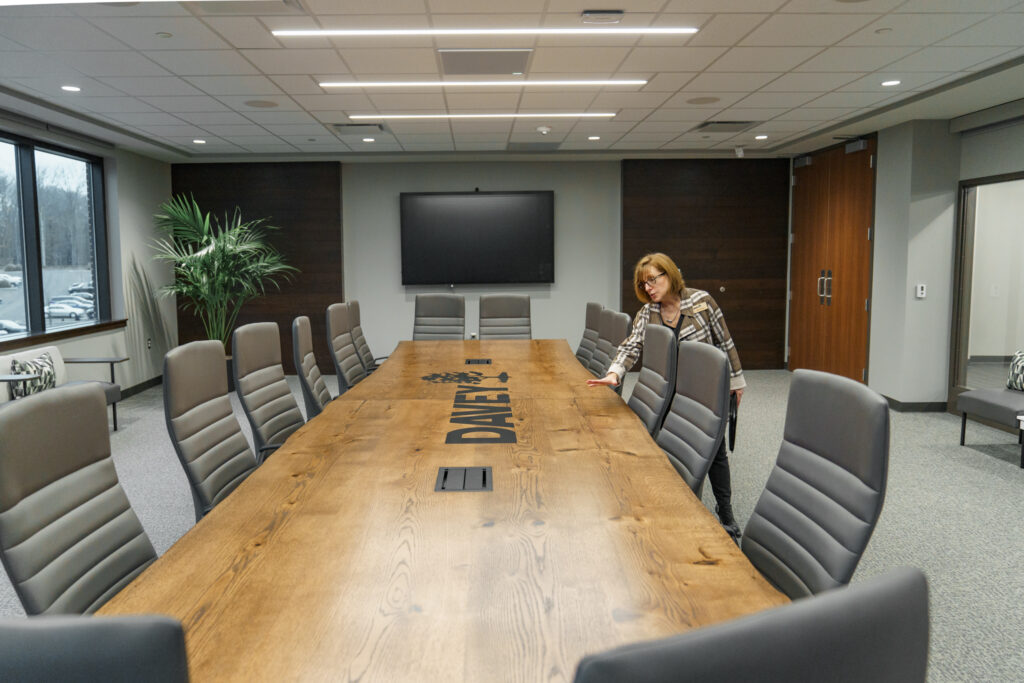 "Another interesting piece of this project is that Davey is making space for archives and building a museum for Davey's historical items," said Sandee Reid, vice president of corporate communications and strategic planning.
"The SEED Campus property is located just down the street from the historic Standing Rock Cemetery, where our founder, John Davey, began his career in arboriculture in the late 1800s, so this is the perfect place to shine a spotlight on Davey's 140-year history and display some of our equipment, documents and artifacts. And as part of this emphasis on history, the barn that was on the property previously will be reconstructed and have a special location on the campus."