Bell Tower Brewing Company hosted a soft opening Saturday for guests to try their beer and food for the first time, ahead of its public opening later this month.
This building, a former church, which was not accessible to the public for about 80 years, has been fully revived, with its rich history and astonishing architecture intact.
Kent State graduates and co-owners Ryan and Bridget Tipton and Jennifer Hermann say their business is built on more than just tasty beverages.
"We're offering a unique space for people to gather and be together," Hermann said.
The building, a former church, retains many architectural elements of the function it once served while also adding a more modern look that gives the building a grander design. During their renovations, they had to redo the floors completely, take down walls to make a bigger space for guests and add a brewhouse walk-in cooler.
While making these updates, the owners wanted the history of the building to remain evident within the establishment. They kept some of the booths and tables from the original architecture and used it for some of the tables and structures within the main part of the brewery.
"The architecture helps support the community bonding," said hostess Dominique Bollenbaucher.
The familiar atmosphere helps guests feel more welcome and provides them with a safe space to eat and drink with family and friends.
"I think [this brewery] is stunning, I'm excited for the Tiptons. I think they've done an amazing job," said Lesley Sickle, the Main Street Kent marketing director, who attended the event.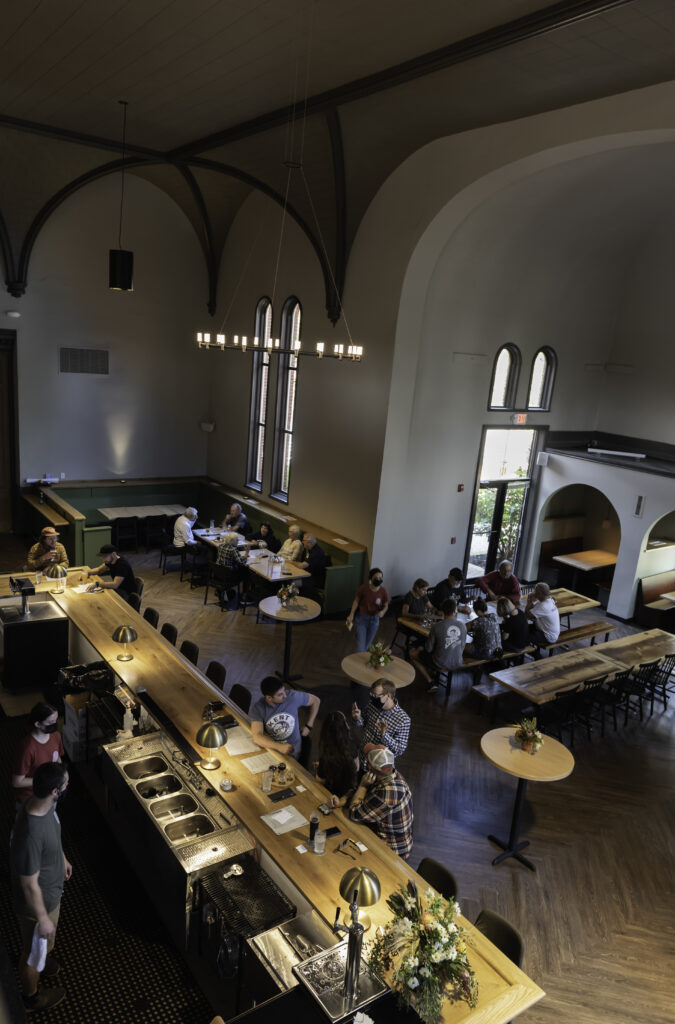 The building is located near Downtown Kent (across the Main Street Bridge), but closer to residential neighborhoods. Bridget Tipton said being situated closer to a residential area is unique among other establishments in the city. It can help bring in locals who are nearby and people who may want another sit-down restaurant to go to aside from the ones offered downtown.
"We have a notion of being able to gather. We want this space to be used as a community center," Hermann said.
The owners say their brewery, along with other recent additions to the city's economy, may encourage more locally owned businesses to get started in the future.