From its title, Sunflower Sisters by Martha Hall Kelly sounds like it could be happy-smiley-giggly "women's fiction," doesn't it? Perhaps a lot of fashion, romance and swooning? Nope. I don't really like those books anyway. This one I couldn't put down.
The book is set in North/South border states, major cities and battlefields from 1859 to 1864, just before and during the Civil War. We watch events pan out from the point of view of several different characters: Georgy Woolsey, part of a large family living comfortably in New York; Jemma, a slave trying to survive the godawful system and get away if she can; and Anne-Marie, a young, just-married Southern belle who owns Jemma, among other slaves, and is entirely self-concerned. And I do mean "entirely."
As the story begins, members of the Woolsey family, visiting South Carolina, witness slave babies being put up for sale at an auction, where the babies' mothers are also sold, separately from their children. Already abolitionists, the Woolseys are horrified. They realize "This is about money. … These planters will never give up slavery willingly." The event roots their commitment to emancipation even further: "Every black face in the street or greeting us so kindly at a front door reminded us of the system of slavery so robust there and strengthened our resolve to continue the fight."
Georgy has six sisters and a beau who wants to marry her and turn her into a housewife. But she wants to be treated as an equal and longs to become a nurse, to help the Union war effort. She gets her chance when she is accepted for training by a female doctor who, like Georgy, is a "staunch abolitionist."
Jemma is a slave on Anne-Marie's plantation in Maryland. Jemma has been taught to read by her previous owner, and Anne-Marie, who is not good at reading or writing, uses Jemma for both those purposes. Jemma has also been taught "White People Manners," so she sounds more like a servant: "Words like, 'Why certainly, Miss Peeler. Let me get that for you right away, ma'am. That will be but a moment, miss.' And always with a sugary smile at the end, and a tip of the head."
Anne-Marie is a real piece of work. Not only does she whip the slaves, she's just purely mean to them, "with vinegar poured on the cuts for extra hurt." Her male overseer is a lecherous, brutal fiend, "dirty all over, especially his mind."
Georgy officially becomes a nurse in the U.S. Sanitation Commission and is assigned to set up hospitals, assist doctors and minister to soldiers. Back home, the whole Woolsey family works on donations for the Union troops, making bandages, socks, sheets, blankets, etc.
Some families have one man fighting for the Union and another for the South. Both sides predict "This war will be over in weeks." We follow some of the war's progress along with Georgy and Anne-Marie, as the men in the family go off to fight and the women tend soldiers' wounds and bury their dead relatives.
The men at the hospital are hostile to the females. "The male nurses did everything in their power to make the female nurses look bad." One doctor thinks Georgy is too uppity to question his mistakes. Ugh. Been there.
Jemma's and Georgy's adventures are sometimes hair-raising. One of the women ends up in the midst of combat! Along with action and intrigue, there are battle scenes, hospital incidents and, yes, a touch of romance. The Pinkerton detectives even show up. The climax is particularly exciting.
Here's the kicker: The part about Georgy is based on a true story. This is the third of three books about several generations of a real family. Martha Hall Kelly even used the actual text of some of the family's letters in the book. The other books are Lost Roses, which takes place during World War I, and the wonderful Lilac Girls, set during World War II. The author's note at the end is as fascinating as the novel itself.
It's truly a satisfying read, and the characters have stayed with me.
Incidentally, I've been reading Uncle Tom's Cabin (I'm always trying to re-read classics or catch up on ones I missed), and I find it a particularly enjoyable reading experience. (Translation: It's a darn good read!) I'm also realizing that some of the popular memes got it wrong. If you haven't read it, give it a try.
Happy reading!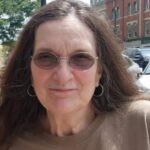 Mary Louise Ruehr is a books columnist for The Portager. Her One for the Books column previously appeared in the Record-Courier, where she was an editor.